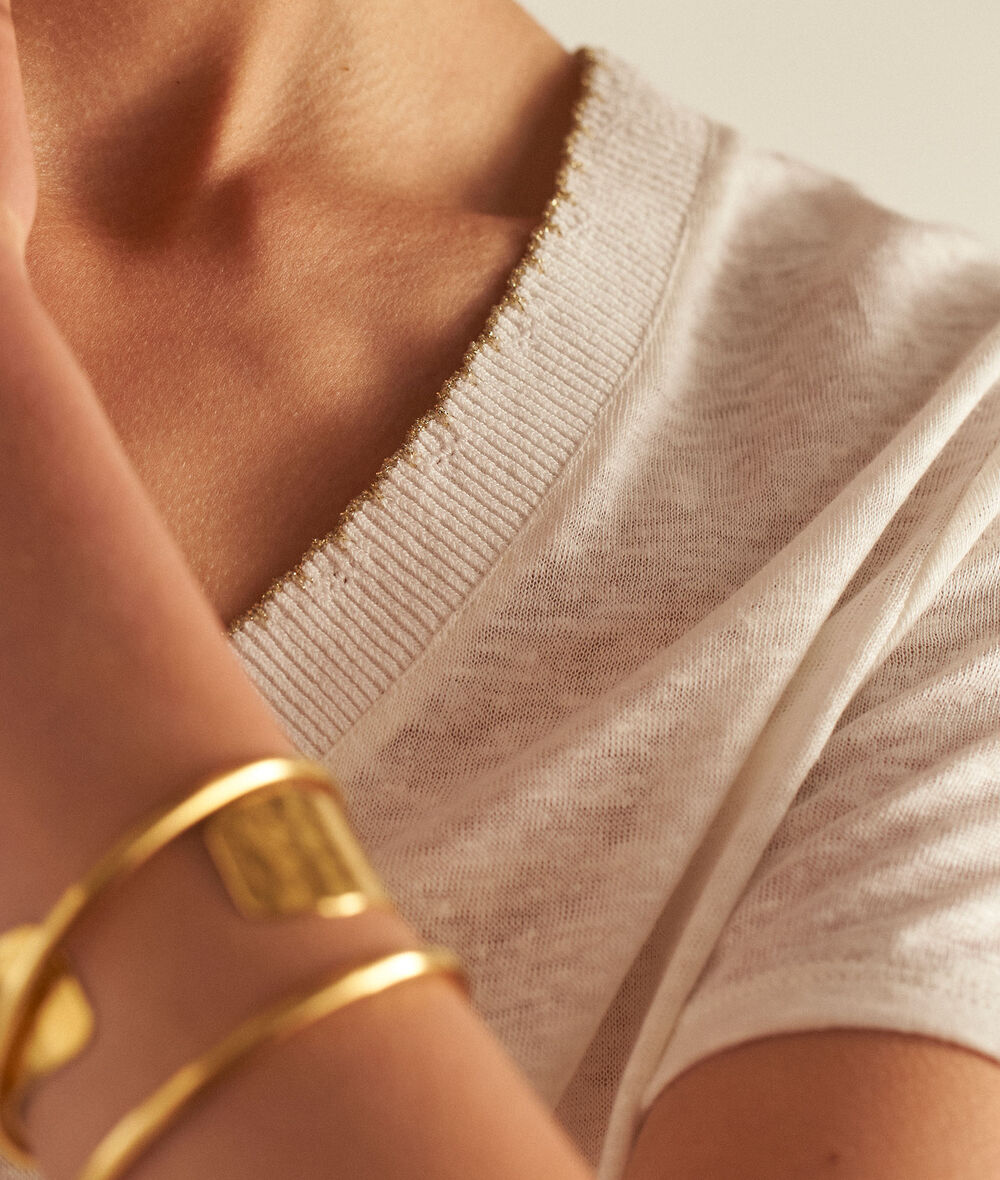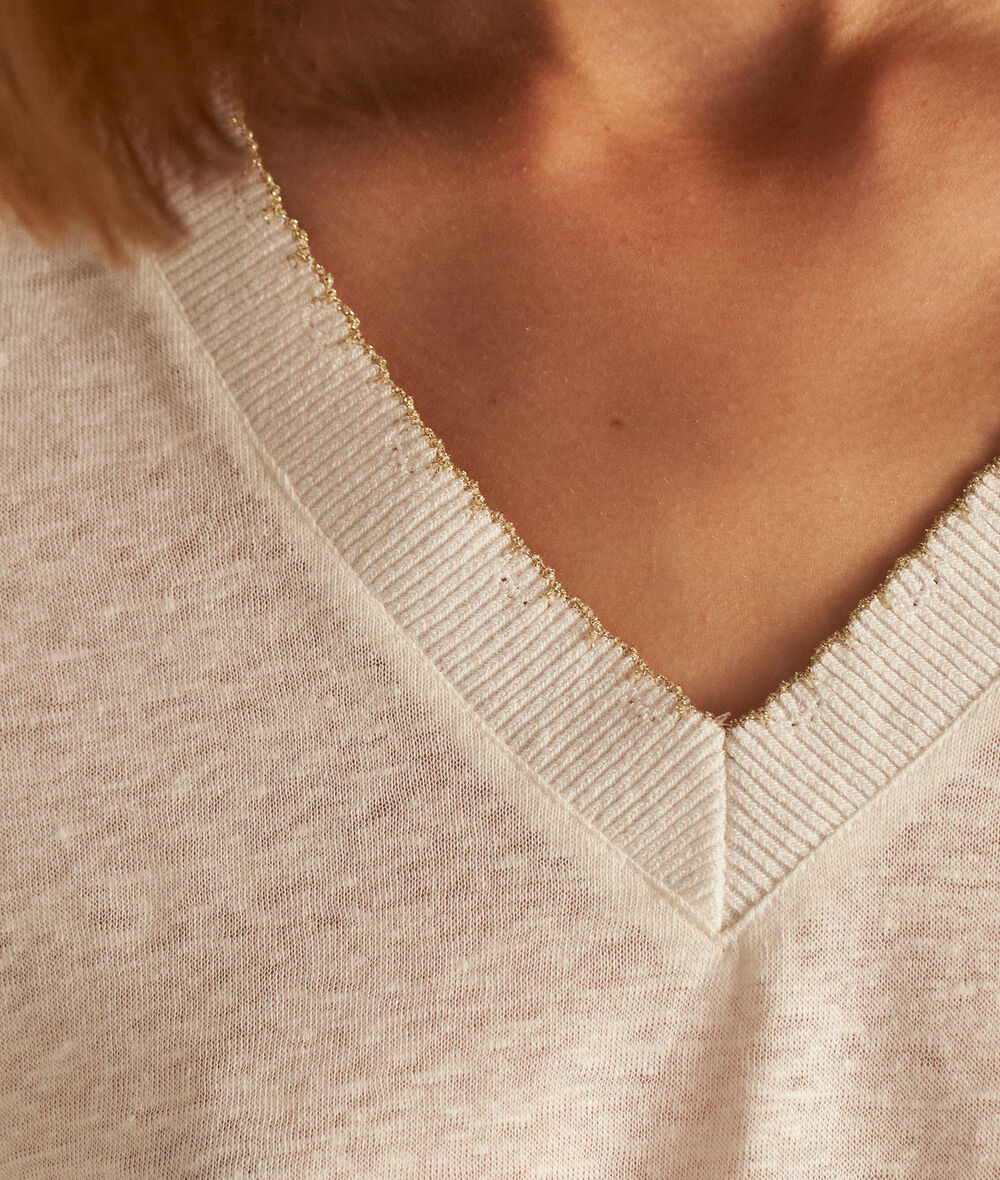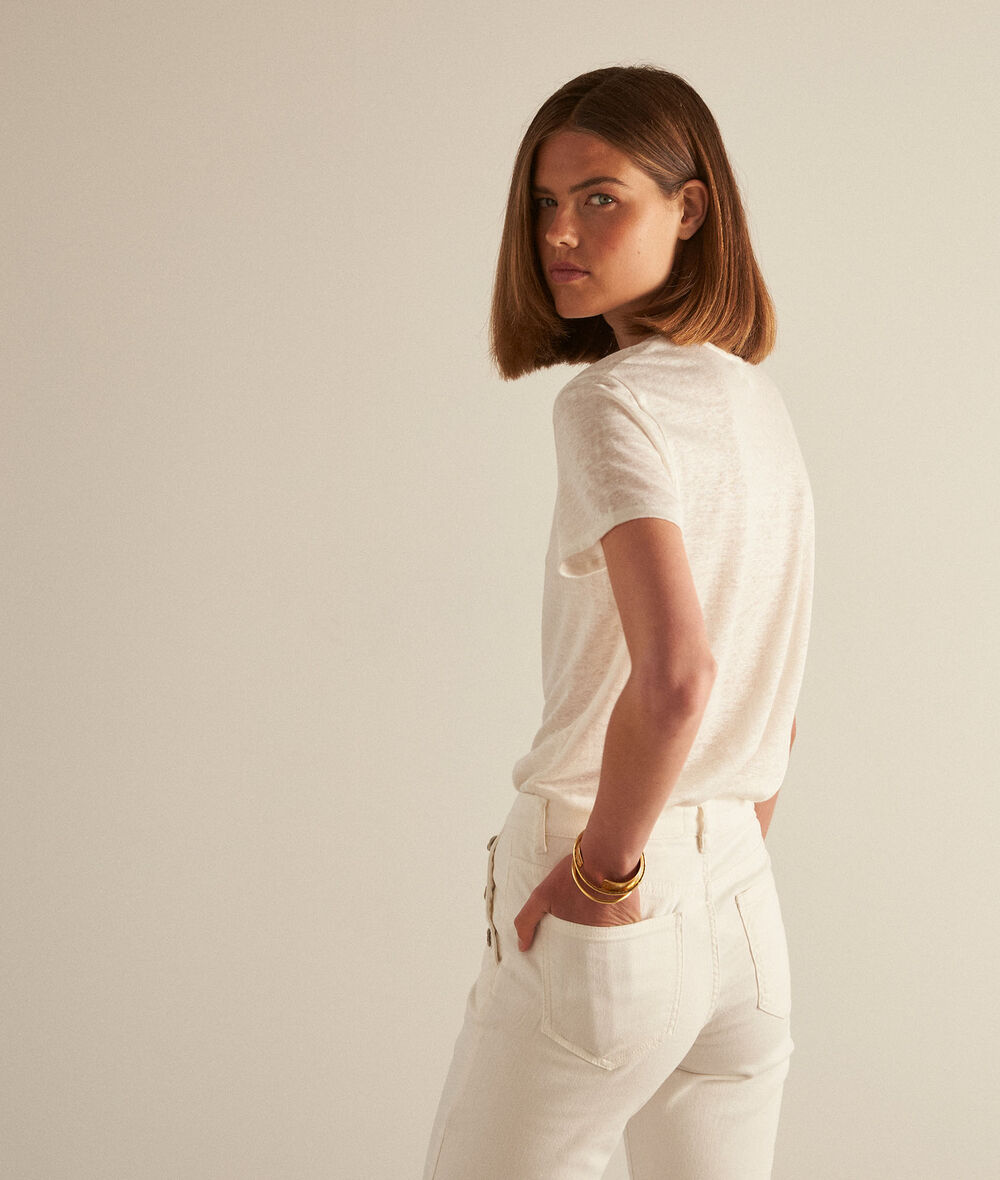 MOONLIGHT white linen T-shirt
Sizes:
Only items in stock
!

Please choose a size
WECARE: This T-shirt is made from certified eco-friendly linen. Eco-friendly linen is a natural, hard-wearing and biodegradable material with low environmental impact. The fibres and the manufacturing process are traceable and free from GMOs, pesticides and fertilisers. Our eco-friendly linen may be certified by independent bodies such as European Flax and Masters of Linen.

You'll love the MOONLIGHT linen T-shirt with its glittery modern V-neck.

WHY WE LOVE THIS STYLE
It's made of eco-friendly linen, and is natural, light and perfect for the season. The V-neck has lovely thick ribbed trims with delicate gold thread.

OUR STYLE TIP
This white style is a great basic that will go with anything. The linen works nicely with light, loose-fitting bottoms.

- 100% European Flax certified linen
- length: 63 cm for a size 36
- short sleeves
- V-neck
- straight cut
- made in Spain

Olivia is 1.82 m (just under 6') tall and is wearing a size 38. The model is wearing the NINON trousers, MADISON parka and CAMILLE sandals with the MOONLIGHT T-shirt.

WECARE: This T-shirt is made from certified eco-friendly linen. Eco-friendly linen is a natural, hard-wearing and biodegradable material with low environmental impact. The fibres and the manufacturing process are traceable and free from GMOs, pesticides and fertilisers. Our eco-friendly linen may be certified by independent bodies such as European Flax and Masters of Linen.

You'll love the MOONLIGHT linen T-shirt with its glittery modern V-neck.

WHY WE LOVE THIS STYLE
It's made of eco-friendly linen, and is natural, light and perfect for the season. The V-neck has lovely thick ribbed trims with delicate gold thread.

OUR STYLE TIP
This white style is a great basic that will go with anything. The linen works nicely with light, loose-fitting bottoms.

- 100% European Flax certified linen
- length: 63 cm for a size 36
- short sleeves
- V-neck
- straight cut
- made in Spain

Olivia is 1.82 m (just under 6') tall and is wearing a size 38. The model is wearing the NINON trousers, MADISON parka and CAMILLE sandals with the MOONLIGHT T-shirt.


MATIERE PRINCIPALE : 100.00 % Lin

BORD CÔTE : 100.00 % Autres fibres

This item can be recycled
Reference: 653358201
30 days
money-back
guarantee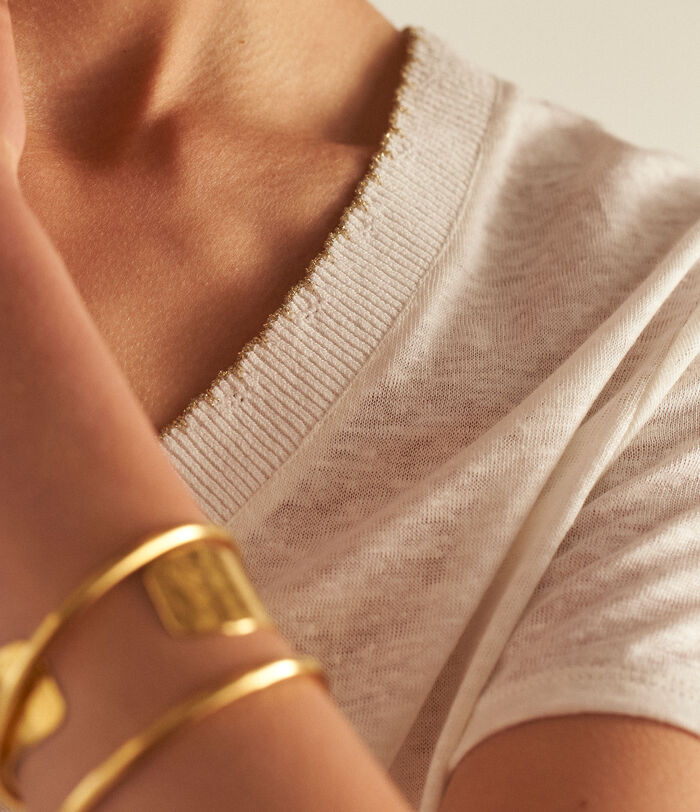 MOONLIGHT white linen T-shirt
Sizes
!

Please choose a size