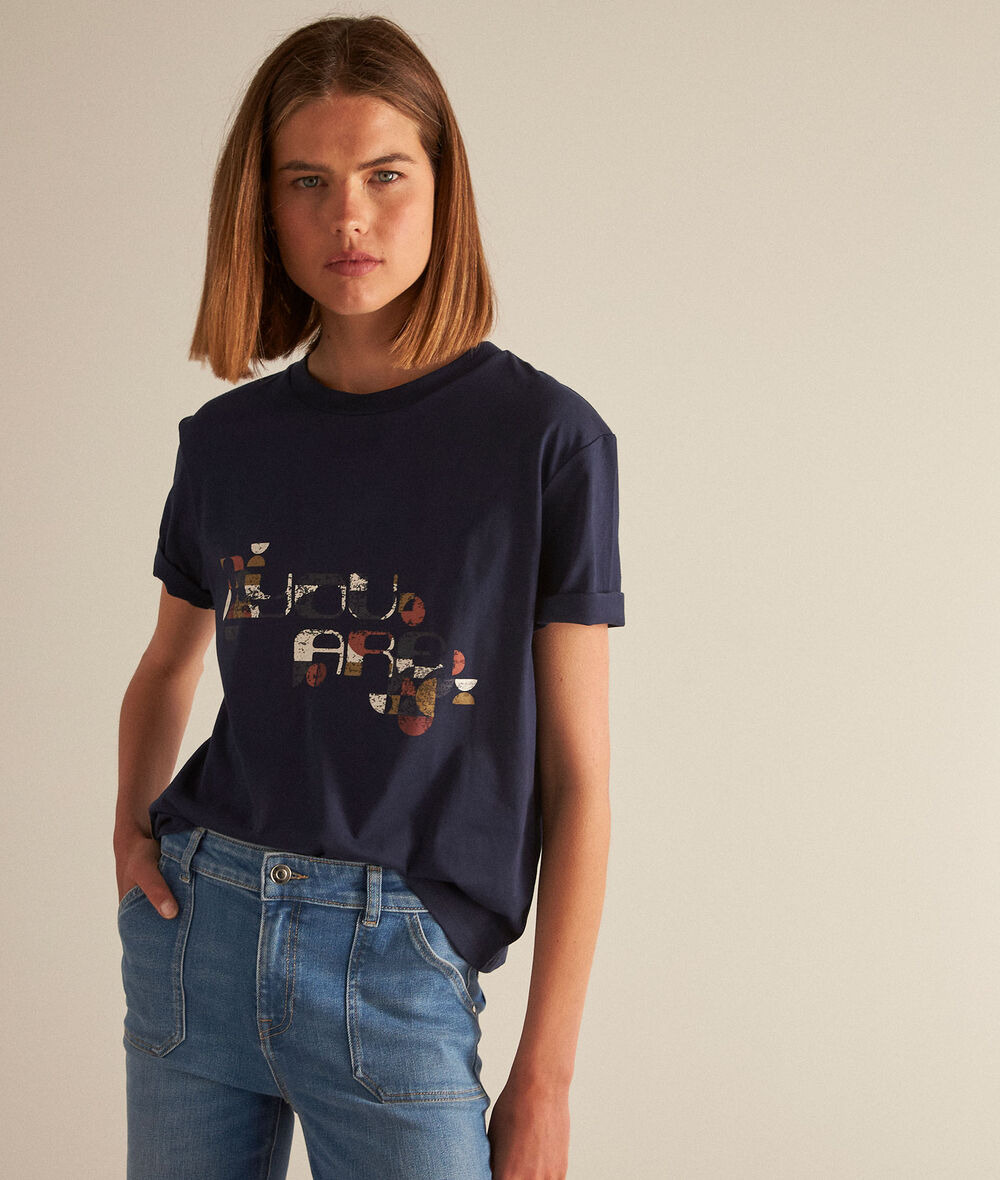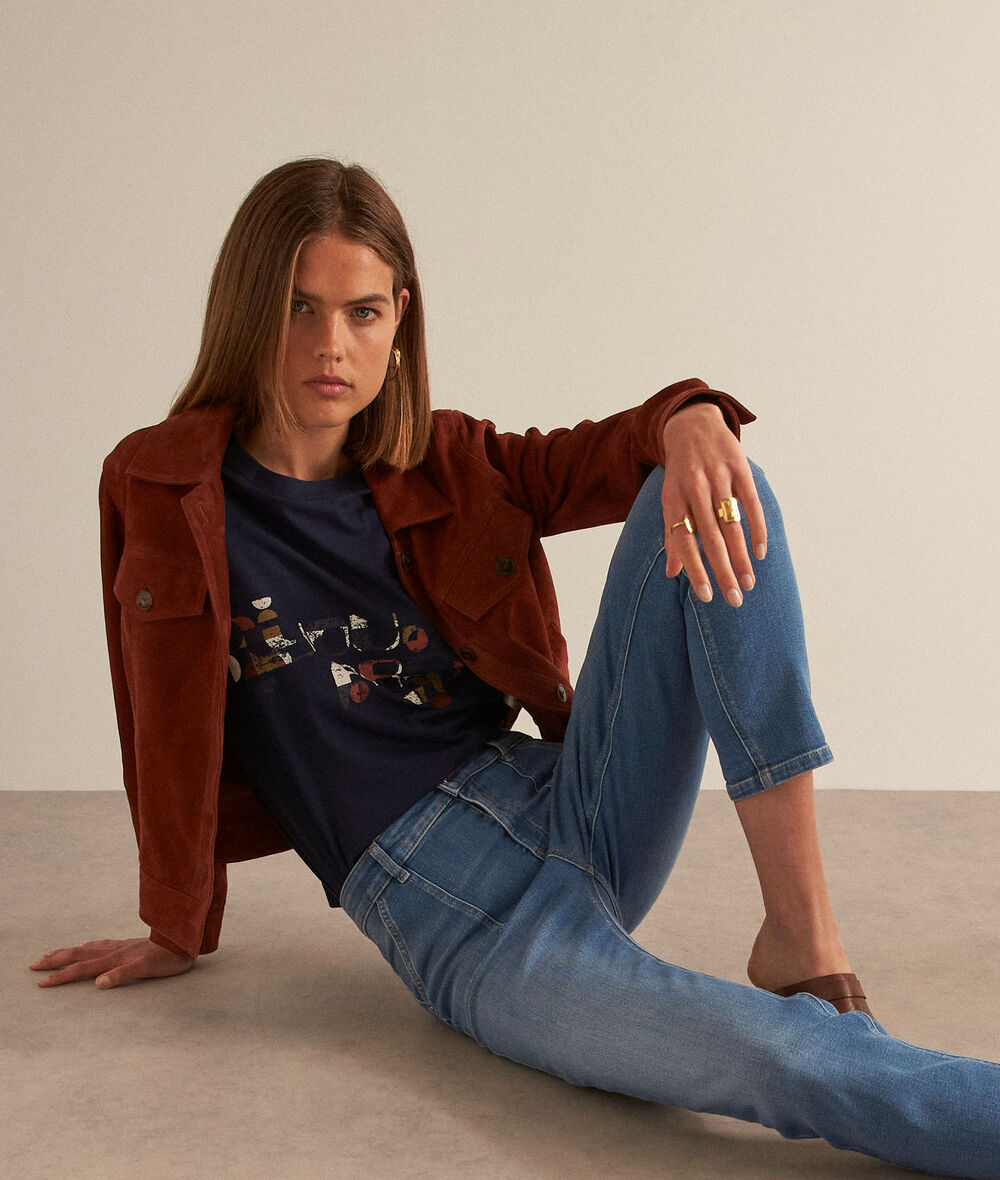 Complete the look
Complete the look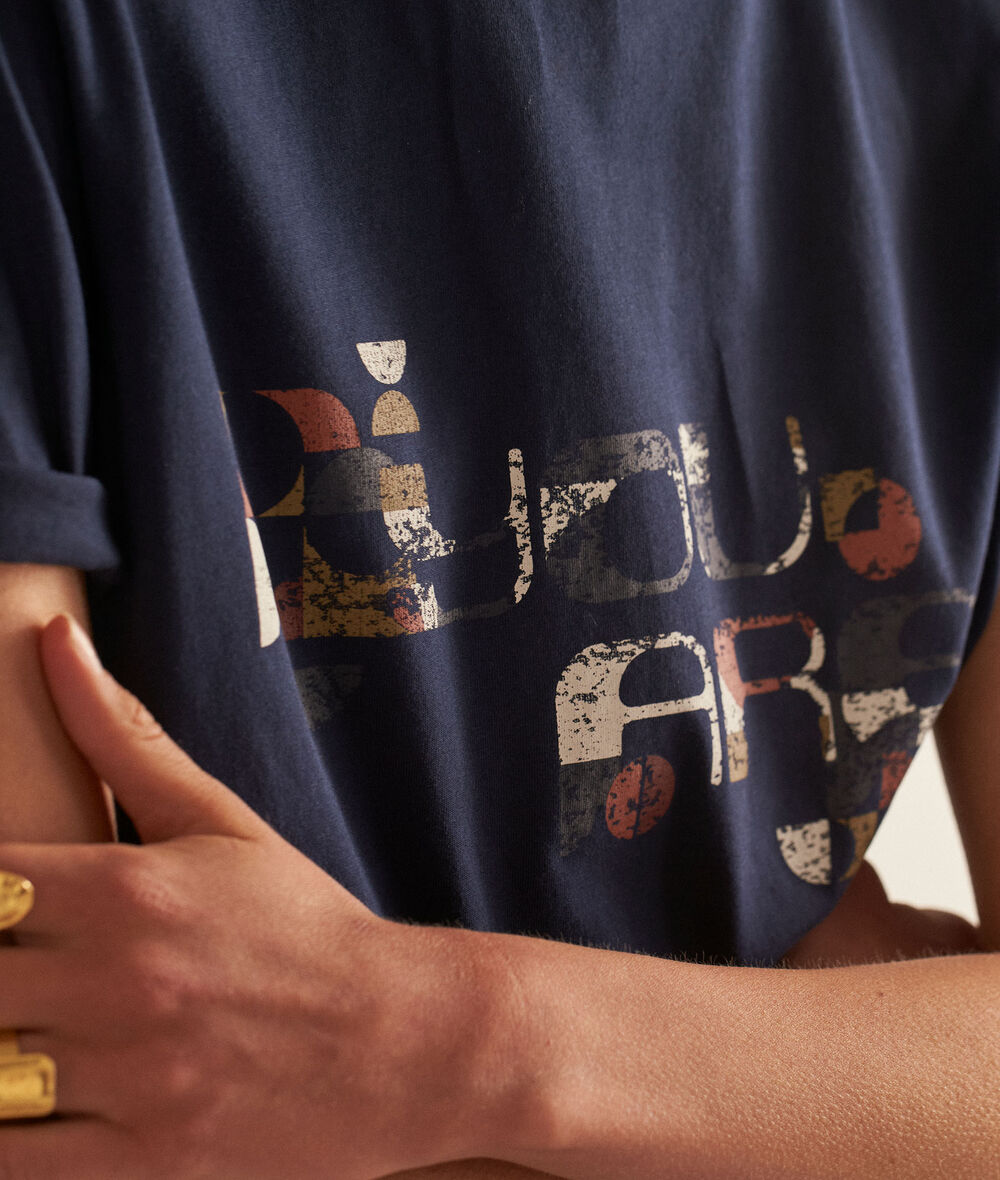 FAR navy organic cotton slogan T-shirt
Sizes:
Only items in stock
!

Please choose a size
WECARE: This T-shirt is made from organic cotton. Grown without synthetic products and guaranteed to be GMO-free, organic cotton only needs 9% of the water used to grow conventional cotton. It helps maintain biodiversity, keep soils fertile and reduce greenhouse gas emissions. Our organic cotton is independently certified by bodies such as OCS and GOTS.

This is the FAR lightweight slogan T-shirt.

WHY WE LOVE THIS STYLE
Made of organic cotton, this tee has a straight and slightly boyfriend shape with wide short sleeves. We love the slogan's retro font.

OUR STYLE TIP
This navy T-shirt is a real wardrobe must-have. You might want to wear it loosely tucked into classic straight-leg jeans and accessorise with a flattering belt to show off your curves.

- length: 60 cm for a size 36
- 100% organic cotton
- straight cut
- short sleeves
- round neck
- made in Turkey

Olivia is 1.82 m (just under 6') tall and is wearing a size 38. The model is wearing the NALLA jeans and AMELIA jacket with the FAR T-shirt.

WECARE: This T-shirt is made from organic cotton. Grown without synthetic products and guaranteed to be GMO-free, organic cotton only needs 9% of the water used to grow conventional cotton. It helps maintain biodiversity, keep soils fertile and reduce greenhouse gas emissions. Our organic cotton is independently certified by bodies such as OCS and GOTS.

This is the FAR lightweight slogan T-shirt.

WHY WE LOVE THIS STYLE
Made of organic cotton, this tee has a straight and slightly boyfriend shape with wide short sleeves. We love the slogan's retro font.

OUR STYLE TIP
This navy T-shirt is a real wardrobe must-have. You might want to wear it loosely tucked into classic straight-leg jeans and accessorise with a flattering belt to show off your curves.

- length: 60 cm for a size 36
- 100% organic cotton
- straight cut
- short sleeves
- round neck
- made in Turkey

Olivia is 1.82 m (just under 6') tall and is wearing a size 38. The model is wearing the NALLA jeans and AMELIA jacket with the FAR T-shirt.


MATIERE PRINCIPALE : 50.00 % Coton, 50.00 % Modal

This item can be recycled

Wash at 30° on delicate cycle
Reference: 653635327
30 days
money-back
guarantee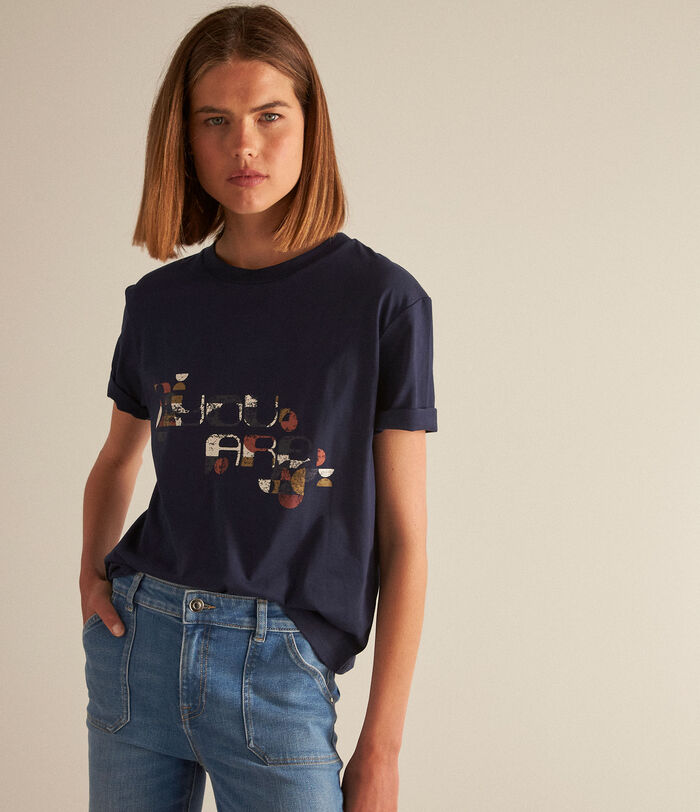 FAR navy organic cotton slogan T-shirt
Sizes
!

Please choose a size