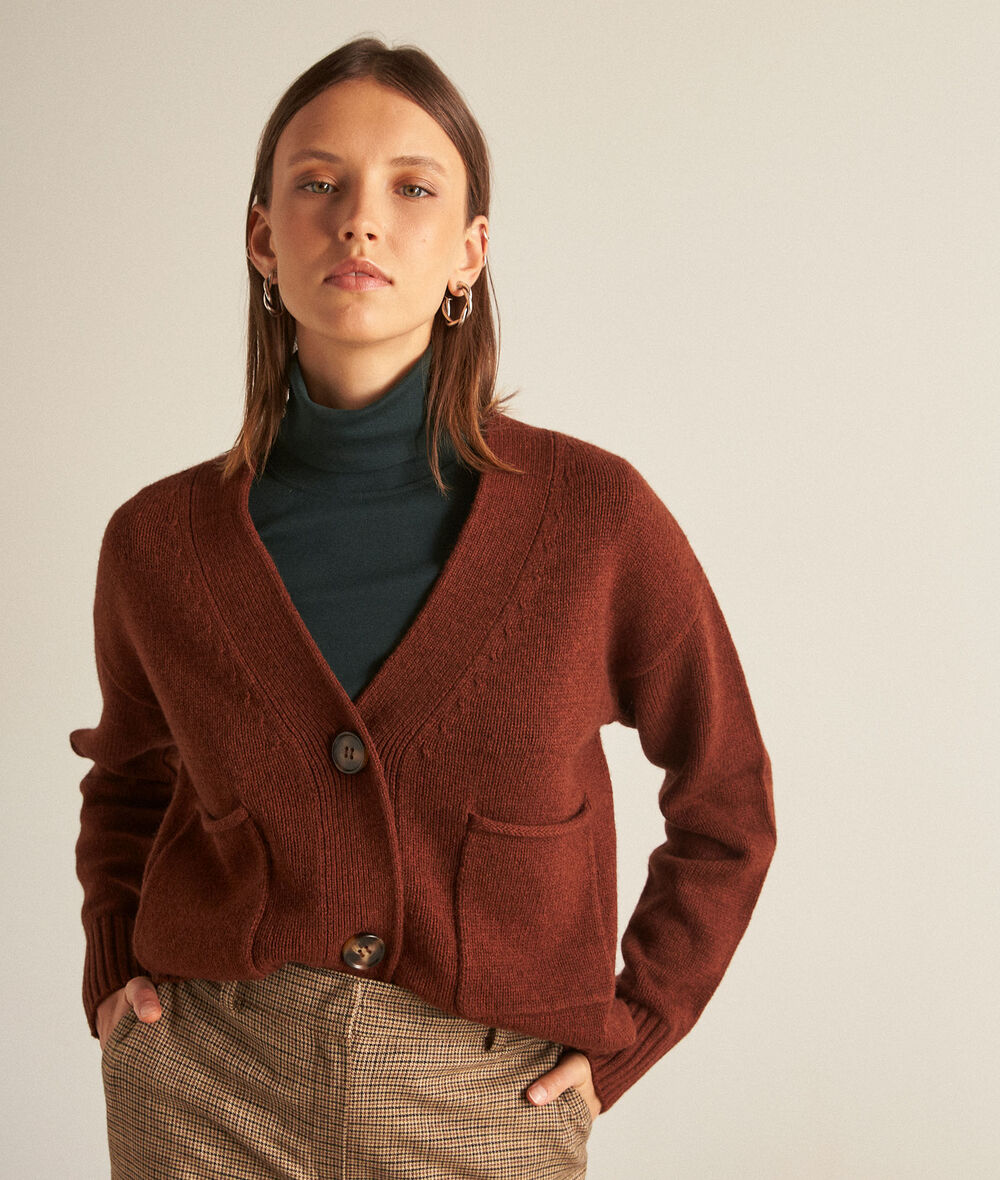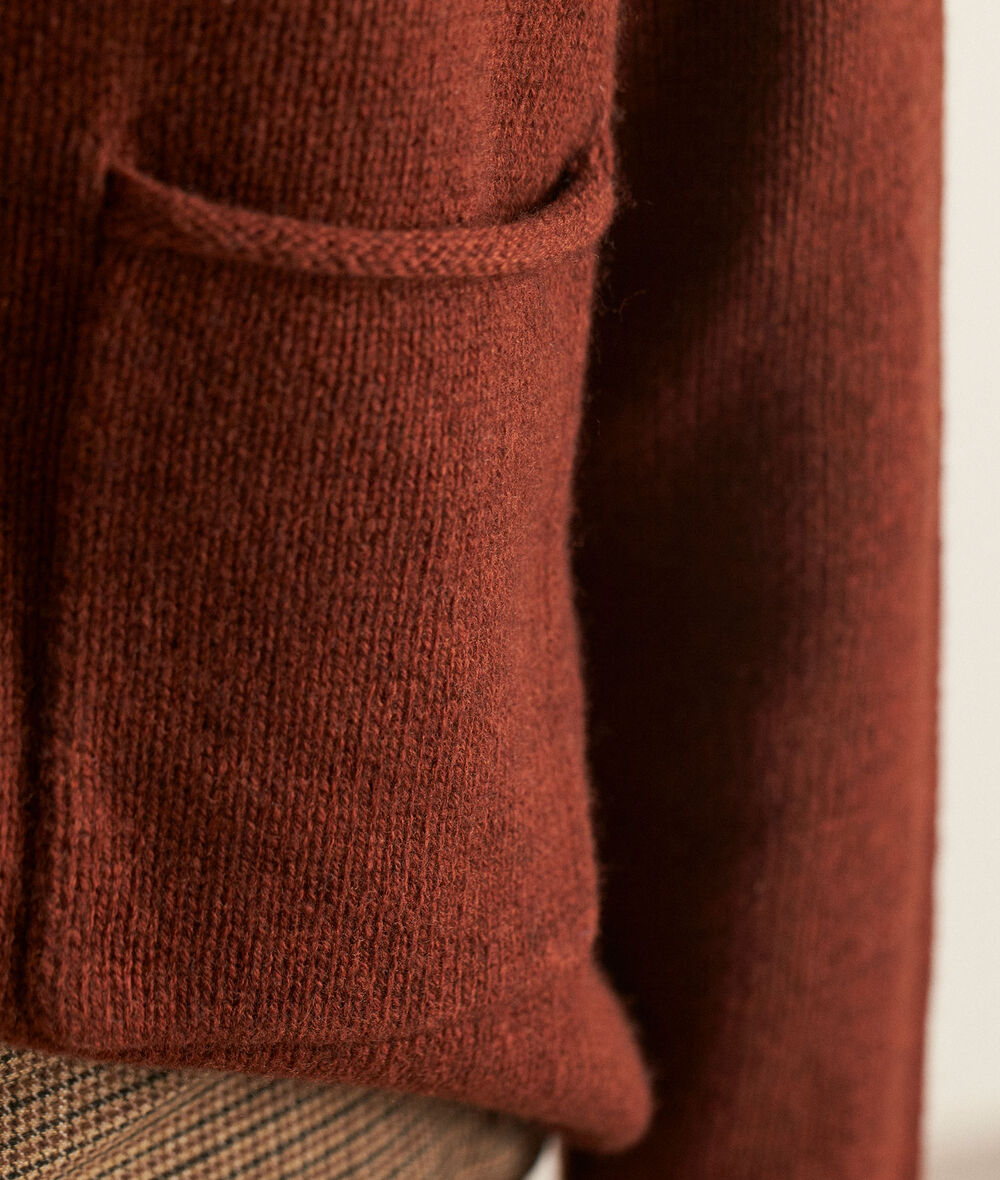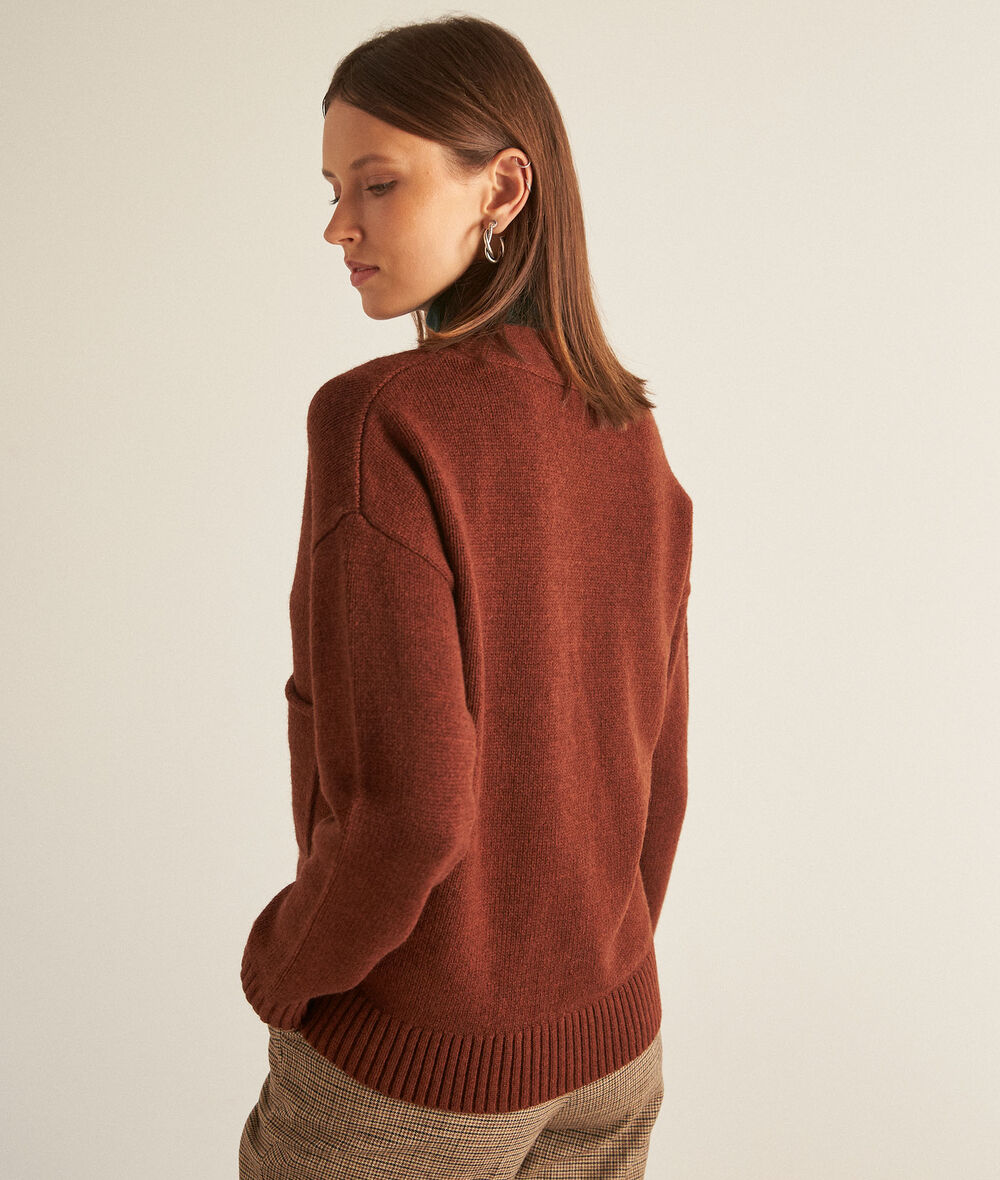 Bella chocolate responsible wool cardigan
Sizes:
Only items in stock
!

Please choose a size
WECARE: This pullover is made from responsible wool that conforms to the RWS. The Responsible Wool Standard is a voluntary standard that covers the wellbeing of sheep and their environment. The goal is to give the industry a tool to recognise best practice in farming. This standard also allows brands and consumers to know that the wool garments that they sell and buy respect their values.

Be sure to get to know the BELLA cardigan, this autumn's must-have piece with its soft knit and so elegant look.

WHY WE LOVE IT
This responsible wool and cashmere cardigan will keep you warm and comfortable. We love its slightly retro feel, and the wide trim, pockets and buttons make all the difference, adding to its charm.

OUR STYLE TIP
Wear this cardigan with nothing underneath to show off your neckline. For the more chilly of you, pair it with a thin turtleneck and wide-leg trousers for an elegant autumn look.

- length: 55 cm for a size 36
- 90% responsible wool
- short
- buttoned
- V-neck
- long sleeves
- made in China

Sveta is 1.74 m tall and is wearing a size 34. The model is wearing the ADELE jacket, the FIDJI trousers, the FERGUIE T-shirt and the NACIERA boots with the BELLA cardigan.


WECARE: This pullover is made from responsible wool that conforms to the RWS. The Responsible Wool Standard is a voluntary standard that covers the wellbeing of sheep and their environment. The goal is to give the industry a tool to recognise best practice in farming. This standard also allows brands and consumers to know that the wool garments that they sell and buy respect their values.

Be sure to get to know the BELLA cardigan, this autumn's must-have piece with its soft knit and so elegant look.

WHY WE LOVE IT
This responsible wool and cashmere cardigan will keep you warm and comfortable. We love its slightly retro feel, and the wide trim, pockets and buttons make all the difference, adding to its charm.

OUR STYLE TIP
Wear this cardigan with nothing underneath to show off your neckline. For the more chilly of you, pair it with a thin turtleneck and wide-leg trousers for an elegant autumn look.

- length: 55 cm for a size 36
- 90% responsible wool
- short
- buttoned
- V-neck
- long sleeves
- made in China

Sveta is 1.74 m tall and is wearing a size 34. The model is wearing the ADELE jacket, the FIDJI trousers, the FERGUIE T-shirt and the NACIERA boots with the BELLA cardigan.



MATIERE PRINCIPALE : 50.00 % Yack, 50.00 % Laine

This item can be recycled

Wash at 30° on delicate cycle
Reference: 653540687
30 days
money-back
guarantee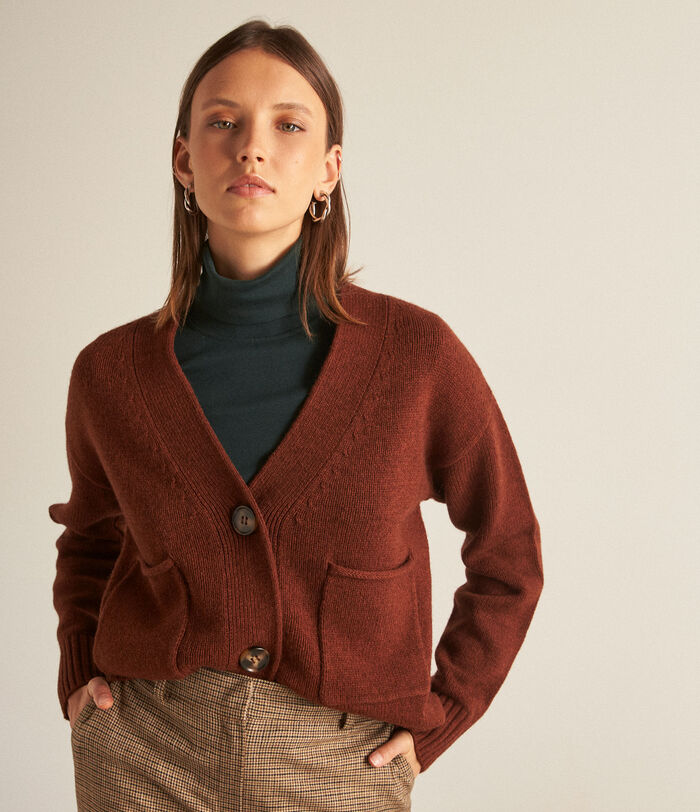 Bella chocolate responsible wool cardigan
Sizes
!

Please choose a size