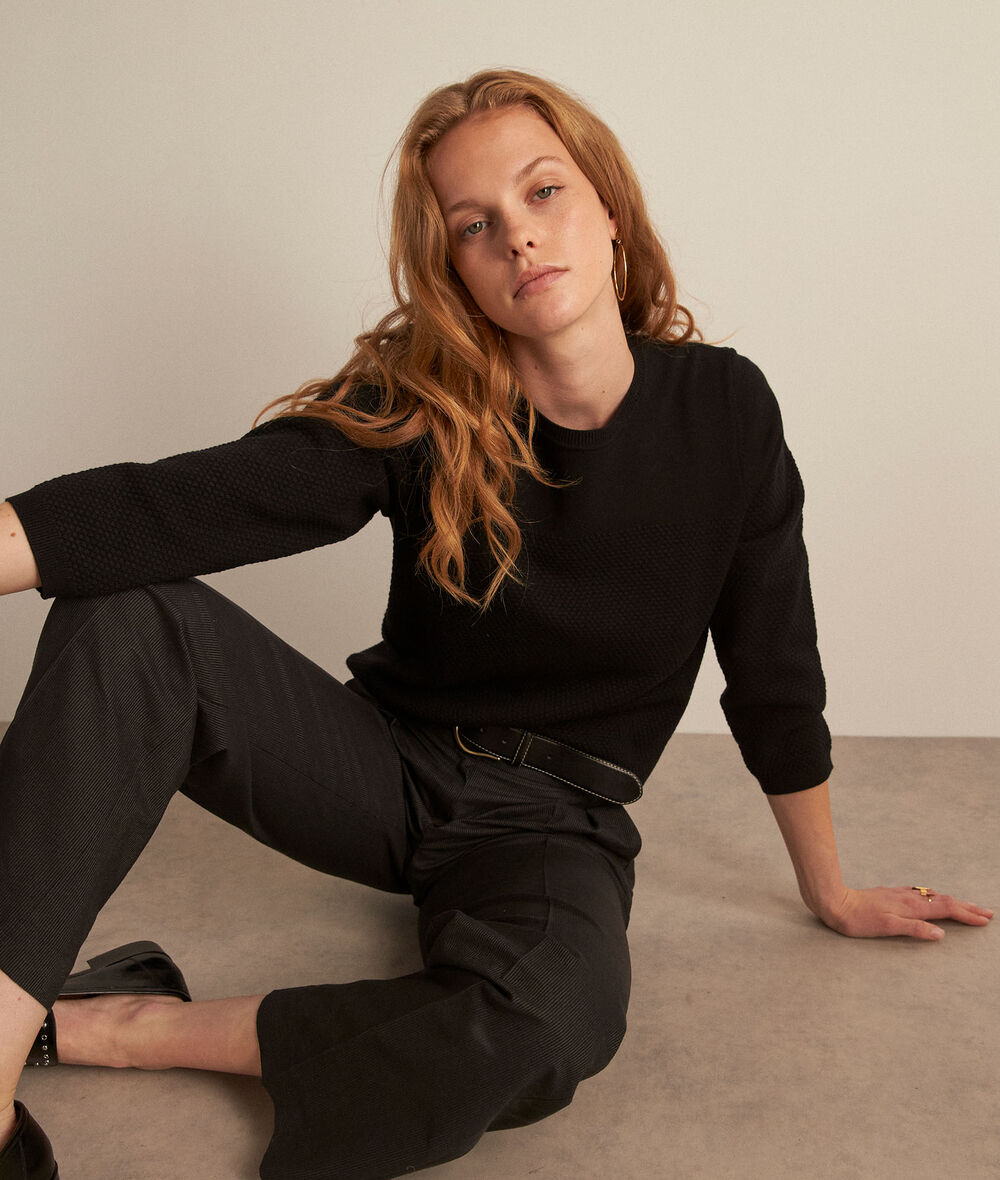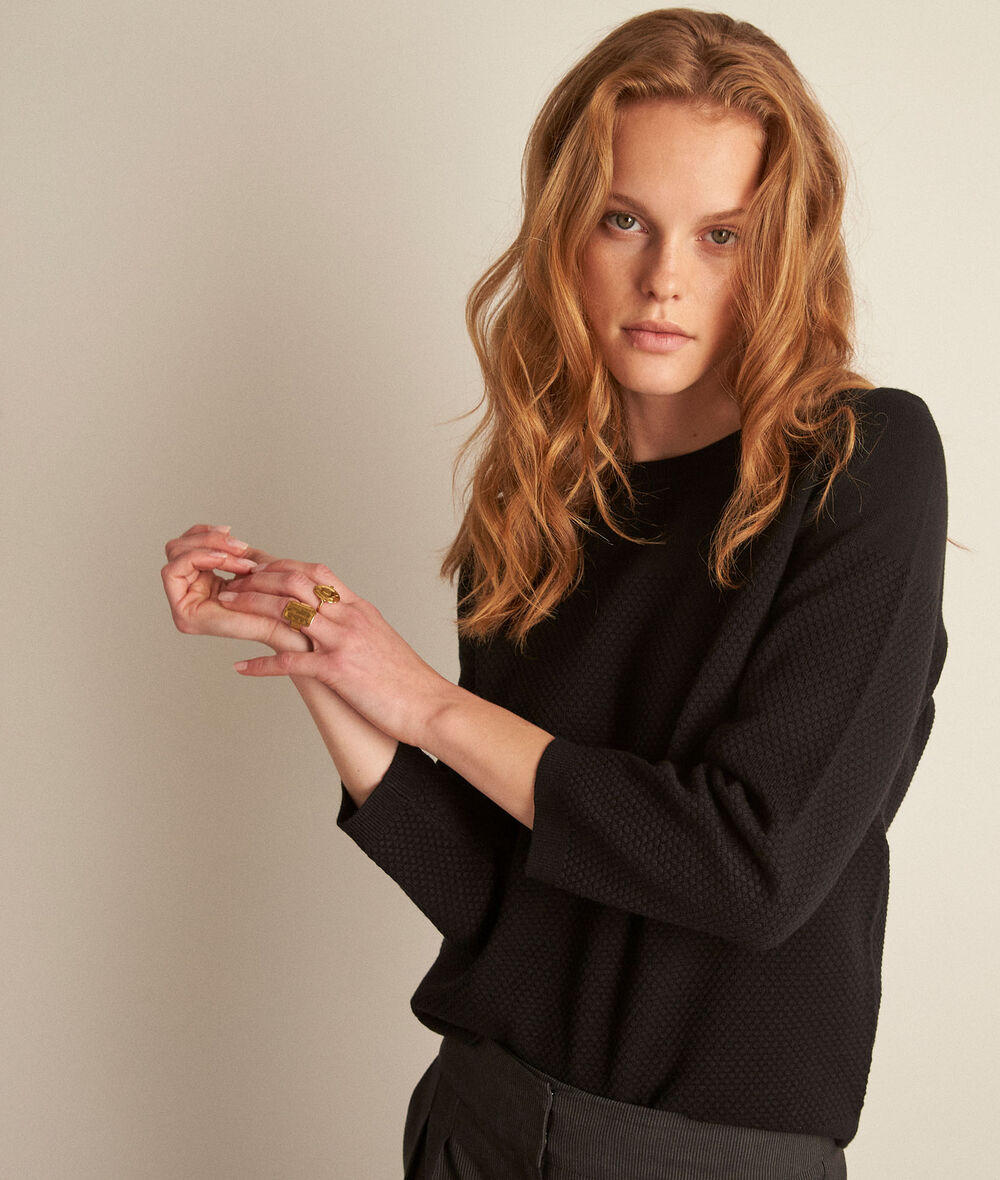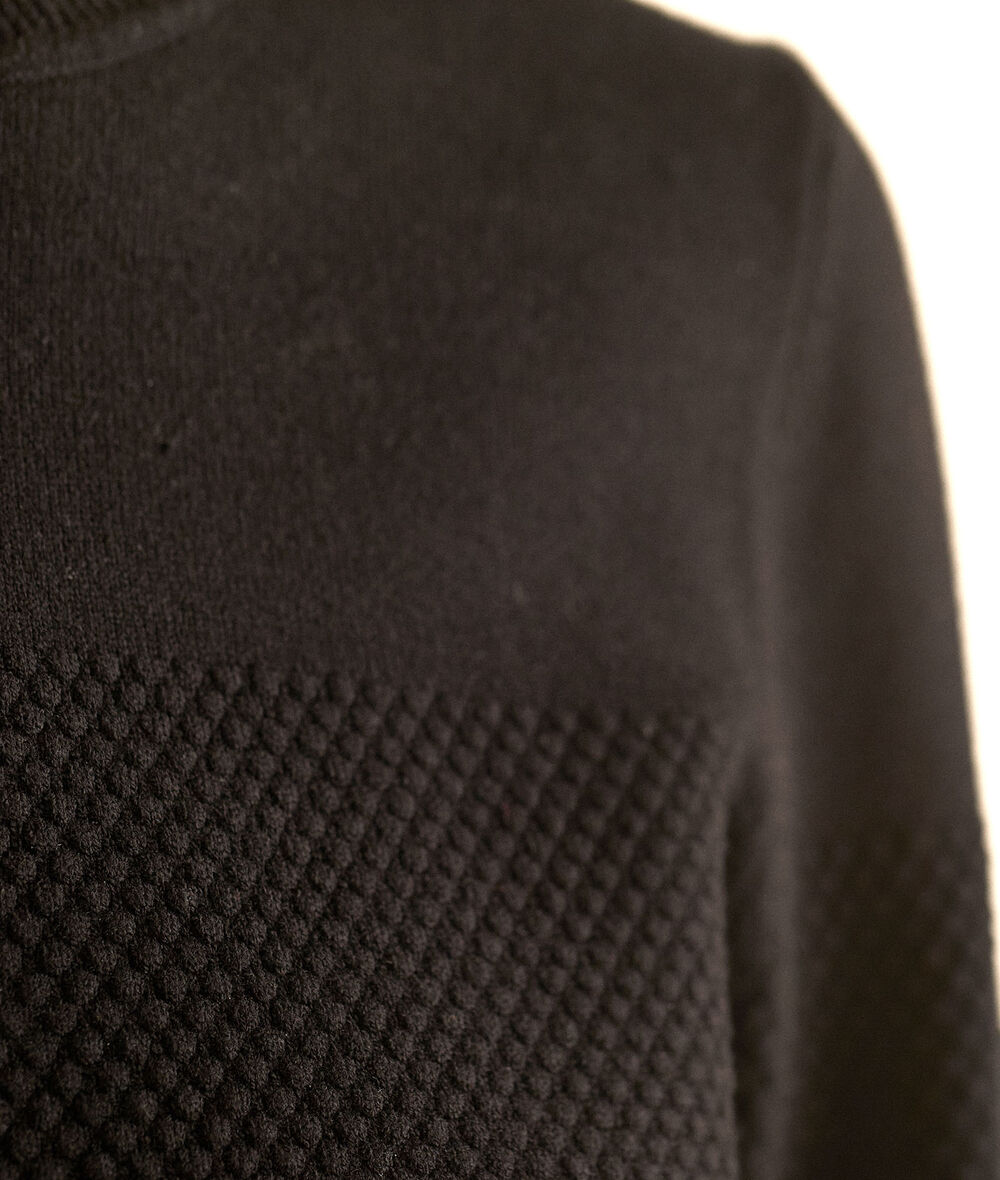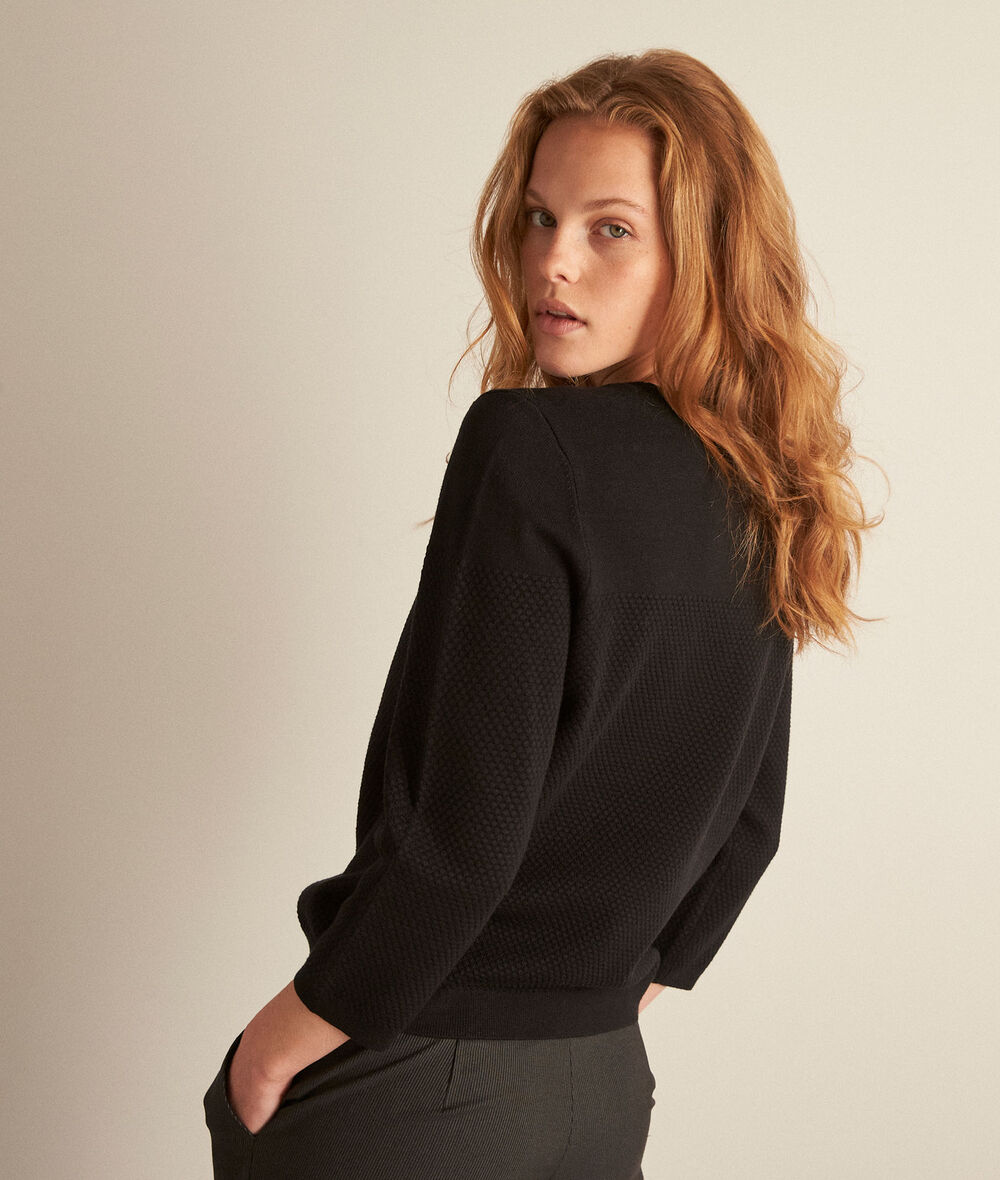 BILLY textured black EcoVero viscose jumper
Sizes:
Only items in stock
!

Please choose a size
WECARE: This jumper is made from Lenzing Eco Vero viscose. Eco-friendly viscose is made from wood pulp sourced from sustainably managed forests.The manufacturing process requires less water and energy.
Eco-friendly viscose in the WECARE programme is certified by trusted independent labels such as Lenzing™ and Birla™.

Discover BILLY, a charming jumper knitted in a very soft textured yarn.

WHY WE LOVE IT
You'll love the detailing on this fine, tightly woven design. Made of a natural material, it has a straight shape, a round neck and 3/4-length sleeves. The fabric is soft and comfortable: perfect for mid-season wear.

OUR STYLE TIP
This simple and elegant jumper goes nicely with mum jeans or timeless tailored trousers.

- length: 57.5 cm for a size 36
- 50% Eco Vero Viscose
- straight cut
- 3/4-length sleeves
- V-neck
- made in China

Esther is 1.78 m (5'10") tall and is wearing a size 36. The model is wearing the BILLY jumper with the GALAXY trousers and the NABELLA loafers.

WECARE: This jumper is made from Lenzing Eco Vero viscose. Eco-friendly viscose is made from wood pulp sourced from sustainably managed forests.The manufacturing process requires less water and energy.
Eco-friendly viscose in the WECARE programme is certified by trusted independent labels such as Lenzing™ and Birla™.

Discover BILLY, a charming jumper knitted in a very soft textured yarn.

WHY WE LOVE IT
You'll love the detailing on this fine, tightly woven design. Made of a natural material, it has a straight shape, a round neck and 3/4-length sleeves. The fabric is soft and comfortable: perfect for mid-season wear.

OUR STYLE TIP
This simple and elegant jumper goes nicely with mum jeans or timeless tailored trousers.

- length: 57.5 cm for a size 36
- 50% Eco Vero Viscose
- straight cut
- 3/4-length sleeves
- V-neck
- made in China

Esther is 1.78 m (5'10") tall and is wearing a size 36. The model is wearing the BILLY jumper with the GALAXY trousers and the NABELLA loafers.


MATIERE PRINCIPALE : 50.00 % Viscose, 28.00 % Polyester, 22.00 % Polyamide

This item can be recycled
Reference: 653464007
30 days
money-back
guarantee
BILLY textured black EcoVero viscose jumper