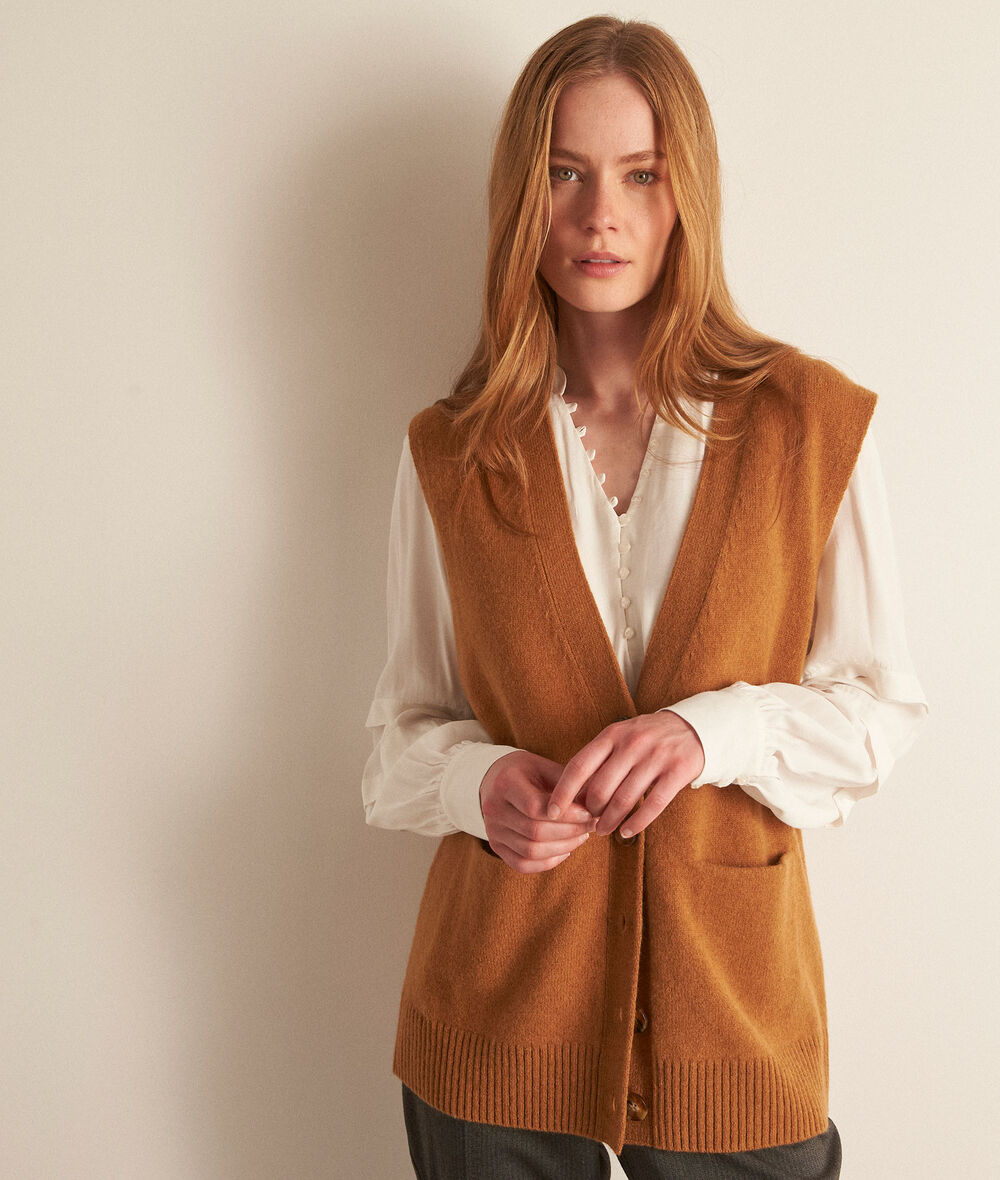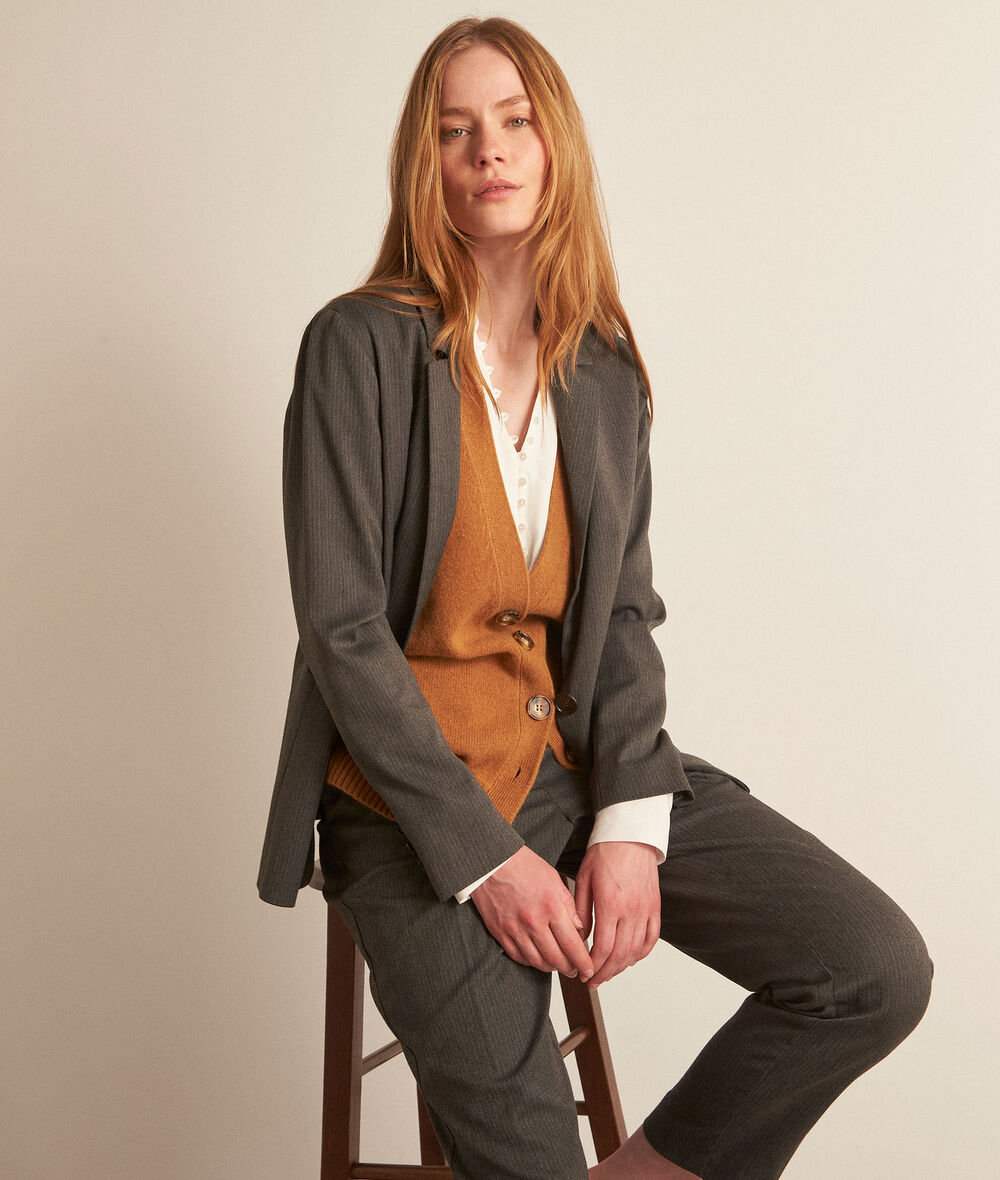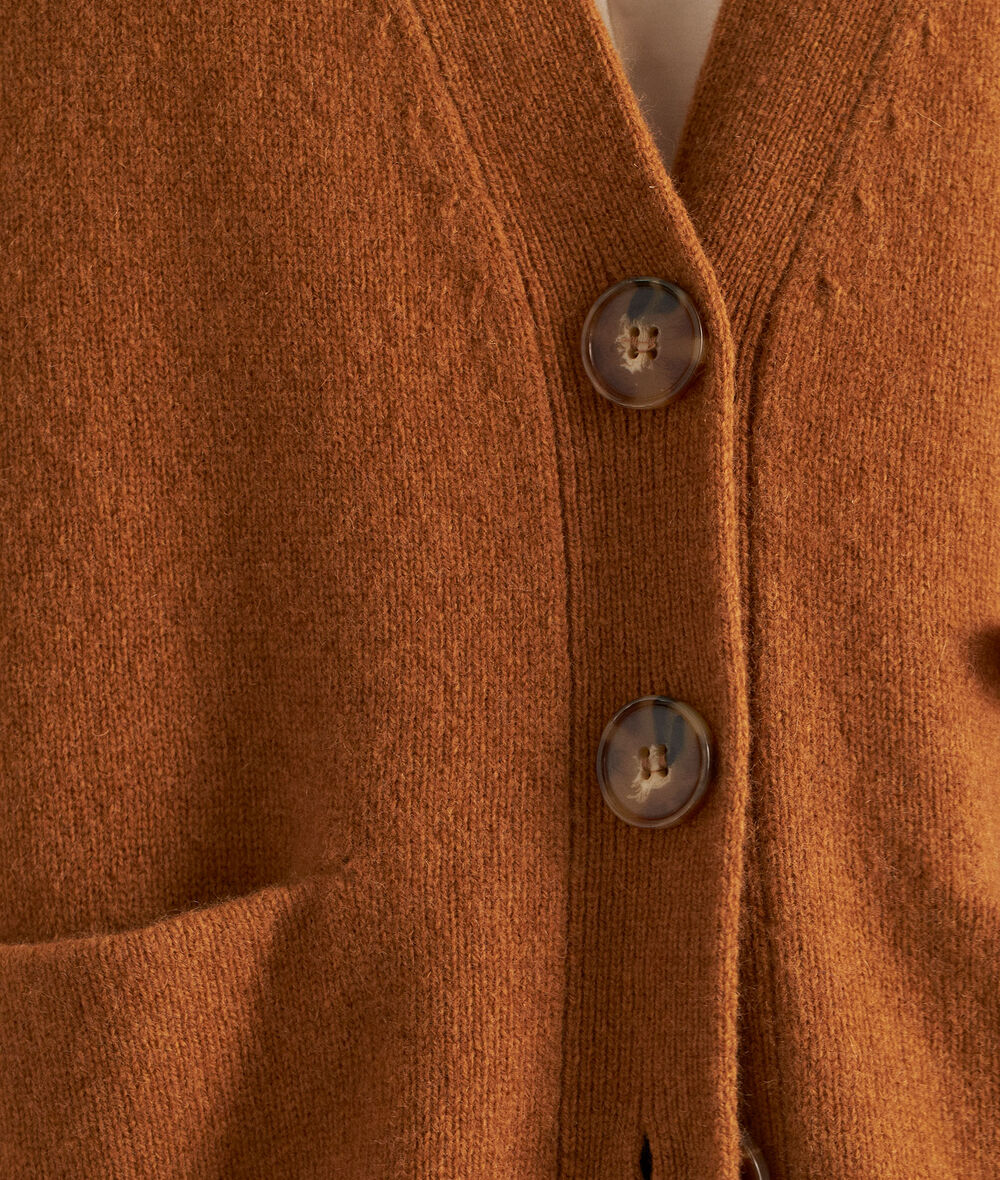 Bryton cinnamon responsible wool sleeveless cardigan
Sizes:
Only items in stock
!

Please choose a size
WECARE: This cardigan is made from responsible wool that conforms to the RWS. The Responsible Wool Standard is a voluntary standard that covers the well-being of sheep and their environment. The goal is to give the industry a tool to recognise best practice in farming. This standard also shows brands and consumers that the woollen garments they sell and buy align with their values.

Our BRYTON sleeveless cardigan is bang on-trend.

WHY WE LOVE THIS STYLE
We love its nonchalance. You won't want to take off this retro design made of responsible wool this season. You'll also love its two tone-on-tone pockets, XXL buttons and deep neckline.

OUR STYLE TIP
This garment is clearly made for layering. Pop a smart shirt in the same colour underneath, or wear a more romantic blouse to combine different styles.

- length: 68 cm for a size 36
- 100% responsible wool
- long
- sleeveless
- buttons
- 2 pockets
- made in China

Edda is 1.75 metres (5'9") tall and is wearing a size 36. The model is wearing the LUCE blouse, FRIMOUSSE jacket and SABIL trousers with the BRYTON cardigan.

WECARE: This cardigan is made from responsible wool that conforms to the RWS. The Responsible Wool Standard is a voluntary standard that covers the well-being of sheep and their environment. The goal is to give the industry a tool to recognise best practice in farming. This standard also shows brands and consumers that the woollen garments they sell and buy align with their values.

Our BRYTON sleeveless cardigan is bang on-trend.

WHY WE LOVE THIS STYLE
We love its nonchalance. You won't want to take off this retro design made of responsible wool this season. You'll also love its two tone-on-tone pockets, XXL buttons and deep neckline.

OUR STYLE TIP
This garment is clearly made for layering. Pop a smart shirt in the same colour underneath, or wear a more romantic blouse to combine different styles.

- length: 68 cm for a size 36
- 100% responsible wool
- long
- sleeveless
- buttons
- 2 pockets
- made in China

Edda is 1.75 metres (5'9") tall and is wearing a size 36. The model is wearing the LUCE blouse, FRIMOUSSE jacket and SABIL trousers with the BRYTON cardigan.


MATIERE PRINCIPALE : 100.00 % Laine

This item can be recycled
Reference: 653590186
30 days
money-back
guarantee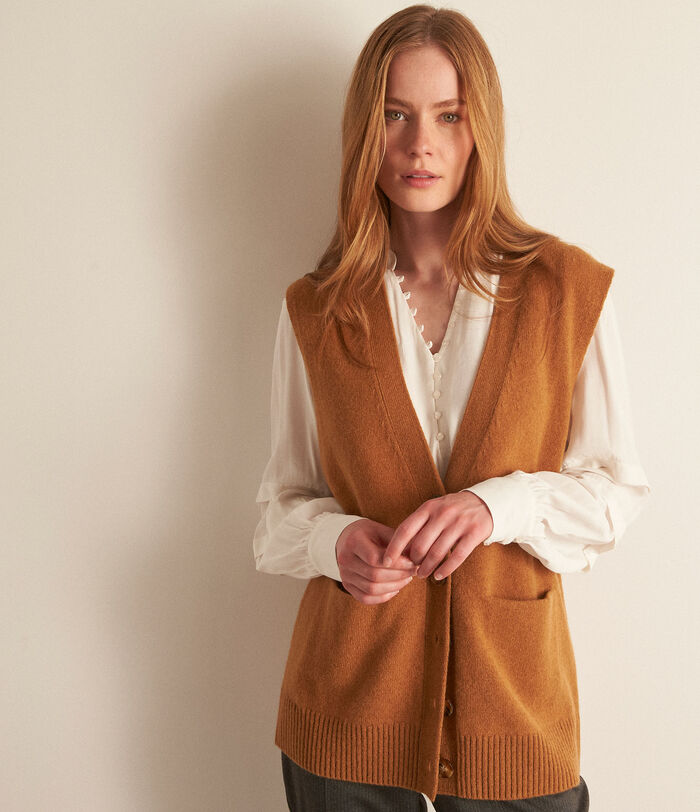 Bryton cinnamon responsible wool sleeveless cardigan
Sizes
!

Please choose a size