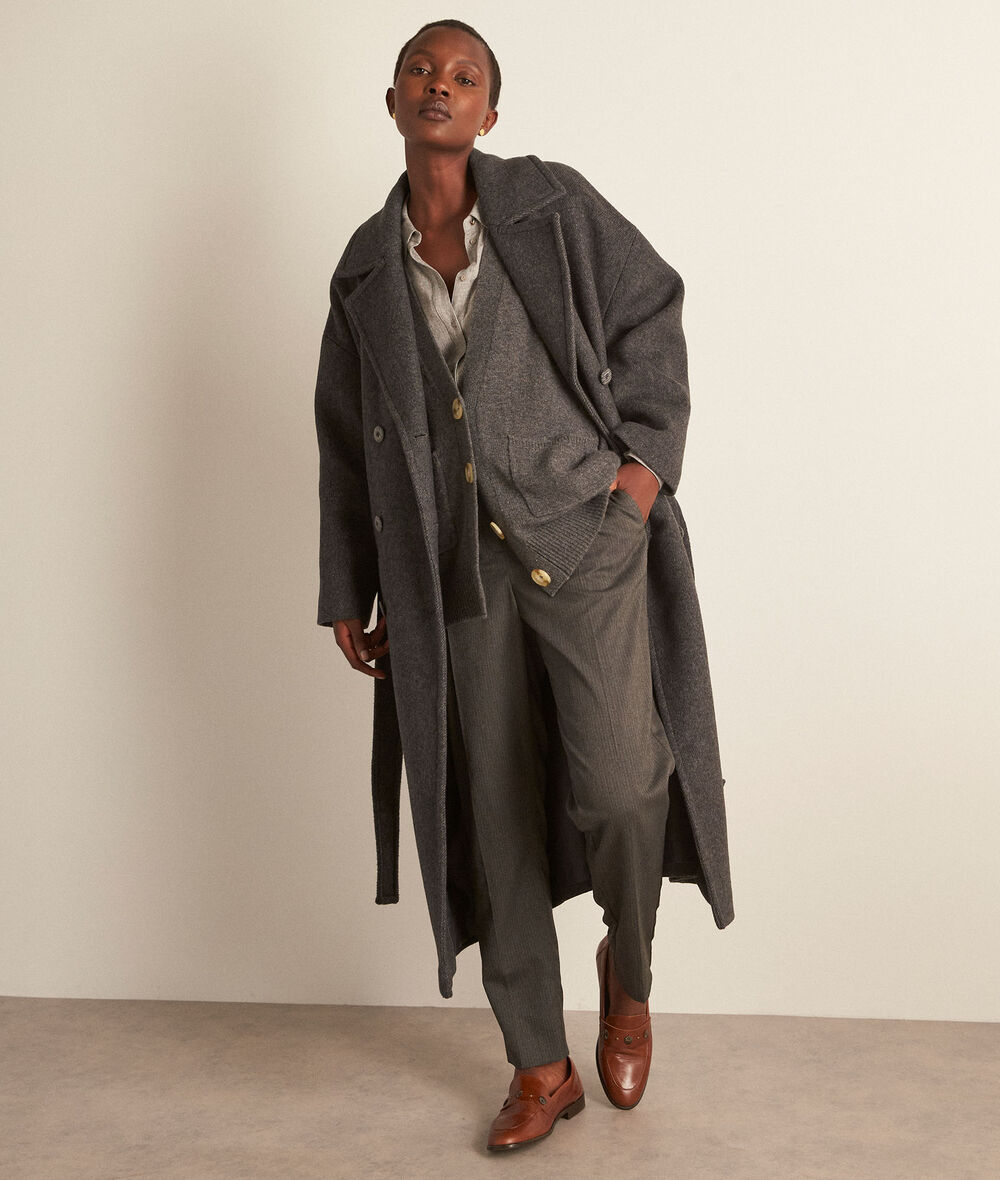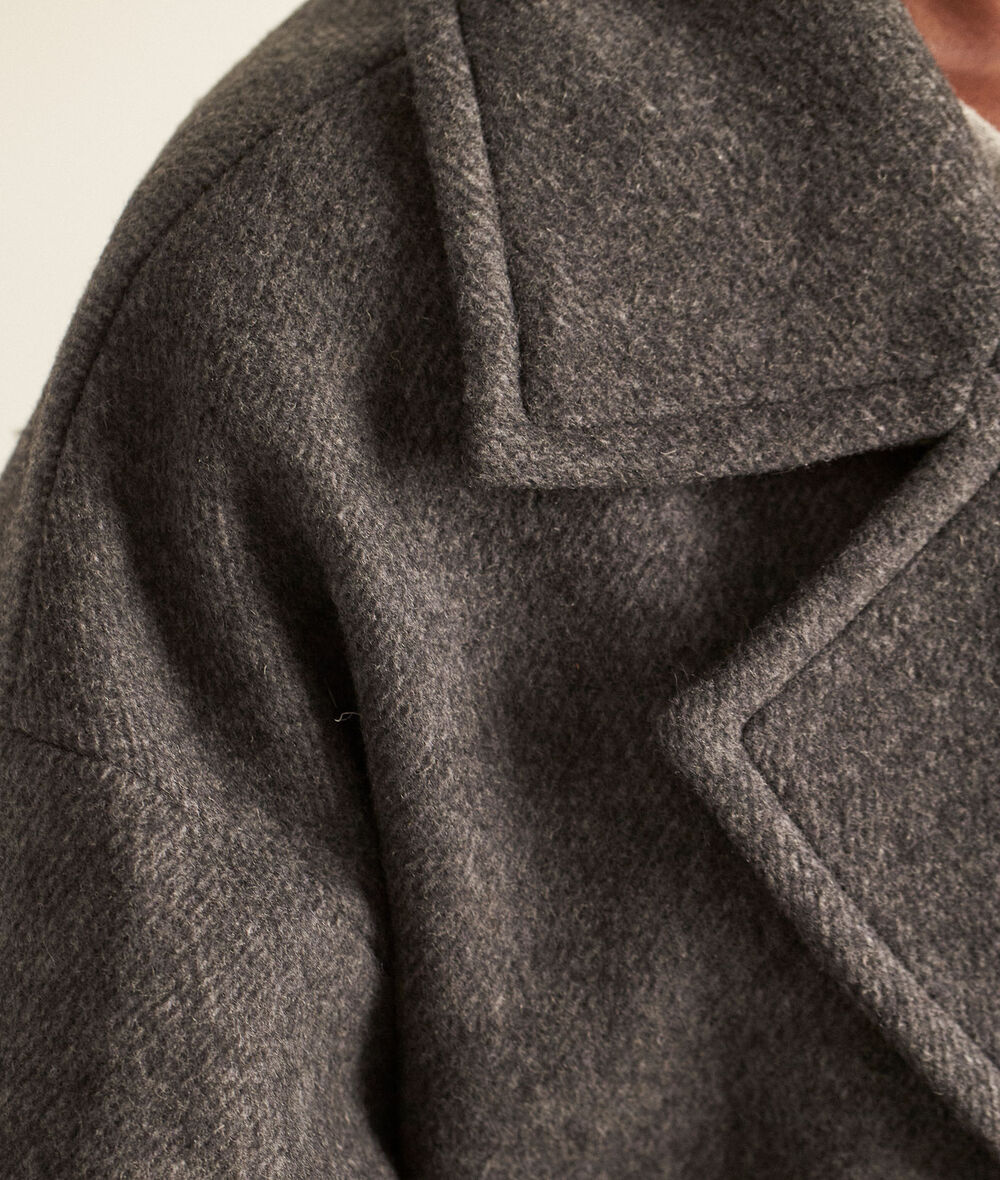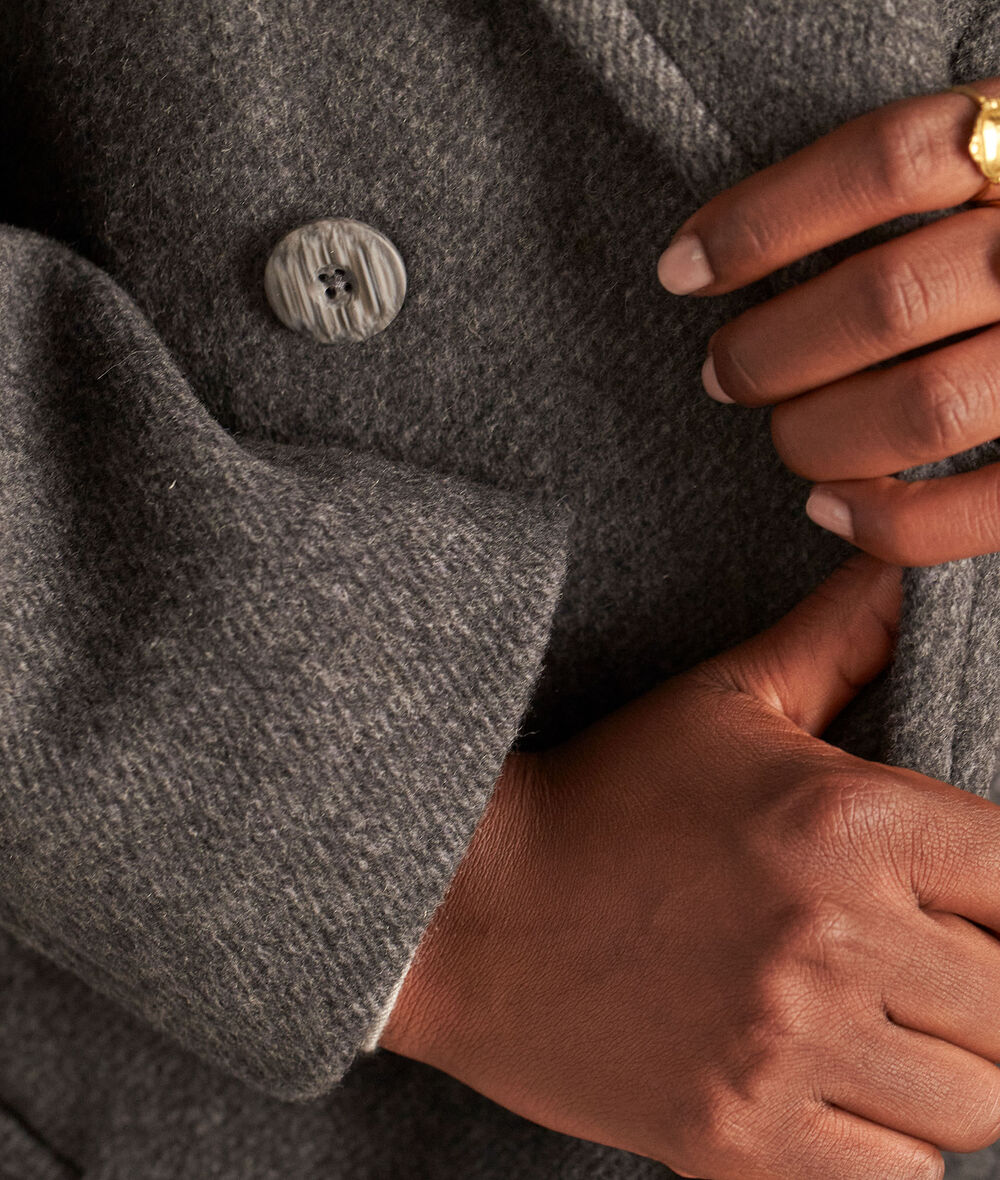 Matis long charcoal recycled wool coat
Sizes:
Only items in stock
!

Please choose a size
WECARE: This coat is made from recycled wool. Recycled wool is made from old woollen garments. This reduces its environmental footprint and recycles waste. 

You'll love our very elegant long oversized MATIS coat: it's a standout style.

WHY WE LOVE THIS STYLE
Made partly of recycled wool, this coat is eco-friendly. We love the long oval shape to snuggle up in. This slightly masculine coat has a wide tailored collar, a double-breasted fastening and a tone-on-tone tie belt.

OUR STYLE TIP
This winter stalwart will go with anything. For a chic everyday look, team it with tailored trousers. For a winter evening out, wear it belted over a maxi dress with some high-heeled boots.

- length: 128 cm for a size 36
- 40% recycled wool
- long
- oversized
- tailored collar
- long sleeves
- double-breasted
- 2 pockets
- made in Romania

Aliane is 1.74 m (5'8") tall and is wearing a size 38. The model is wearing the CADIX shirt, BRYTON cardigan, SABIL trousers and NADJA loafers with the MATIS coat.

WECARE: This coat is made from recycled wool. Recycled wool is made from old woollen garments. This reduces its environmental footprint and recycles waste. 

You'll love our very elegant long oversized MATIS coat: it's a standout style.

WHY WE LOVE THIS STYLE
Made partly of recycled wool, this coat is eco-friendly. We love the long oval shape to snuggle up in. This slightly masculine coat has a wide tailored collar, a double-breasted fastening and a tone-on-tone tie belt.

OUR STYLE TIP
This winter stalwart will go with anything. For a chic everyday look, team it with tailored trousers. For a winter evening out, wear it belted over a maxi dress with some high-heeled boots.

- length: 128 cm for a size 36
- 40% recycled wool
- long
- oversized
- tailored collar
- long sleeves
- double-breasted
- 2 pockets
- made in Romania

Aliane is 1.74 m (5'8") tall and is wearing a size 38. The model is wearing the CADIX shirt, BRYTON cardigan, SABIL trousers and NADJA loafers with the MATIS coat.


MATIERE PRINCIPALE : 40.00 % Laine, 30.00 % Polyamide, 30.00 % Lyocell

DOUBLURE : 100.00 % Polyester

This item can be recycled

Professional dry clean, solvents, moderate - wet cleaning forbidden
Reference: 653657396
30 days
money-back
guarantee
Matis long charcoal recycled wool coat
Sizes
!

Please choose a size