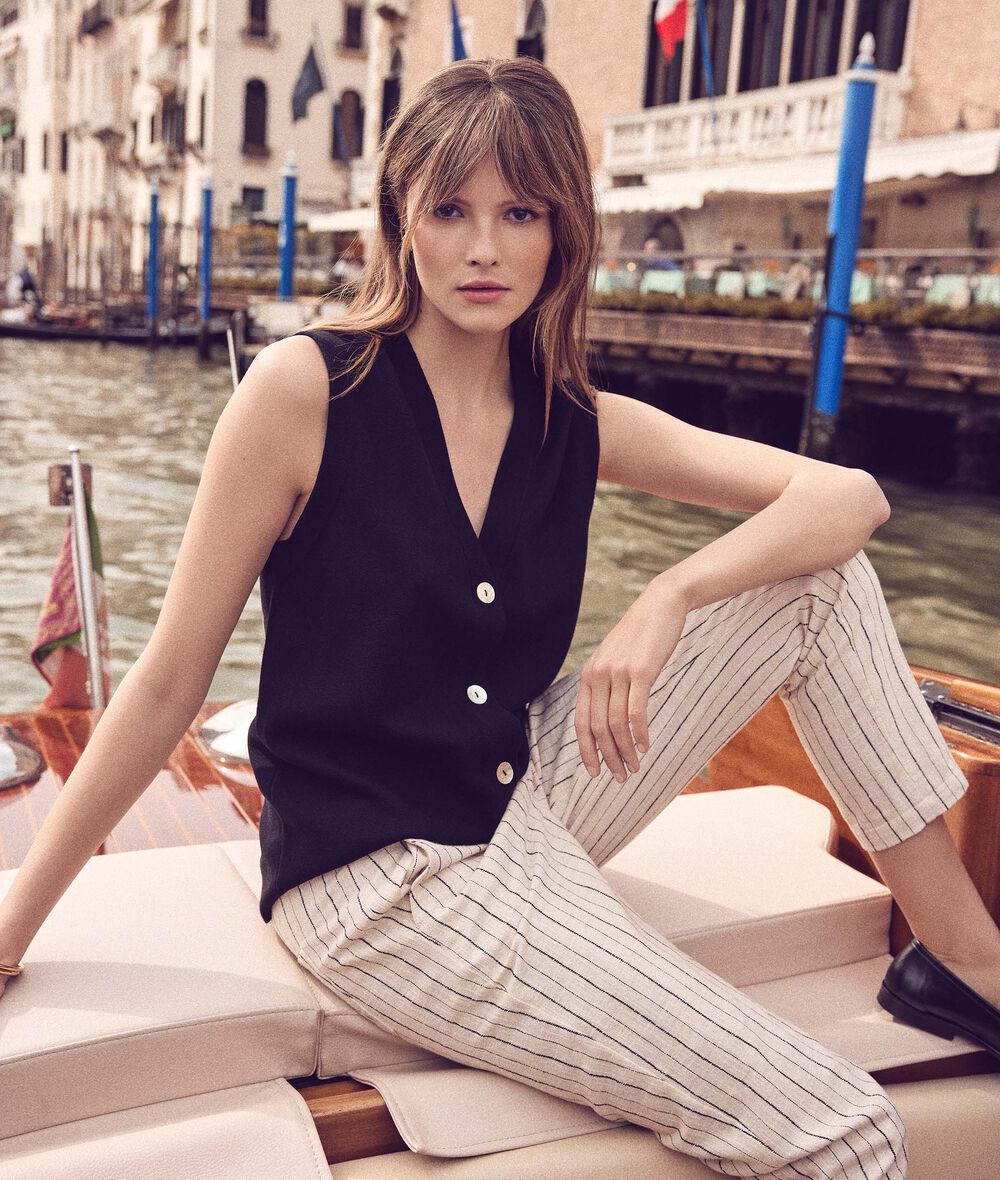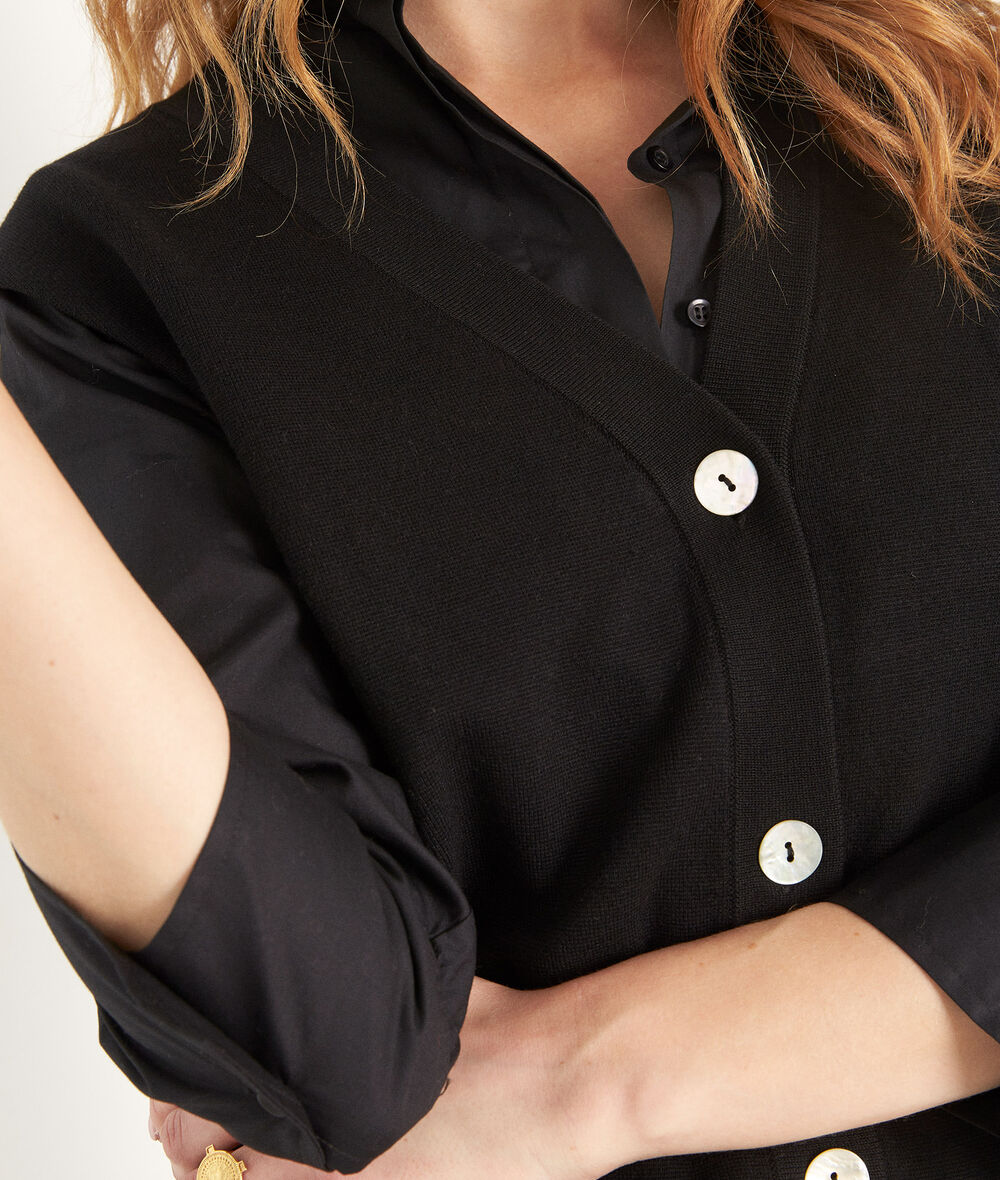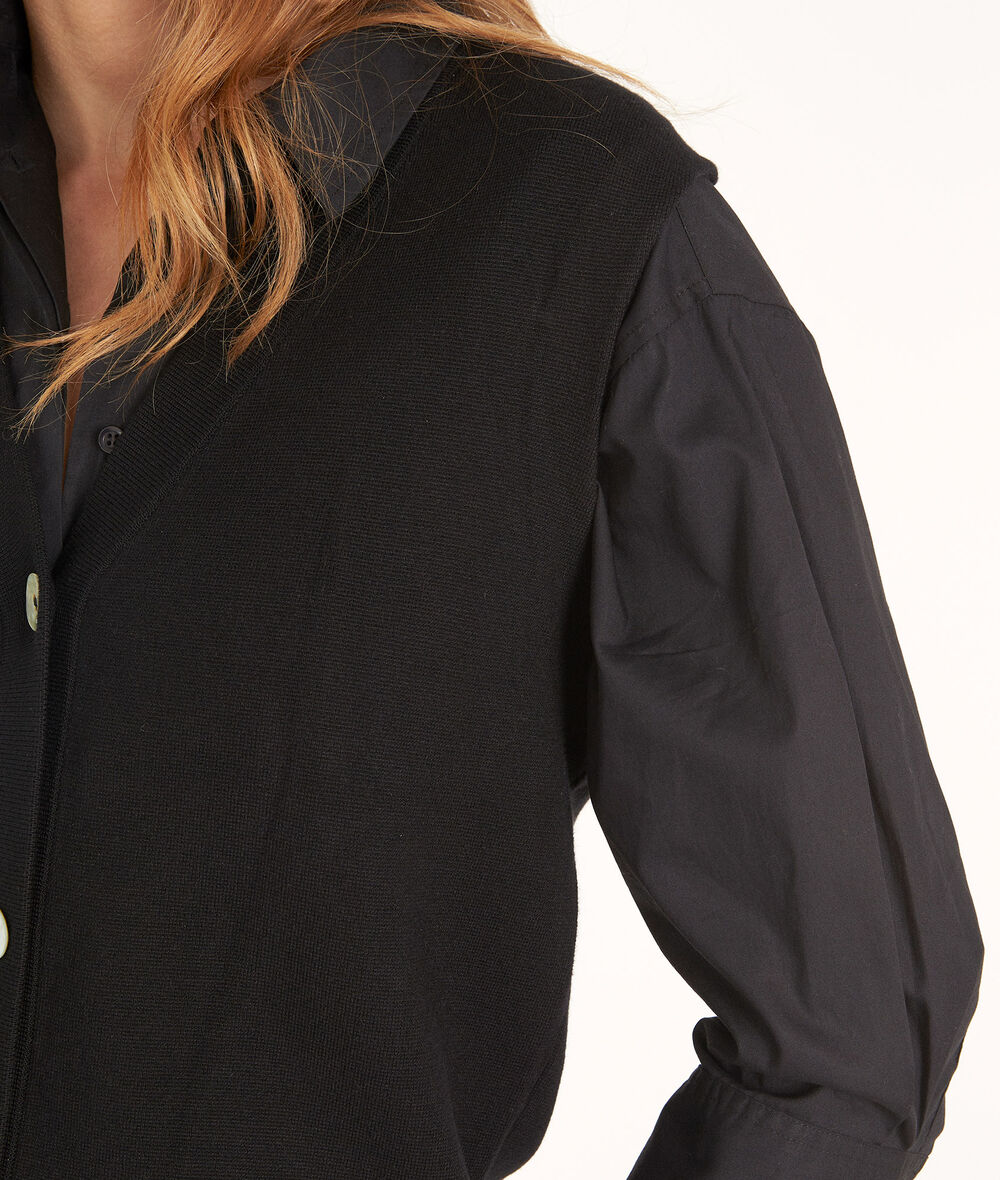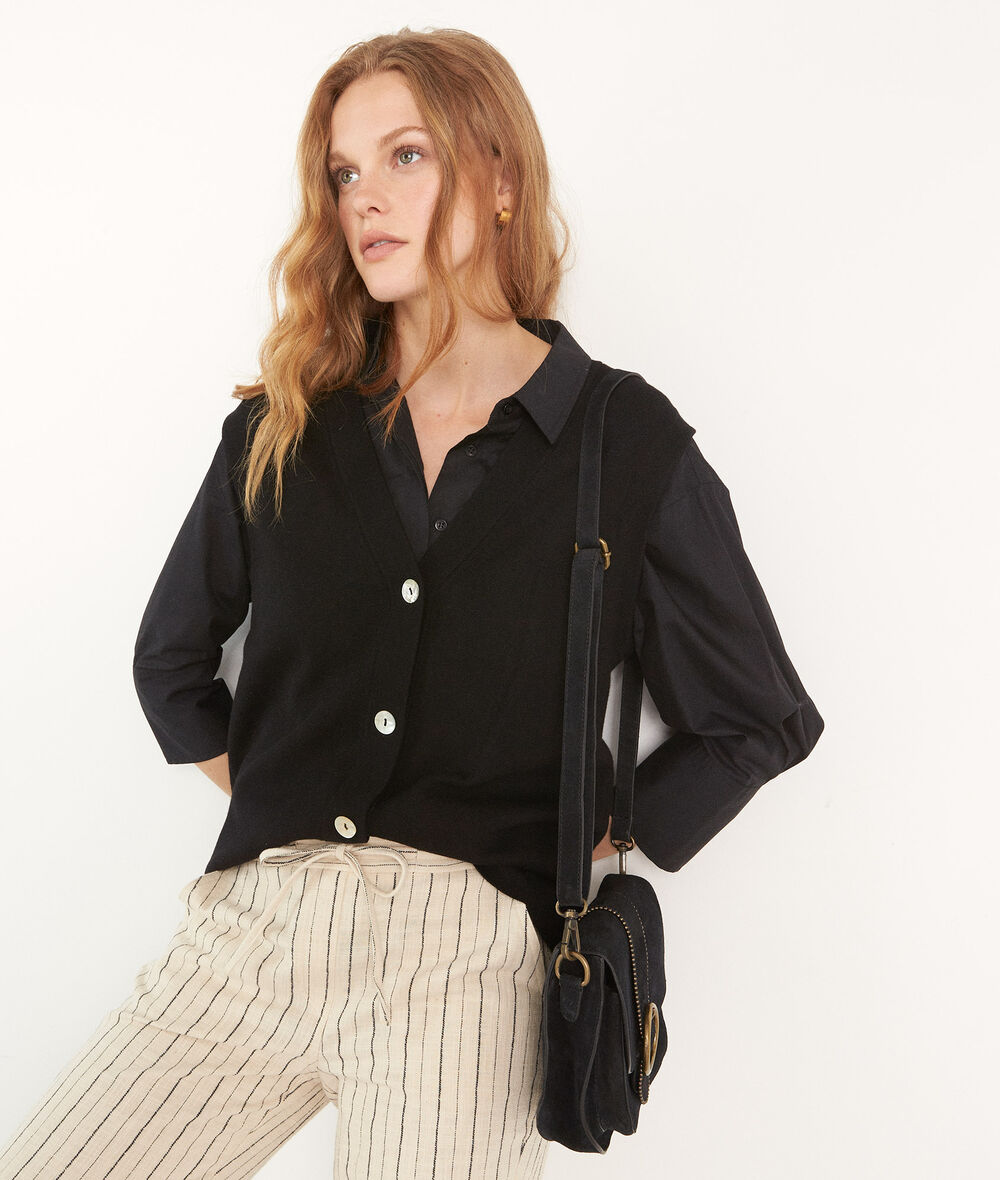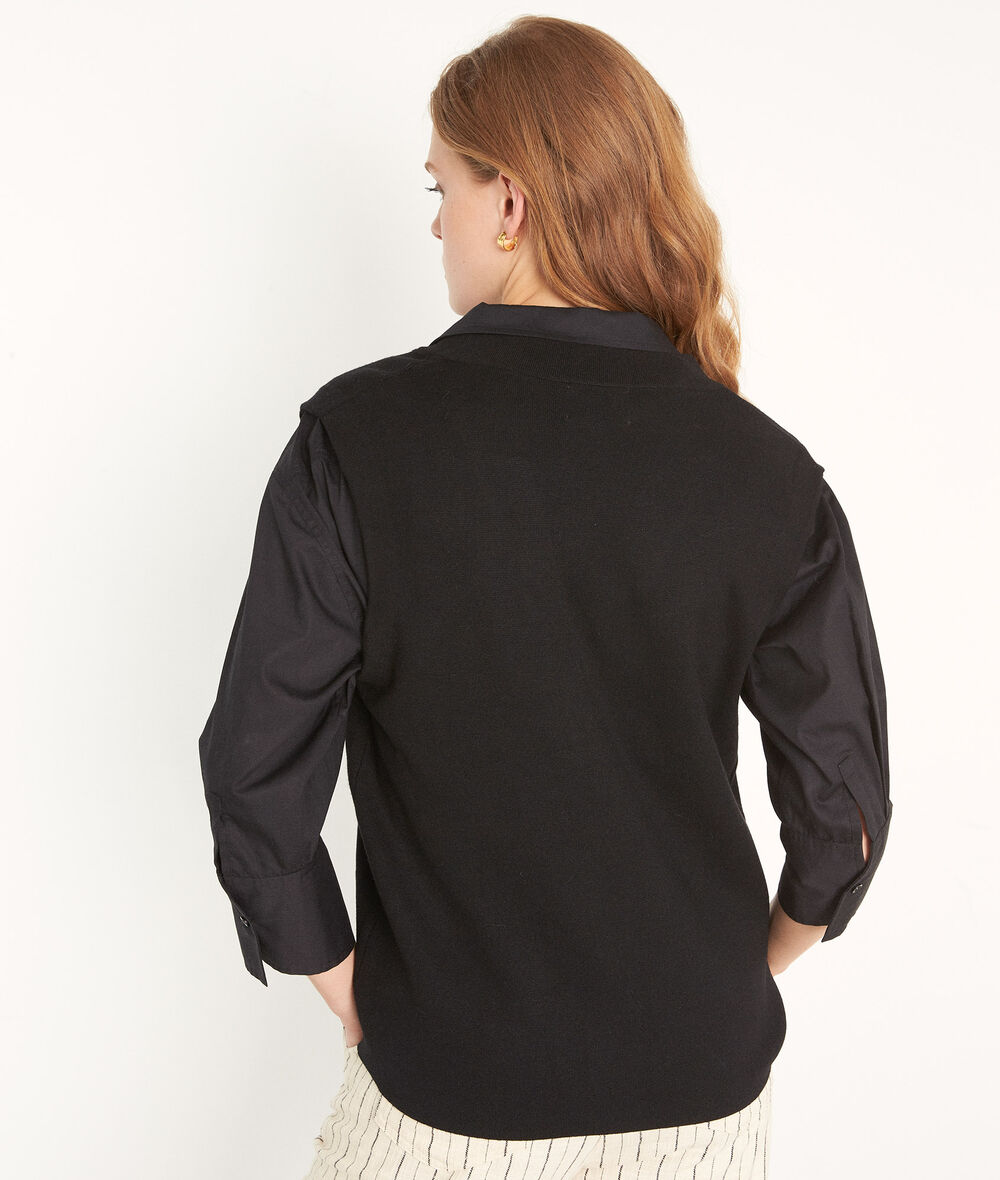 BRADY black EcoVera viscose sleeveless cardigan
Sizes:
Only items in stock
!

Please choose a size
registered alert
Thank you. Your request has now been submitted. You will be sent an email when the item is available again
Description
This cardigan is made from EcoVera viscose. Eco-friendly viscose is made from wood pulp sourced from sustainably managed forests. Its manufacturing process requires less water and energy. Our EcoVero viscose is certified by trusted independent organisations such as Lenzing™ and Birla™.

You'll love the charm of the BRADY ultra-soft sleeveless cardigan.

WHY WE LOVE IT
Made in a natural and long-lasting fabric, its tight weave is thick, dense and very soft. We love the V-neck and the row of mother-of-pearl buttons on the thick ribbed edge. Very retro, it is right on-trend.

OUR STYLE TIP
With this piece, layering works well, so perhaps pop on it over a pretty blouse or an elegant shirt.

- 70% EcoVero Viscose
- length: 60.5 cm for a size 36.
- V-neck
- mother-of-pearl buttons
- sleeveless
- made in China

Esther is 1.78 m (5'10") tall and is wearing a size 36. The model is wearing the ADOLINE blouse, the NOOR trousers and the NABELLA loafers with the BRADY knitwear. She is carrying the JORDAN bag.
This cardigan is made from EcoVera viscose. Eco-friendly viscose is made from wood pulp sourced from sustainably managed forests. Its manufacturing process requires less water and energy. Our EcoVero viscose is certified by trusted independent organisations such as Lenzing™ and Birla™.

You'll love the charm of the BRADY ultra-soft sleeveless cardigan.

WHY WE LOVE IT
Made in a natural and long-lasting fabric, its tight weave is thick, dense and very soft. We love the V-neck and the row of mother-of-pearl buttons on the thick ribbed edge. Very retro, it is right on-trend.

OUR STYLE TIP
With this piece, layering works well, so perhaps pop on it over a pretty blouse or an elegant shirt.

- 70% EcoVero Viscose
- length: 60.5 cm for a size 36.
- V-neck
- mother-of-pearl buttons
- sleeveless
- made in China

Esther is 1.78 m (5'10") tall and is wearing a size 36. The model is wearing the ADOLINE blouse, the NOOR trousers and the NABELLA loafers with the BRADY knitwear. She is carrying the JORDAN bag.

MATIERE PRINCIPALE : 70.00 % Viscose, 30.00 % Polyamide

This product can be recycled

Wash at 30° on delicate cycle
Reference: 653498707
30 days
money-back
guarantee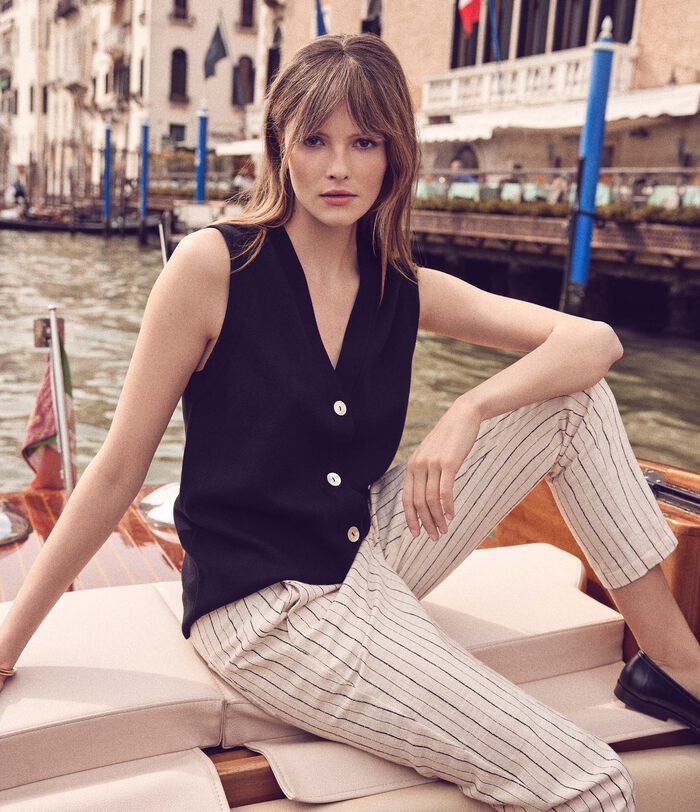 BRADY black EcoVera viscose sleeveless cardigan
Sizes
!

Please choose a size