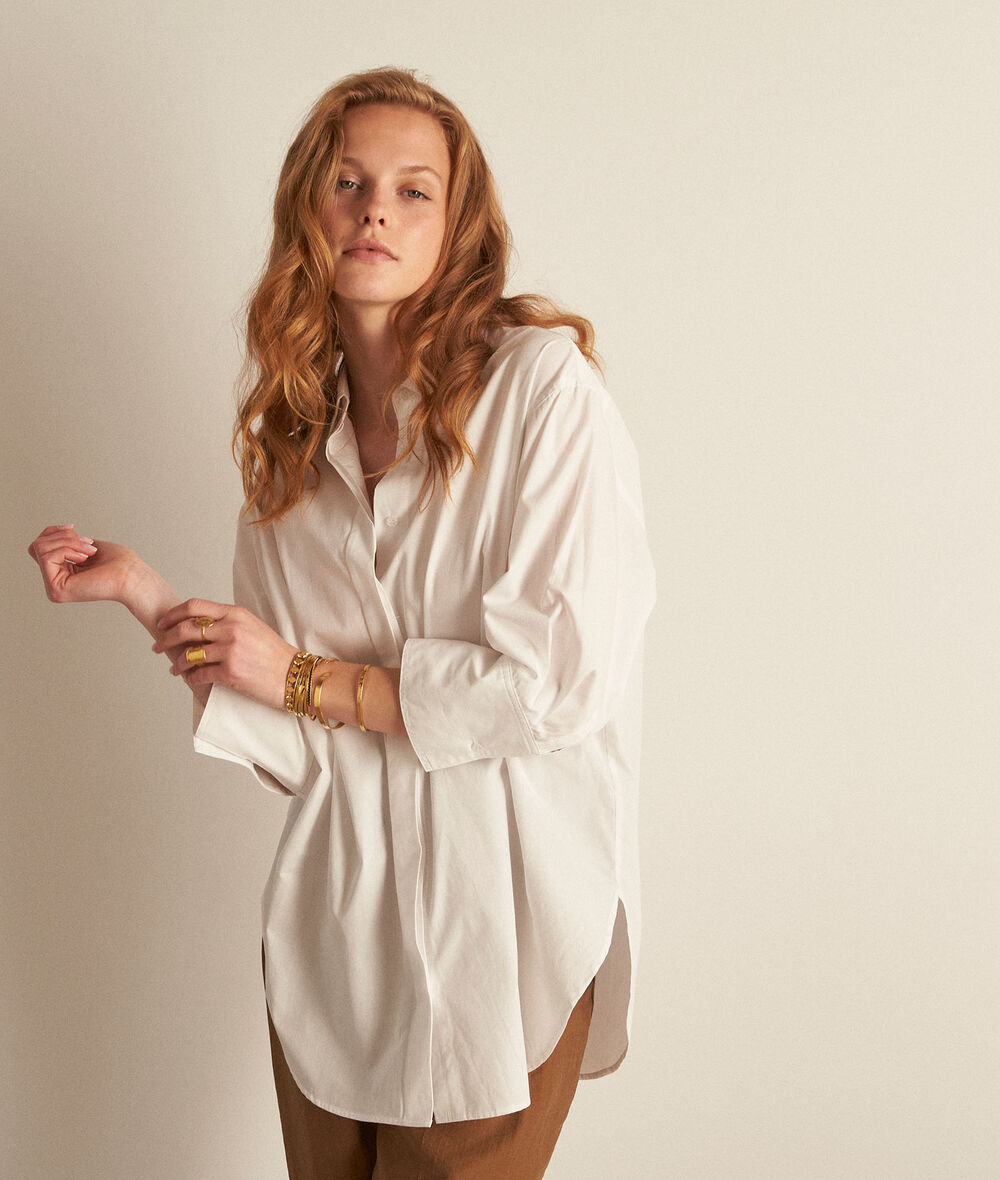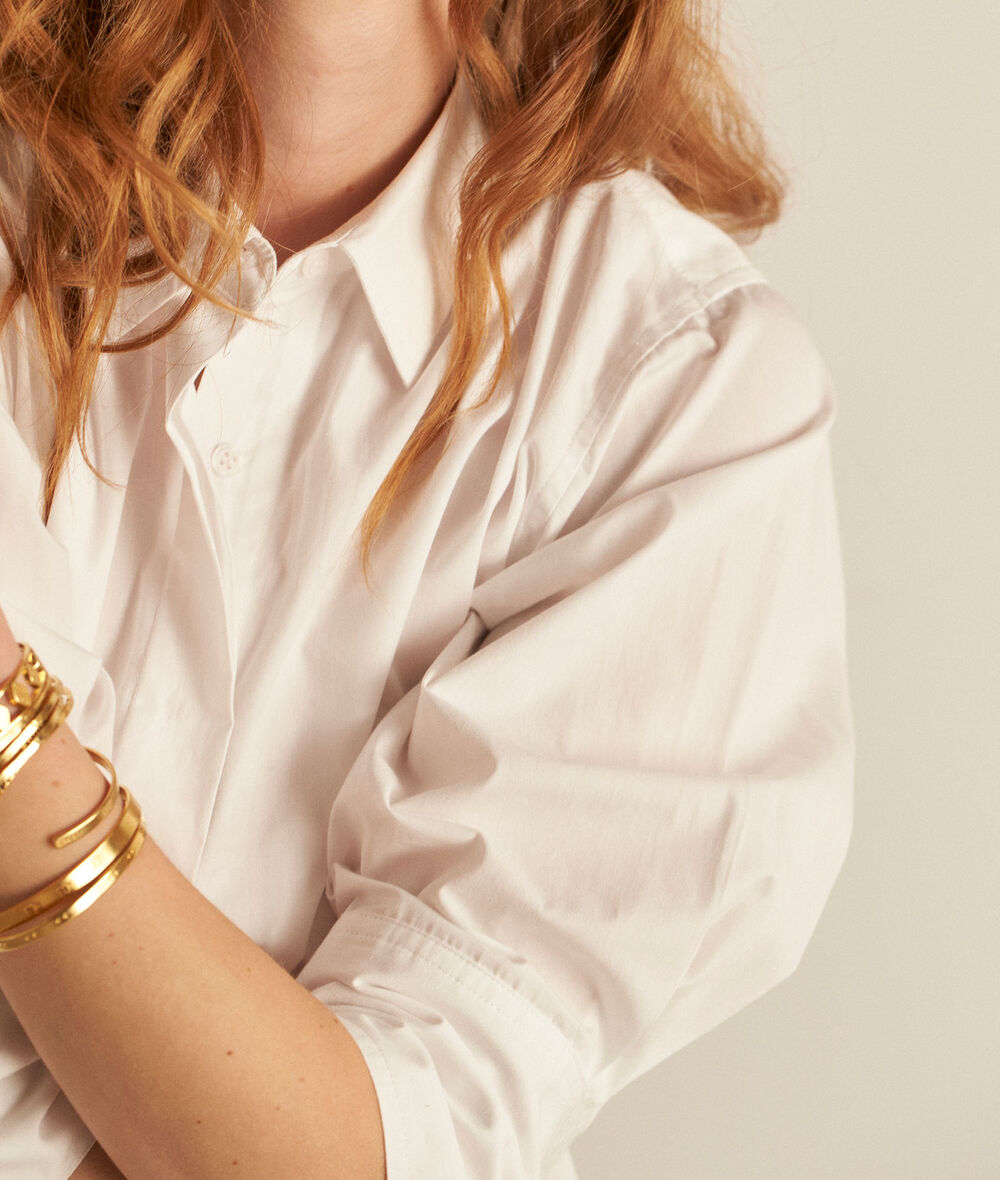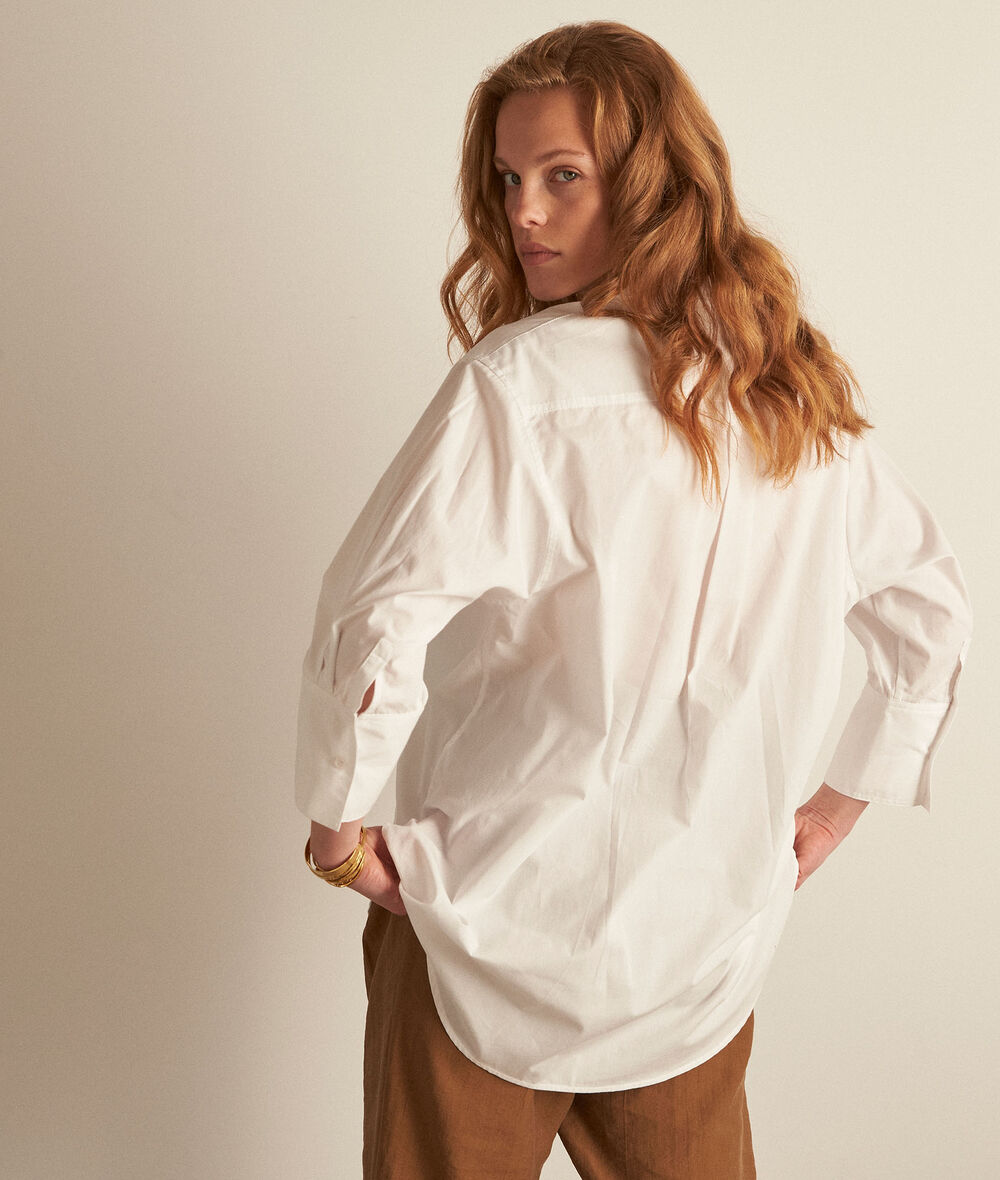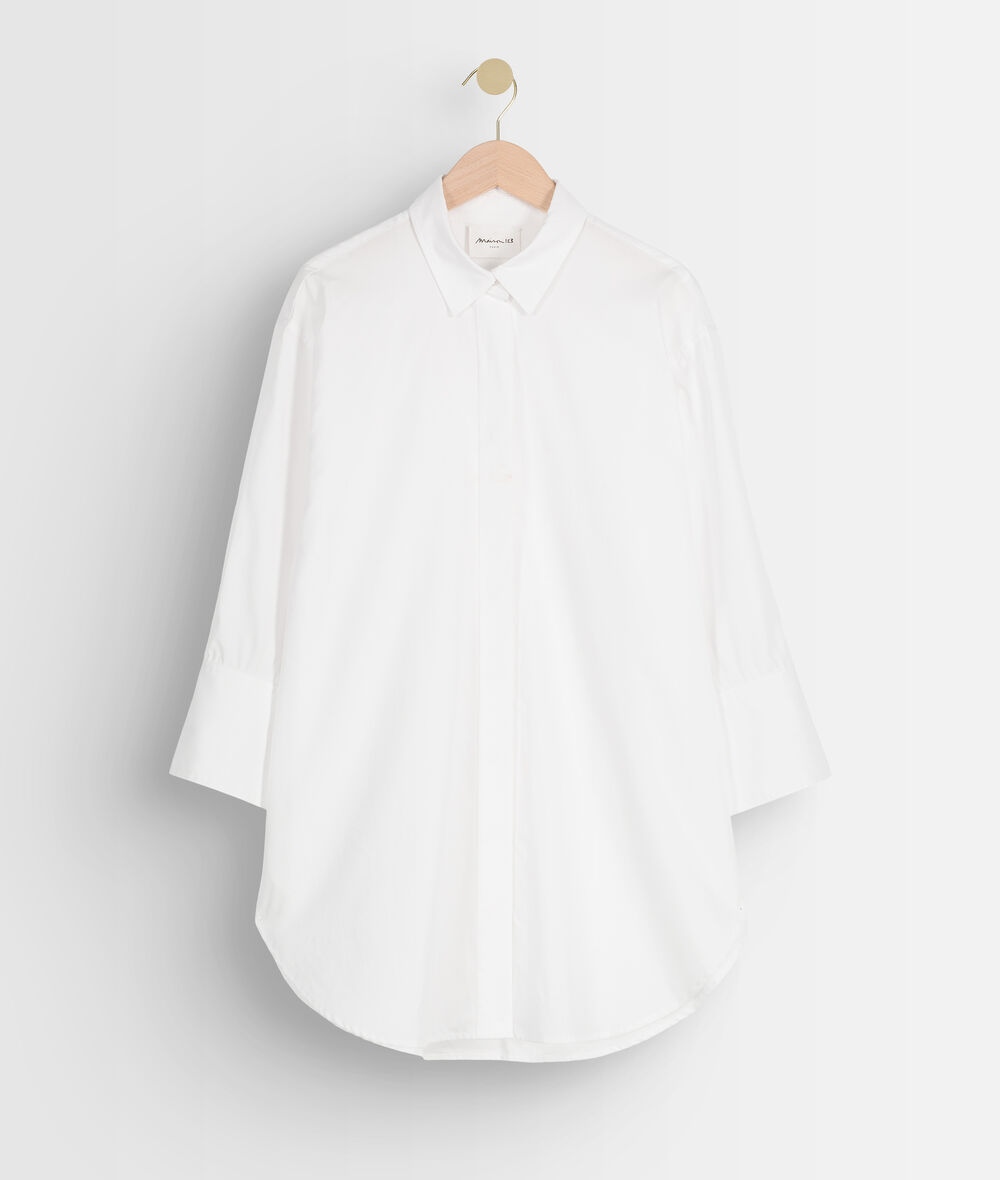 Adoline oversized long white organic cotton shirt
Sizes:
Only items in stock
!

Please choose a size
WECARE: This shirt is made from organic cotton. Grown without synthetic products and guaranteed to be GMO-free, organic cotton only needs 9% of the water used to grow conventional cotton. It helps maintain biodiversity, keep soils fertile and reduce greenhouse gas emissions. Our organic cotton is independently certified by bodies such as OCS and GOTS.

The classic white shirt has gone up in the world with the ADOLINE.

WHY WE LOVE IT
This shirt made of organic cotton has a long and XXL shape with a rounded hem to accentuate its size. Its 3/4-length sleeves with wide cuffs give it an original look, and we particularly like its very stylish concealed button placket.

OUR STYLE TIP
This shirt is a wardrobe must-have for an elegant look anywhere, anytime. Perfect with black slim-fit trousers, it also looks good with updated tailored trousers. Wear it with a sleeveless jumper on top for a very on-trend look!

- length: 80 cm for a size 36
- 100% organic cotton
- oversized cut
- long
- 3/4-length sleeves
- shirt-style collar
- concealed button placket
- made in Morocco

Esther is 1.78 m (5'10") tall and is wearing a size 36. The model is wearing the ADOLINE blouse with the BRADY cardigan, the THEO trousers and the NABELLA loafers.

WECARE: This shirt is made from organic cotton. Grown without synthetic products and guaranteed to be GMO-free, organic cotton only needs 9% of the water used to grow conventional cotton. It helps maintain biodiversity, keep soils fertile and reduce greenhouse gas emissions. Our organic cotton is independently certified by bodies such as OCS and GOTS.

The classic white shirt has gone up in the world with the ADOLINE.

WHY WE LOVE IT
This shirt made of organic cotton has a long and XXL shape with a rounded hem to accentuate its size. Its 3/4-length sleeves with wide cuffs give it an original look, and we particularly like its very stylish concealed button placket.

OUR STYLE TIP
This shirt is a wardrobe must-have for an elegant look anywhere, anytime. Perfect with black slim-fit trousers, it also looks good with updated tailored trousers. Wear it with a sleeveless jumper on top for a very on-trend look!

- length: 80 cm for a size 36
- 100% organic cotton
- oversized cut
- long
- 3/4-length sleeves
- shirt-style collar
- concealed button placket
- made in Morocco

Esther is 1.78 m (5'10") tall and is wearing a size 36. The model is wearing the ADOLINE blouse with the BRADY cardigan, the THEO trousers and the NABELLA loafers.


MATIERE PRINCIPALE : 100.00 % Coton

This product can be recycled

Wash at 30° on delicate cycle
Reference: 652901201
30 days
money-back
guarantee