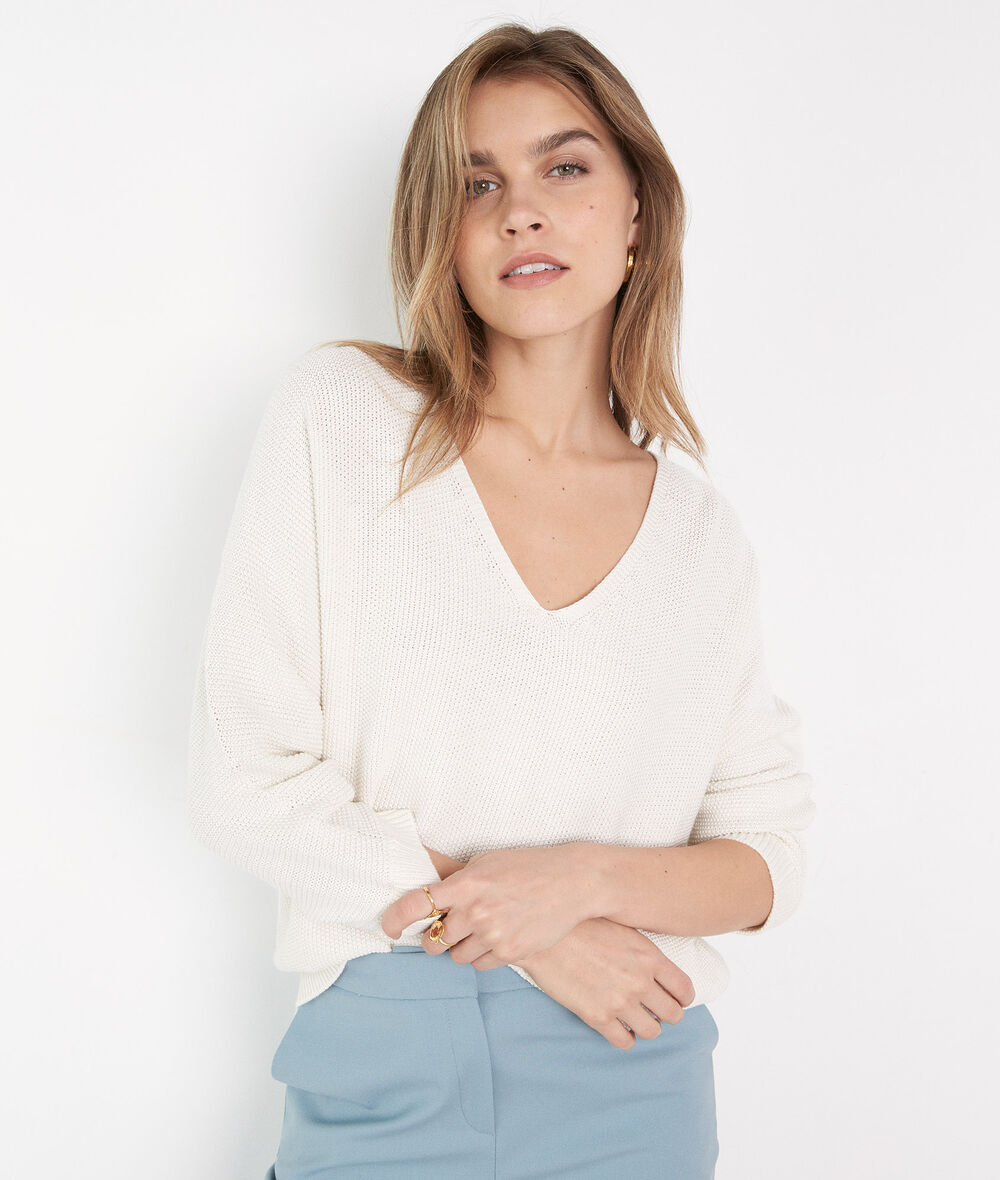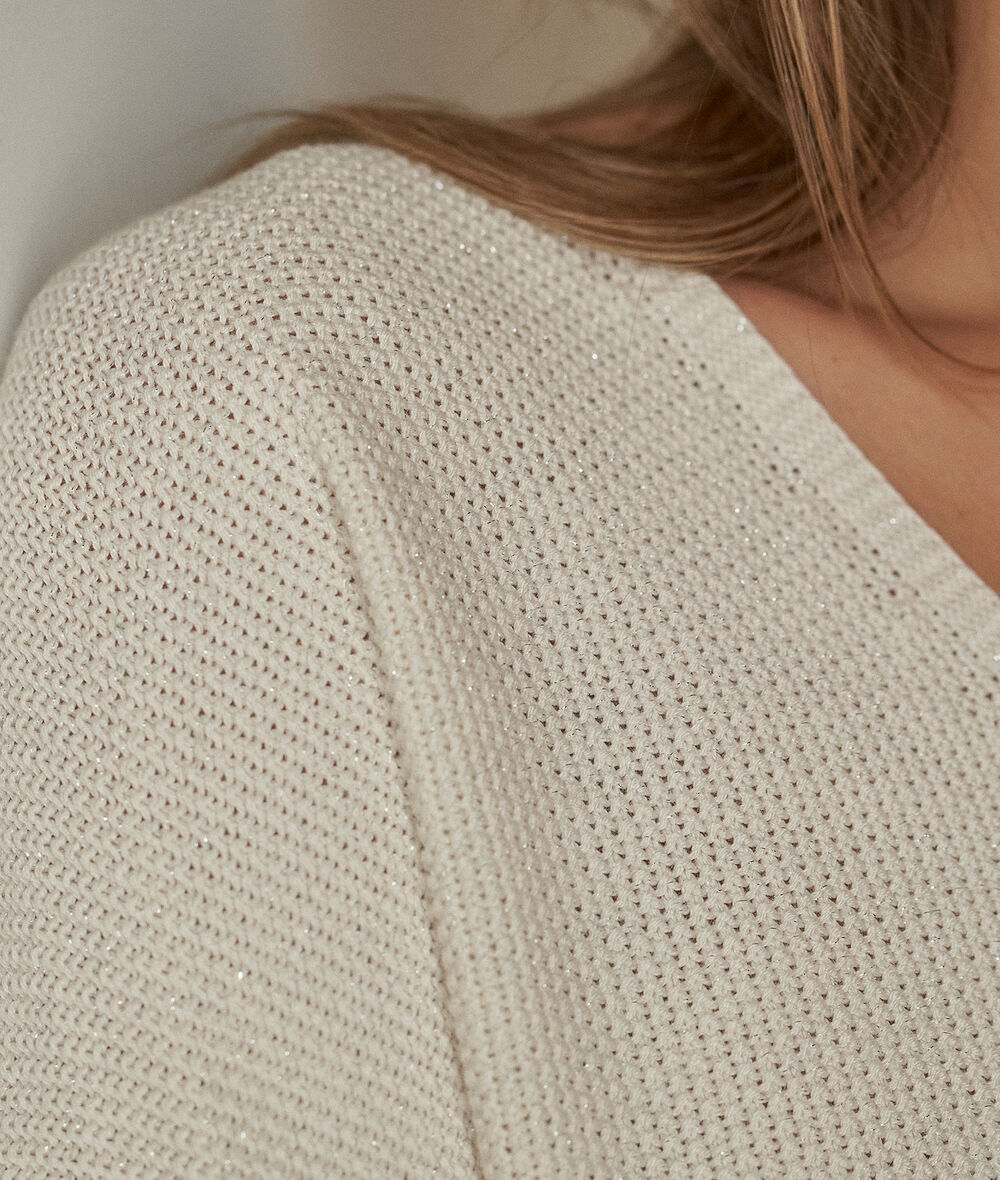 Basil ivory cotton and lurex jumper
Sizes:
Only items in stock
!

Please choose a size

You'll love our charming textured BASIL jumper with its subtle sparkle and lightweight fabric.

WHY WE LOVE THIS STYLE
The use of viscose and cotton makes this thick style ultra-soft. It's a simple design with a wide and flattering V-neck. This timeless jumper is the perfect addition to your wardrobe, and will make a real difference to your everyday outfits.

OUR STYLE TIP
It's a smart design that goes nicely with coloured tailored trousers for a lovely bright look.

- length: 57 cm for a size 36
- 38% cotton
- 3/4-length sleeves
- V-neck
- metallic fibres
- made in China

Olivia is 1.74 m (5'8") tall and is wearing a size 36. The model is wearing the HARRY trousers and NADJA loafers with the BASIL jumper.

You'll love our charming textured BASIL jumper with its subtle sparkle and lightweight fabric.

WHY WE LOVE THIS STYLE
The use of viscose and cotton makes this thick style ultra-soft. It's a simple design with a wide and flattering V-neck. This timeless jumper is the perfect addition to your wardrobe, and will make a real difference to your everyday outfits.

OUR STYLE TIP
It's a smart design that goes nicely with coloured tailored trousers for a lovely bright look.

- length: 57 cm for a size 36
- 38% cotton
- 3/4-length sleeves
- V-neck
- metallic fibres
- made in China

Olivia is 1.74 m (5'8") tall and is wearing a size 36. The model is wearing the HARRY trousers and NADJA loafers with the BASIL jumper.

MATIERE PRINCIPALE : 48.00 % Viscose, 38.00 % Coton, 9.00 % Polyamide, 3.00 % Polyester, 2.00 % Fibres métallisées

This product can be recycled

Wash at 30° on delicate cycle
Reference: 653510781
30 days
money-back
guarantee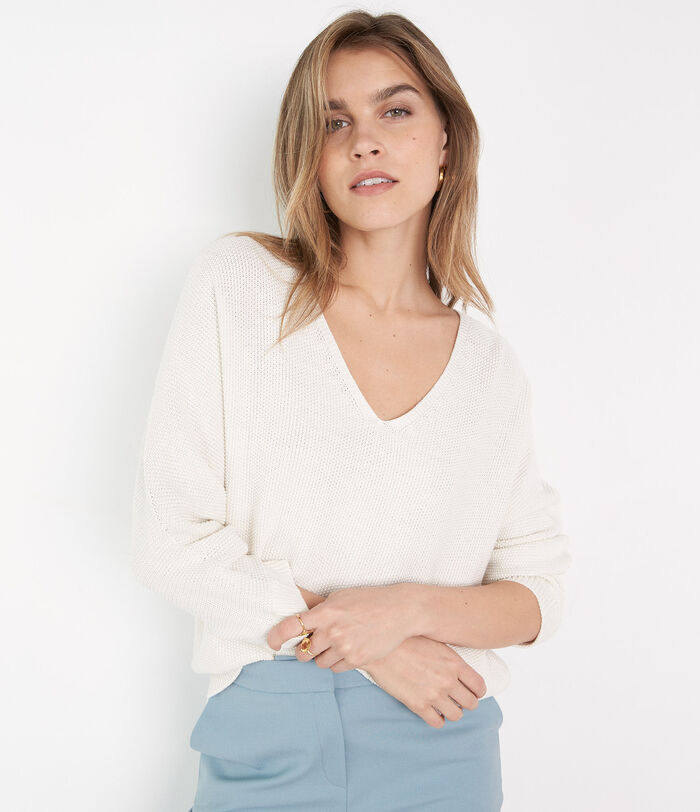 Basil ivory cotton and lurex jumper
Sizes
!

Please choose a size