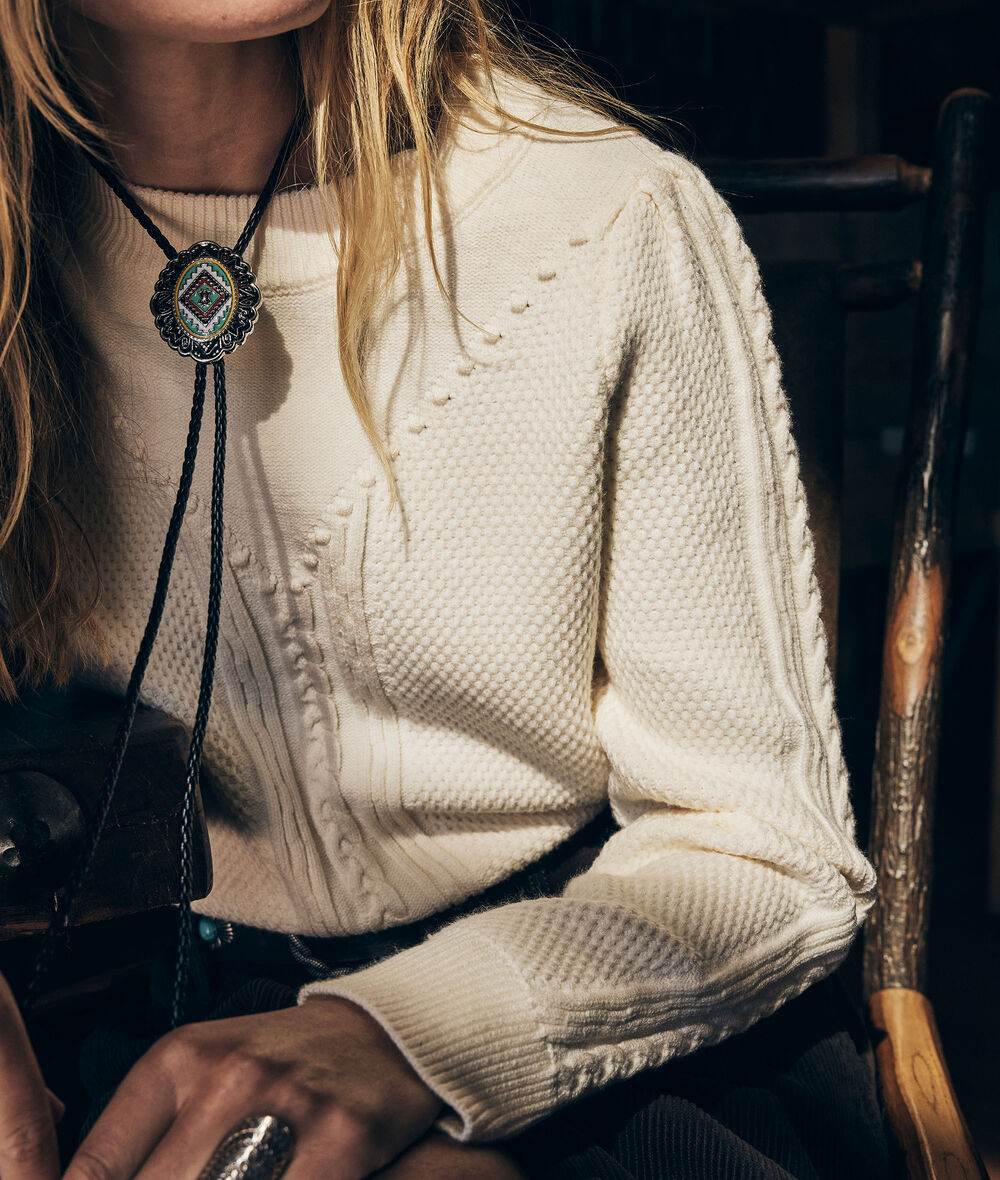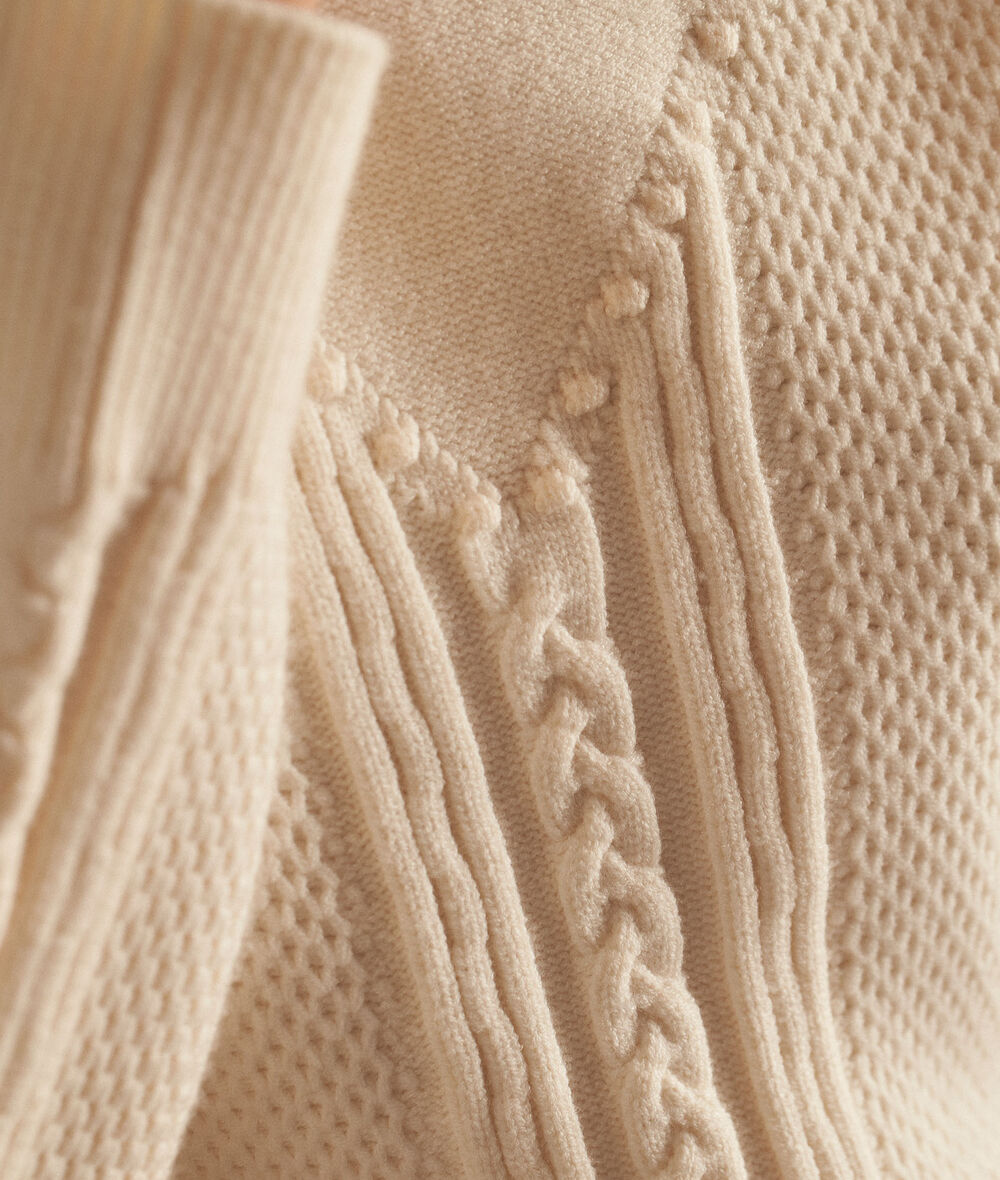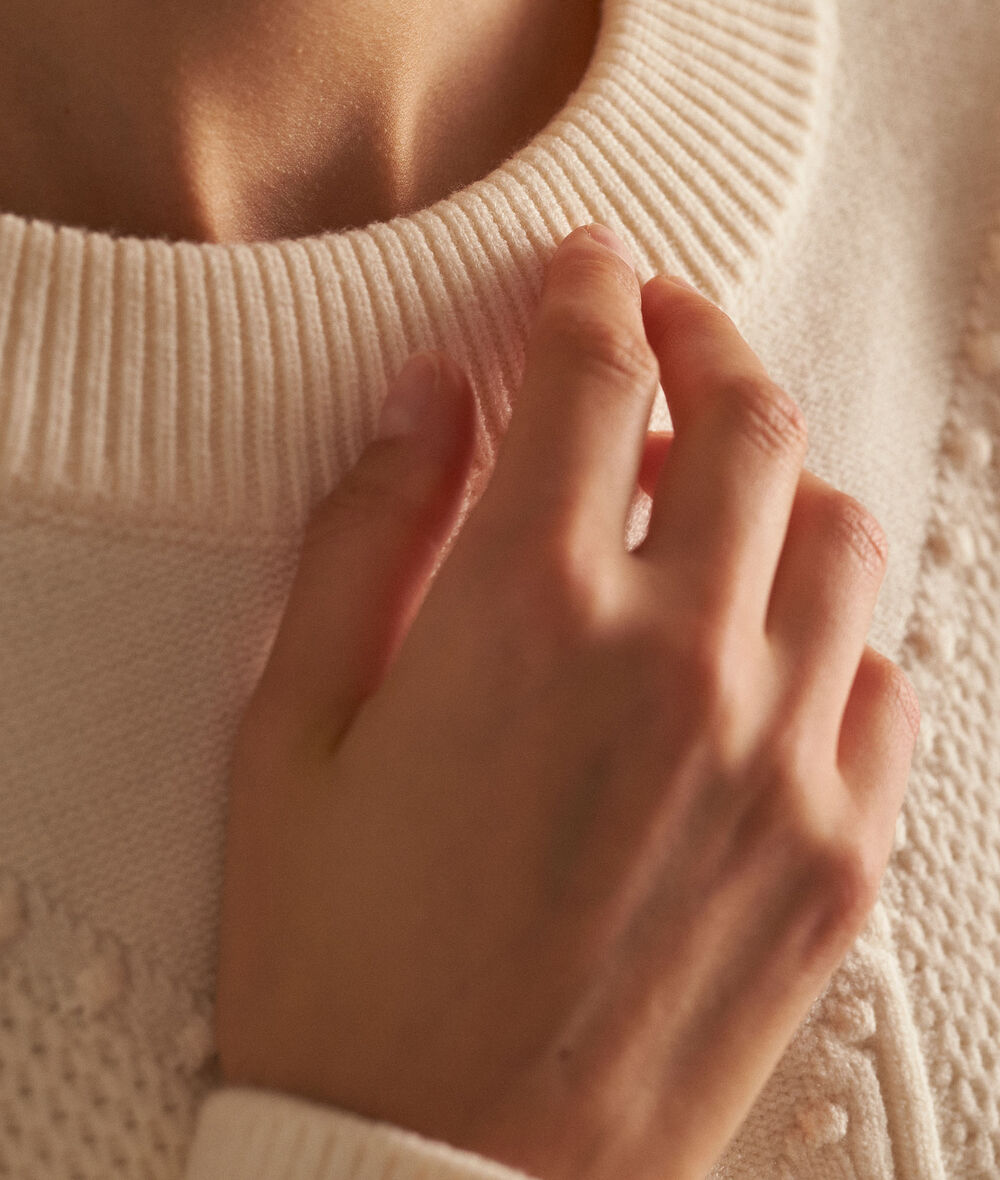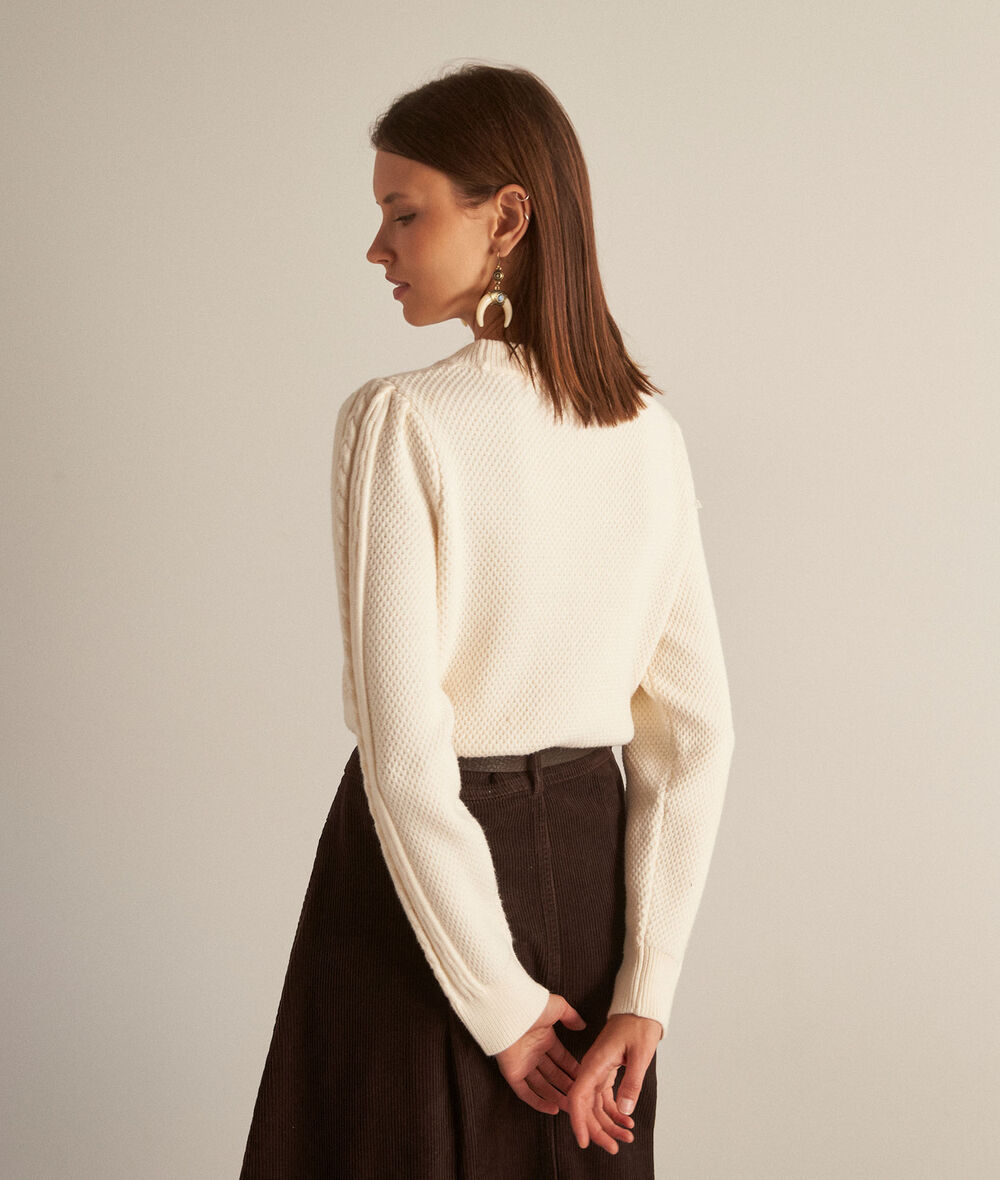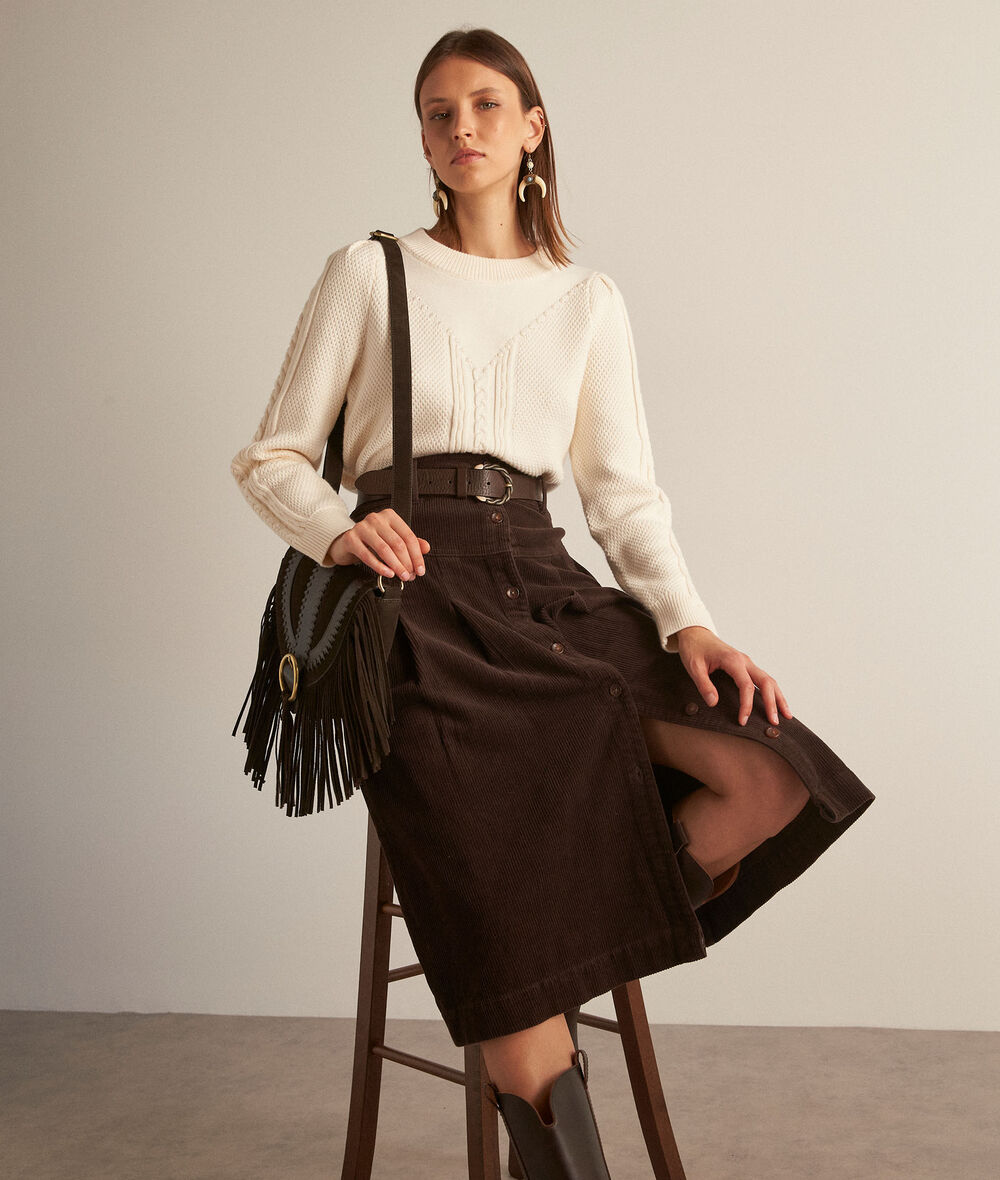 Benoist ecru EcoVero viscose jumper
Sizes:
Only items in stock
!

Please choose a size
WECARE: This jumper is made from Lenzing EcoVero viscose. Eco-friendly viscose is made from wood pulp sourced from sustainably managed forests. Its manufacturing process requires less water and energy. Our EcoVero viscose is certified by trusted independent organisations such as Lenzing™ and Birla™.

You'll love our BENOIST jumper with its soft and original knit.

WHY WE LOVE THIS STYLE
The fabric contains EcoVero viscose and is super-soft as well as beautifully thick. This jumper features various knitted sections making up a graphic design that gives the upper body structure.

OUR STYLE TIP
It's fitted and elegant, plus suitable in any situation. Team it with something more voluminous on your bottom half: perhaps some wide-leg trousers or an A-line skirt.

- length: 59.5 cm for a size 36
- 50% EcoVero viscose
- round neck
- long sleeves
- graphic knits
- made in China

Sveta is 1.78 metres (5'10") tall and is wearing a size 36. The model is wearing the KATIA skirt, DAISY belt and CHARLIE boots with the BENOIST jumper, and carrying the LEOTIE bag.

WECARE: This jumper is made from Lenzing EcoVero viscose. Eco-friendly viscose is made from wood pulp sourced from sustainably managed forests. Its manufacturing process requires less water and energy. Our EcoVero viscose is certified by trusted independent organisations such as Lenzing™ and Birla™.

You'll love our BENOIST jumper with its soft and original knit.

WHY WE LOVE THIS STYLE
The fabric contains EcoVero viscose and is super-soft as well as beautifully thick. This jumper features various knitted sections making up a graphic design that gives the upper body structure.

OUR STYLE TIP
It's fitted and elegant, plus suitable in any situation. Team it with something more voluminous on your bottom half: perhaps some wide-leg trousers or an A-line skirt.

- length: 59.5 cm for a size 36
- 50% EcoVero viscose
- round neck
- long sleeves
- graphic knits
- made in China

Sveta is 1.78 metres (5'10") tall and is wearing a size 36. The model is wearing the KATIA skirt, DAISY belt and CHARLIE boots with the BENOIST jumper, and carrying the LEOTIE bag.


MATIERE PRINCIPALE : 50.00 % Viscose, 28.00 % Polyester, 22.00 % Polyamide

This product can be recycled

Wash at 30° on delicate cycle
Reference: 653522780
30 days
money-back
guarantee
Benoist ecru EcoVero viscose jumper
Sizes
!

Please choose a size