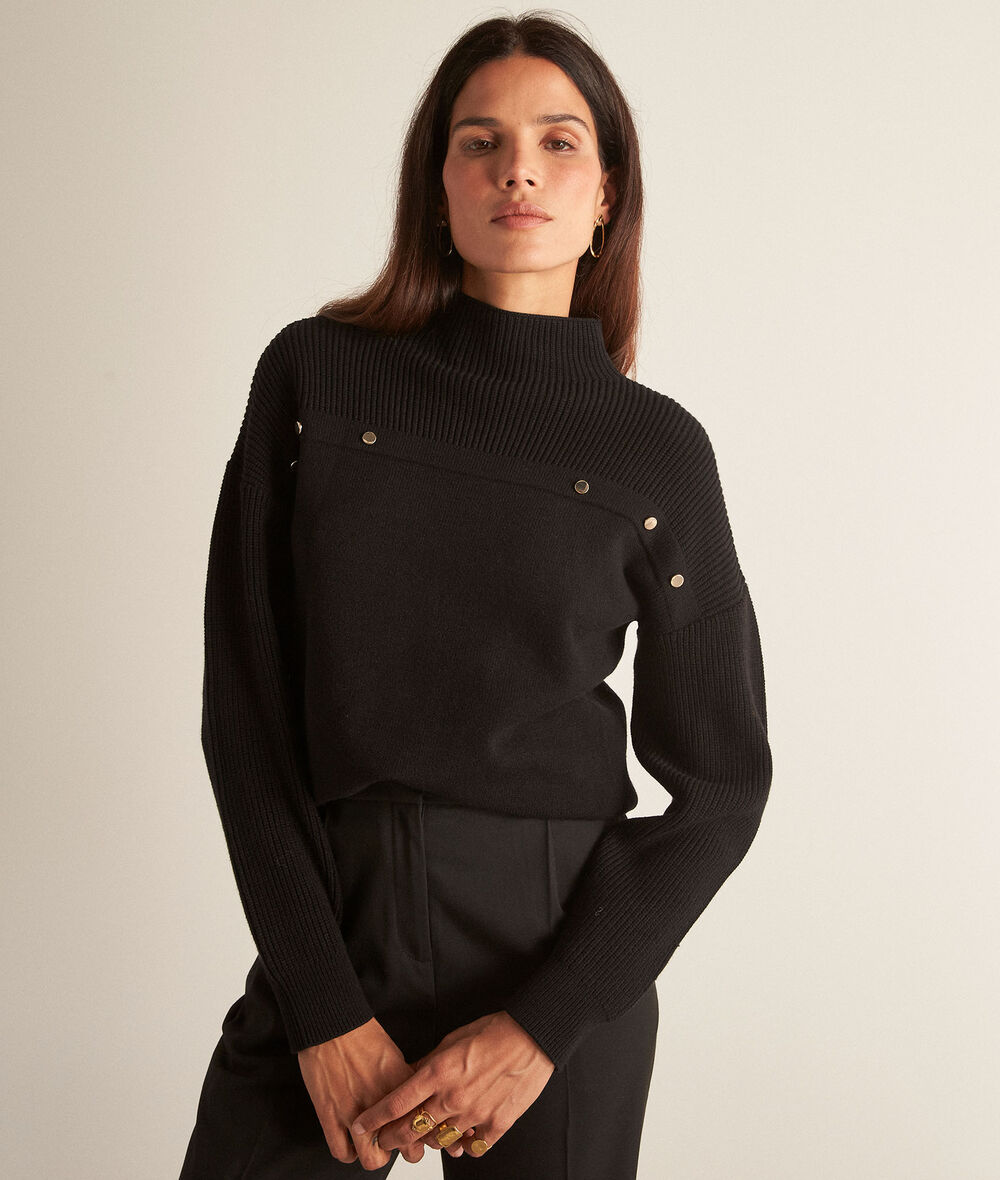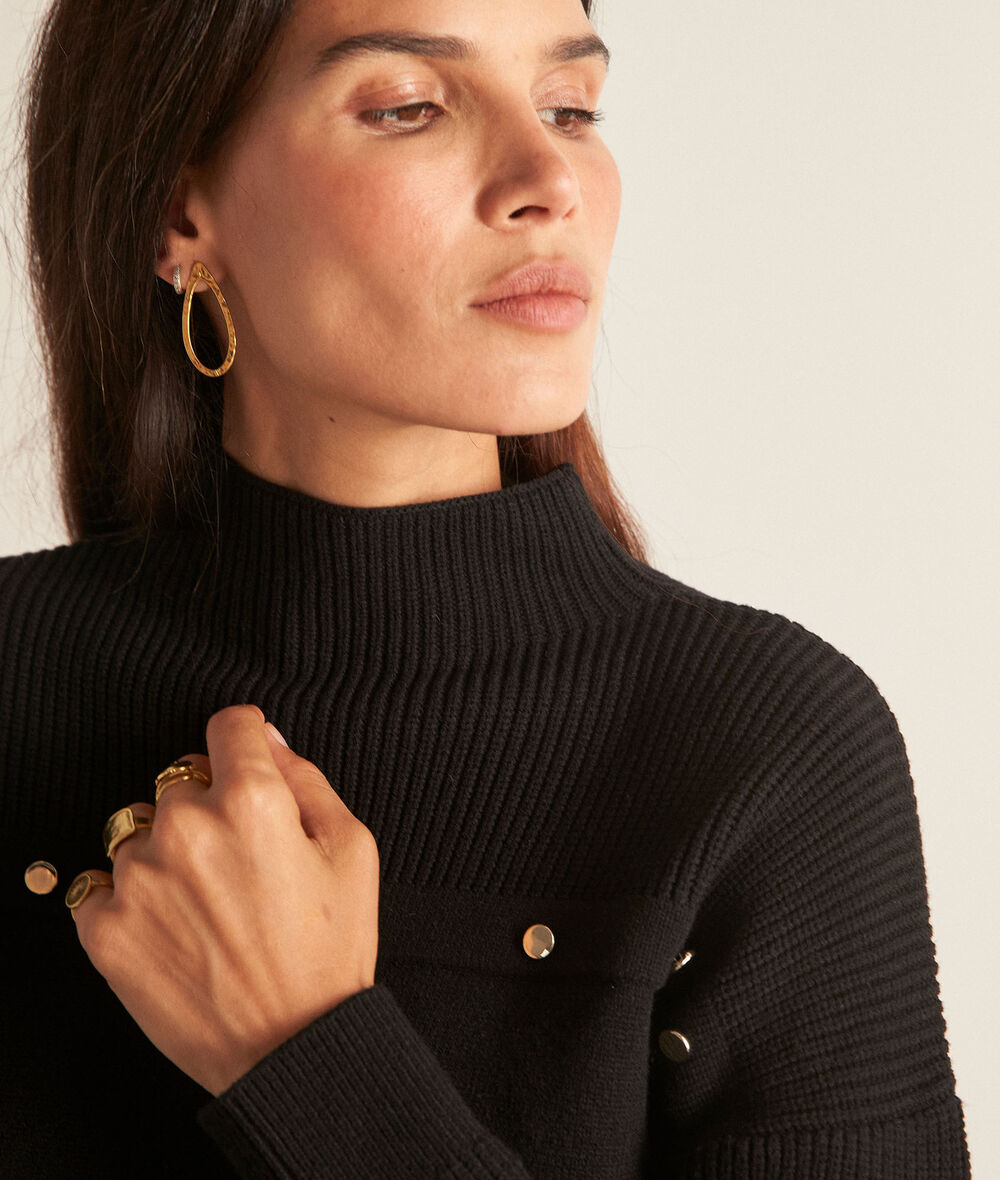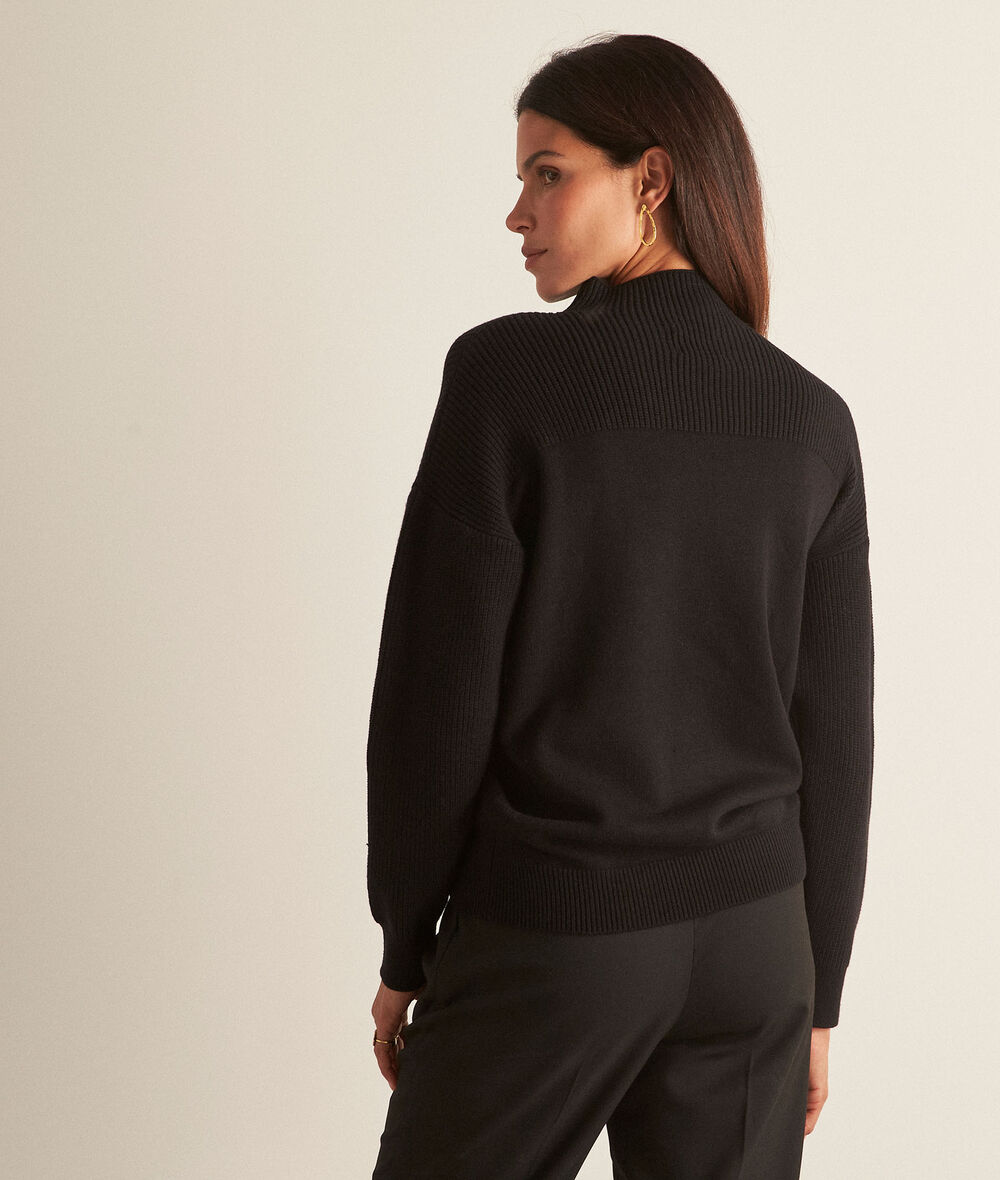 Brenda black EcoVero viscose jumper
Sizes:
Only items in stock
!

Please choose a size
WECARE: This pullover is made from Lenzing Eco Vero Viscose. Eco-friendly viscose is made from wood pulp sourced from sustainably managed forests. The manufacturing process requires less water and energy.
The WECARE programme's sustainable viscose is certified by trusted independent organisations such as Lenzing™ and Birla™.

Discover BILLY, a charming jumper knitted in a very soft yarn.

WHY WE LOVE IT
You'll love the details of its fine and dense knit and its small golden buttons, which make it unique. Made of a natural material, it has a straight shape, a high neck and long sleeves. The fabric is soft and comfortable: perfect for mid-season wear.

OUR STYLE TIP
An elegant and simple jumper that can be worn with a pair of mum jeans or, for a smarter look, tucked into a satin skirt.

- length: 59 cm for a size 36
- 50% EcoVero viscose
- straight cut
- long
- high neck
- made in China
Raica is 1.78 metres (5'10") tall and is wearing a size 36. The model is wearing the BRENDA jumper with the SAVINA trousers and the NABELLA loafers and carrying the JACOB bag.

WECARE: This pullover is made from Lenzing Eco Vero Viscose. Eco-friendly viscose is made from wood pulp sourced from sustainably managed forests. The manufacturing process requires less water and energy.
The WECARE programme's sustainable viscose is certified by trusted independent organisations such as Lenzing™ and Birla™.

Discover BILLY, a charming jumper knitted in a very soft yarn.

WHY WE LOVE IT
You'll love the details of its fine and dense knit and its small golden buttons, which make it unique. Made of a natural material, it has a straight shape, a high neck and long sleeves. The fabric is soft and comfortable: perfect for mid-season wear.

OUR STYLE TIP
An elegant and simple jumper that can be worn with a pair of mum jeans or, for a smarter look, tucked into a satin skirt.

- length: 59 cm for a size 36
- 50% EcoVero viscose
- straight cut
- long
- high neck
- made in China
Raica is 1.78 metres (5'10") tall and is wearing a size 36. The model is wearing the BRENDA jumper with the SAVINA trousers and the NABELLA loafers and carrying the JACOB bag.


MATIERE PRINCIPALE : 50.00 % Viscose, 28.00 % Polyester, 22.00 % Polyamide

This product can be recycled
Reference: 653510007
30 days
money-back
guarantee
Brenda black EcoVero viscose jumper
Sizes
!

Please choose a size