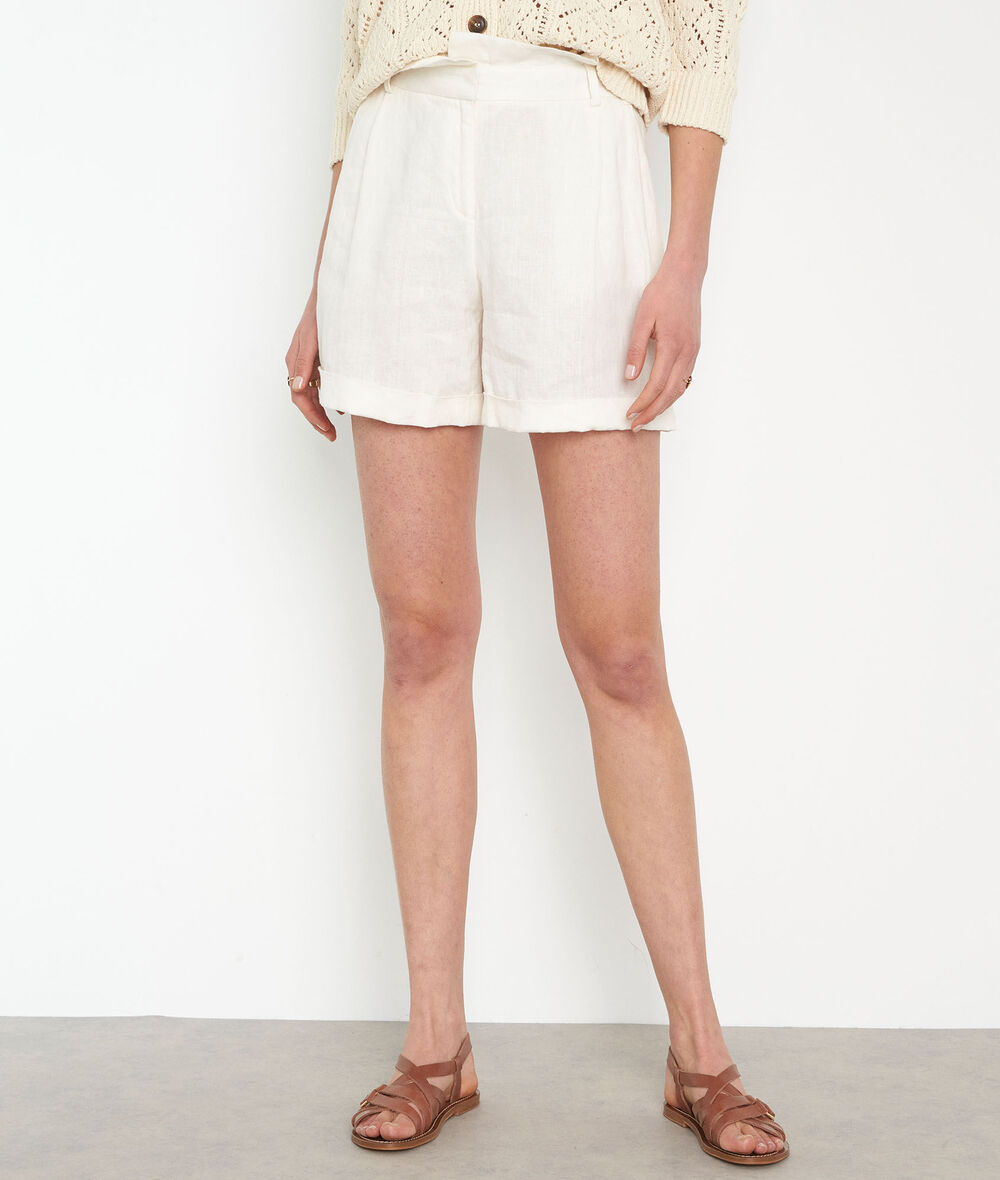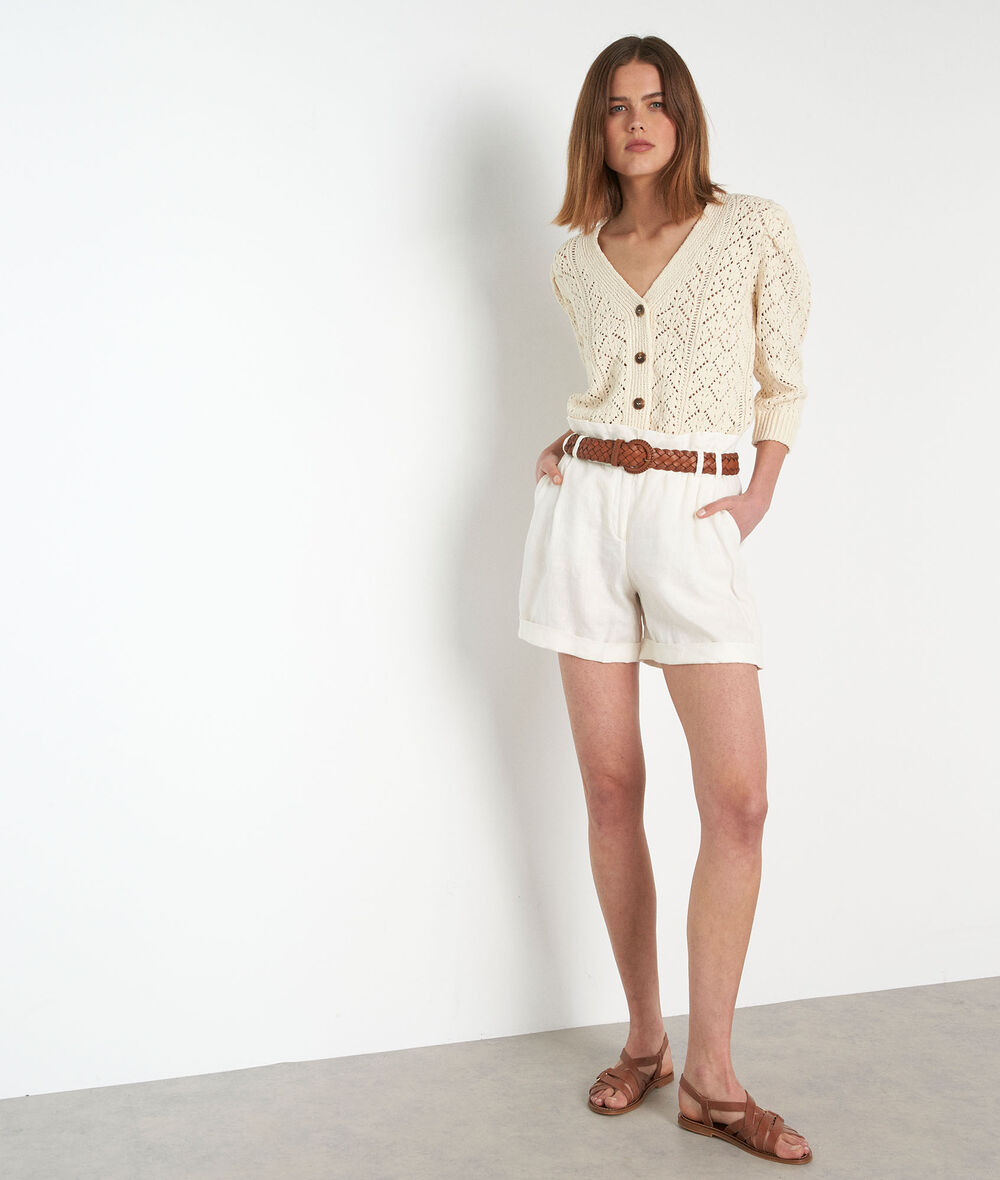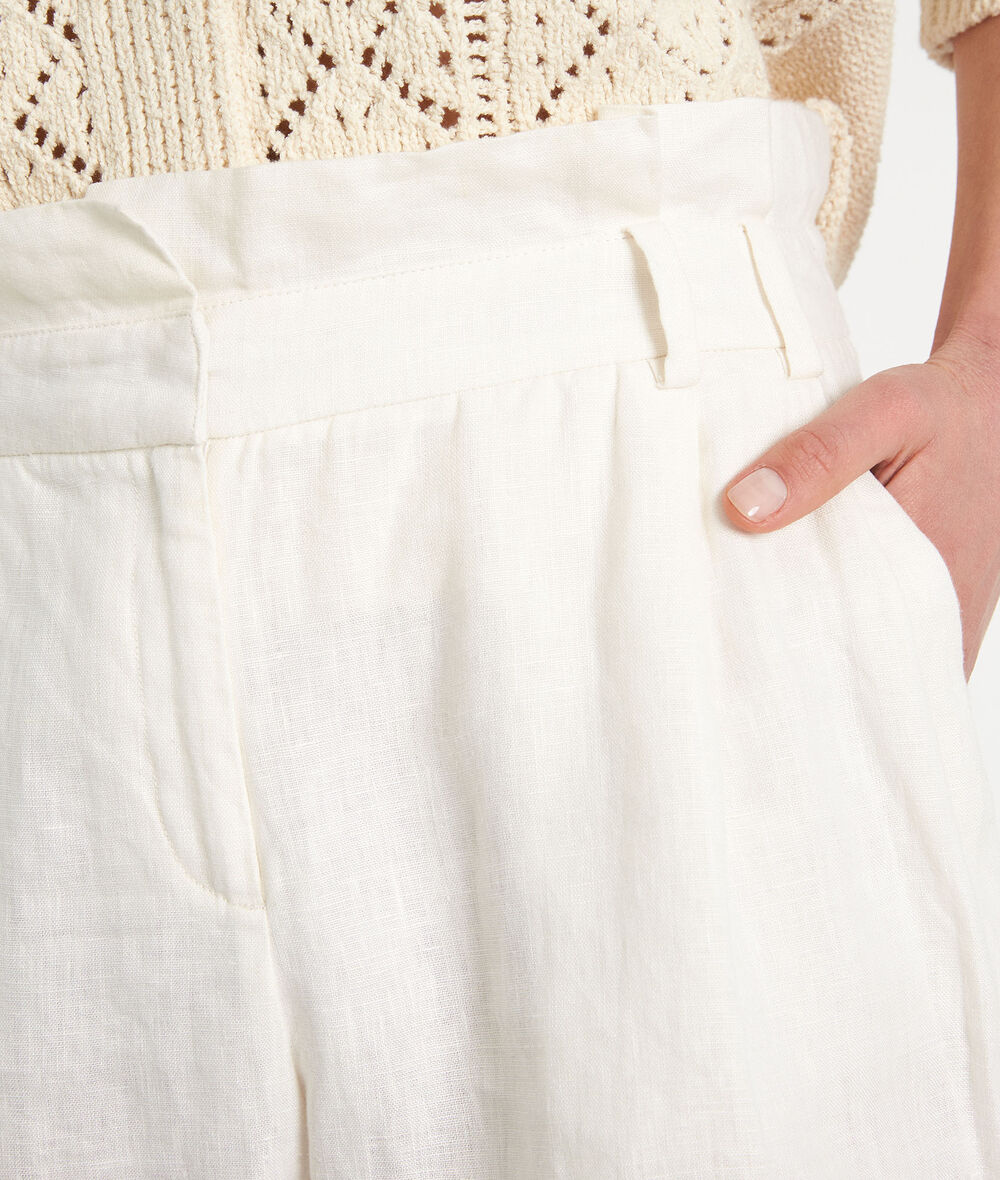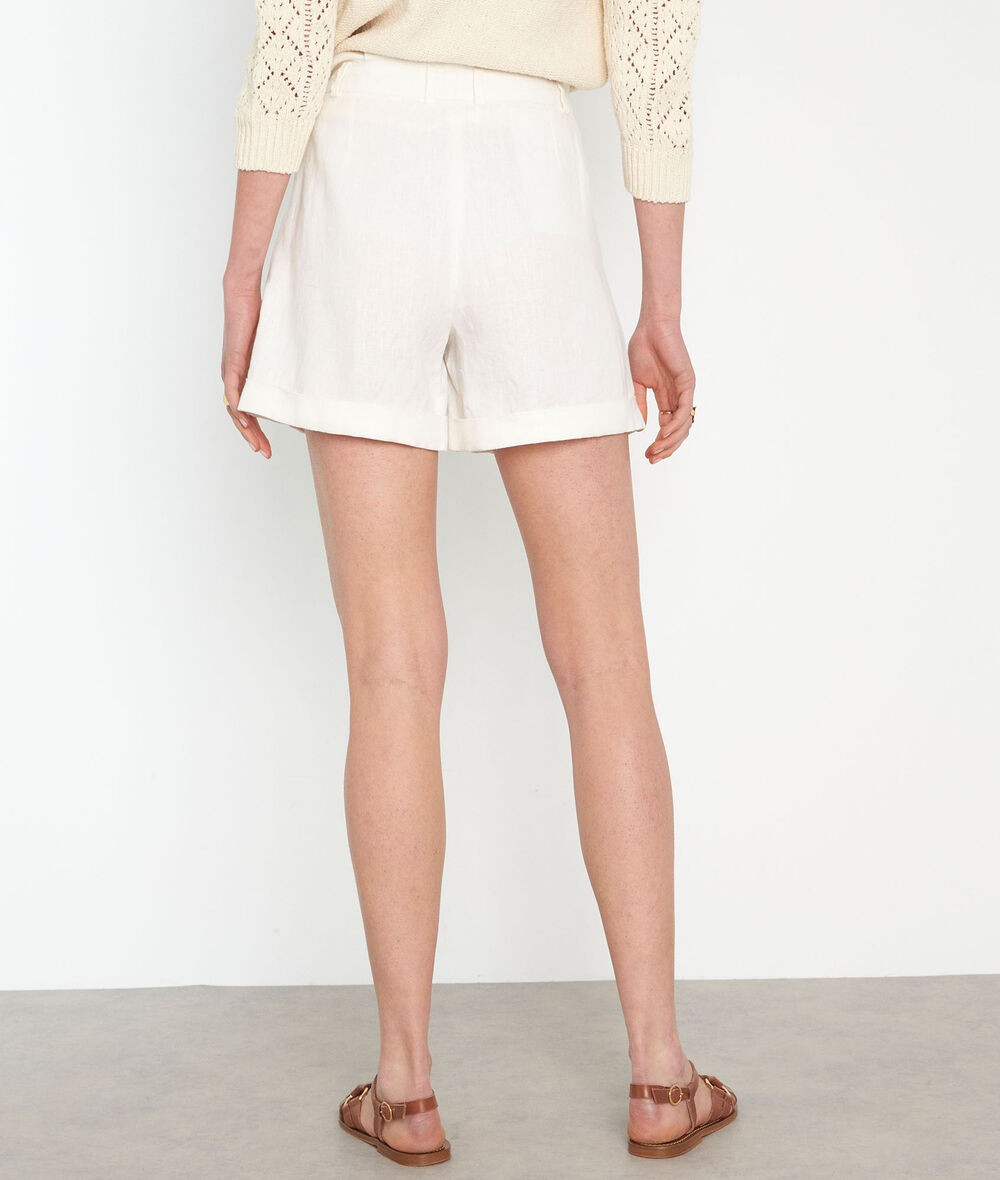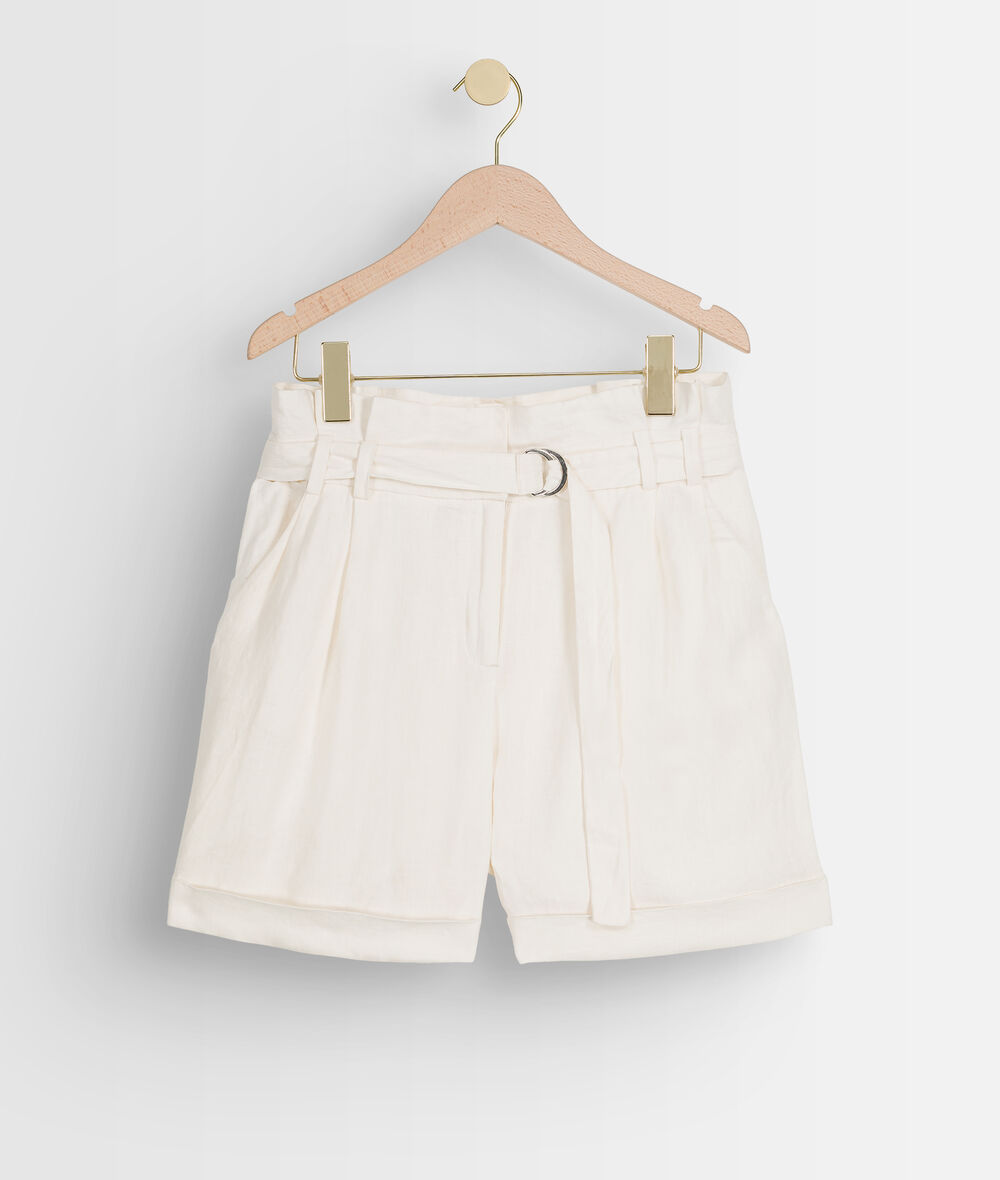 Siriel white responsible linen shorts
WECARE: These shorts are made from certified linen. This means that the fibres and the manufacturing process are traceable and free from GMOs, pesticides and fertilisers. Using natural fertilisers and insecticides avoids products that are toxic to the environment. This is the perfect alternative for making environmentally-friendly clothing and produces a soft, hard-wearing, natural and biodegradable material. Our linen has certifications like European Flax and Masters of Linen.

You'll love the fresh SIRIEL shorts! Made of responsible linen (the summer's star fabric), these bright, loose-fitting shorts have a removable cinching belt. They also have a high waist and turn-ups. You'll want to wear them all summer long and they'll go with any top!

- 100% European Flax
- shorts with darts
- integrated belt
- turn-ups
- high waist
- made in Madagascar

Olivia is 1.82 m (just under 6 ft) tall and is wearing a size 38. The model is wearing the PRISKA cardigan, EBENE belt and CONSTANCE sandals with the SIRIEL shorts.

WECARE: These shorts are made from certified linen. This means that the fibres and the manufacturing process are traceable and free from GMOs, pesticides and fertilisers. Using natural fertilisers and insecticides avoids products that are toxic to the environment. This is the perfect alternative for making environmentally-friendly clothing and produces a soft, hard-wearing, natural and biodegradable material. Our linen has certifications like European Flax and Masters of Linen.

You'll love the fresh SIRIEL shorts! Made of responsible linen (the summer's star fabric), these bright, loose-fitting shorts have a removable cinching belt. They also have a high waist and turn-ups. You'll want to wear them all summer long and they'll go with any top!

- 100% European Flax
- shorts with darts
- integrated belt
- turn-ups
- high waist
- made in Madagascar

Olivia is 1.82 m (just under 6 ft) tall and is wearing a size 38. The model is wearing the PRISKA cardigan, EBENE belt and CONSTANCE sandals with the SIRIEL shorts.


MATIERE PRINCIPALE : 100.00 % Lin

DOUBLURE POCHE : 100.00 % Coton

This product can be recycled

Wash at 30° on delicate cycle
Reference: 653395302
30 days
money-back
guarantee