DENIM


Find the perfect jeans
---
Maison 123 brings you its new jeans collection:
new cuts, new washes,
new technologies and
how to make your jeans last longer...
Maison 123 is committed to more responsible and ecological fashion through continuous improvement. Our stylists offer comfortable jeans and fashion that is also
respectful of the environment thanks to the different technologies used and that are long lasting. Check out our tips for taking care of them!
NOS TECHNOLOGIES
Our denim collection has evolved in terms of responsibility and helping you keep your jeans as long as possible.
Read about the different technologies that have been used.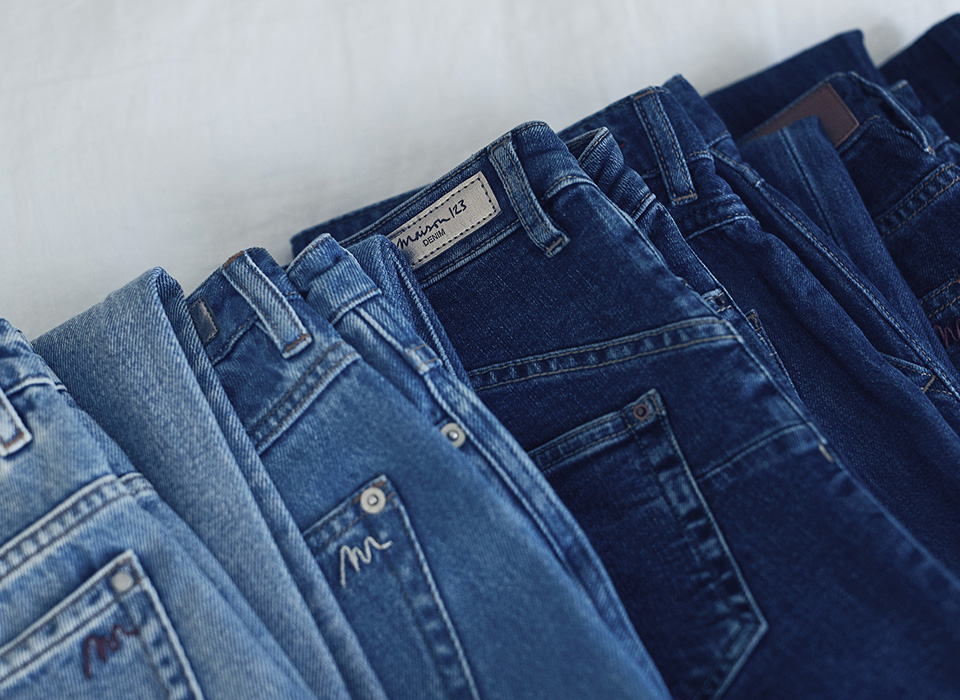 T 400®

Recycled materials

Stay black
T 400®
LYCRA®T400® fibre provides
superior, longer-lasting stretch and
elasticity, as well as a softer,
smoother feel.

Recycled materials
Two of the models in our collection
contain recycled materials (cotton
and polyester). The recycled cotton
is pre-consumer: it comes from
recovered fabric waste and reused. The
recycled polyester is the opposite in
that it is post-consumer: it comes from
the recycling of plastic bottles.
Stay black
The Stay Black or Black
Black technology offers an intense and lasting color for
denim. It guarantees its performance even after
20 washes.
WASHES AND FADES
For this collection, we chose to offer you a variety of washes. From black black to pure bleach,
each is obtained by a different process. Find out how your garment was made!
OUR ADVICE TO MAKE
YOUR JEANS LAST LONGER
denim gives and evolves over time and must be maintained for longevity. Between washings and normal wear, it is
necessary to treat your jeans with love if you want to wear them for several years!

1/3
Taking care of your denims:
The less they touch water, the longer the color will last! You can air them to get rid of odors. If you need to wash them, wash them by hand with cold water, mild detergent and delicate rubbing. Especially avoid the dryer and ironing!

2/3
Keeping white jeans white:
Over-cleaning will yellow the white denim over time, so use a natural cleanser. Consider the temperature at which you wash your jeans, if the water is too hot, the marks could be cooked. Have your jeans become gray? You can recover them by pouring the equivalent of one cup of soda into two liters of hot water and soak your jeans for about an hour. Even more efficient, add the juice of half a lemon to the previously prepared solution.

3/3
Keeping black jeans black:
Before the first wash, put them in a bath of warm water with a tablespoon of salt or white vinegar to fix the colors. Two hours later let them dry in the open air, your jeans do not like the dryer. Avoid continual washing, the less your jeans are washed, the longer the color will last.