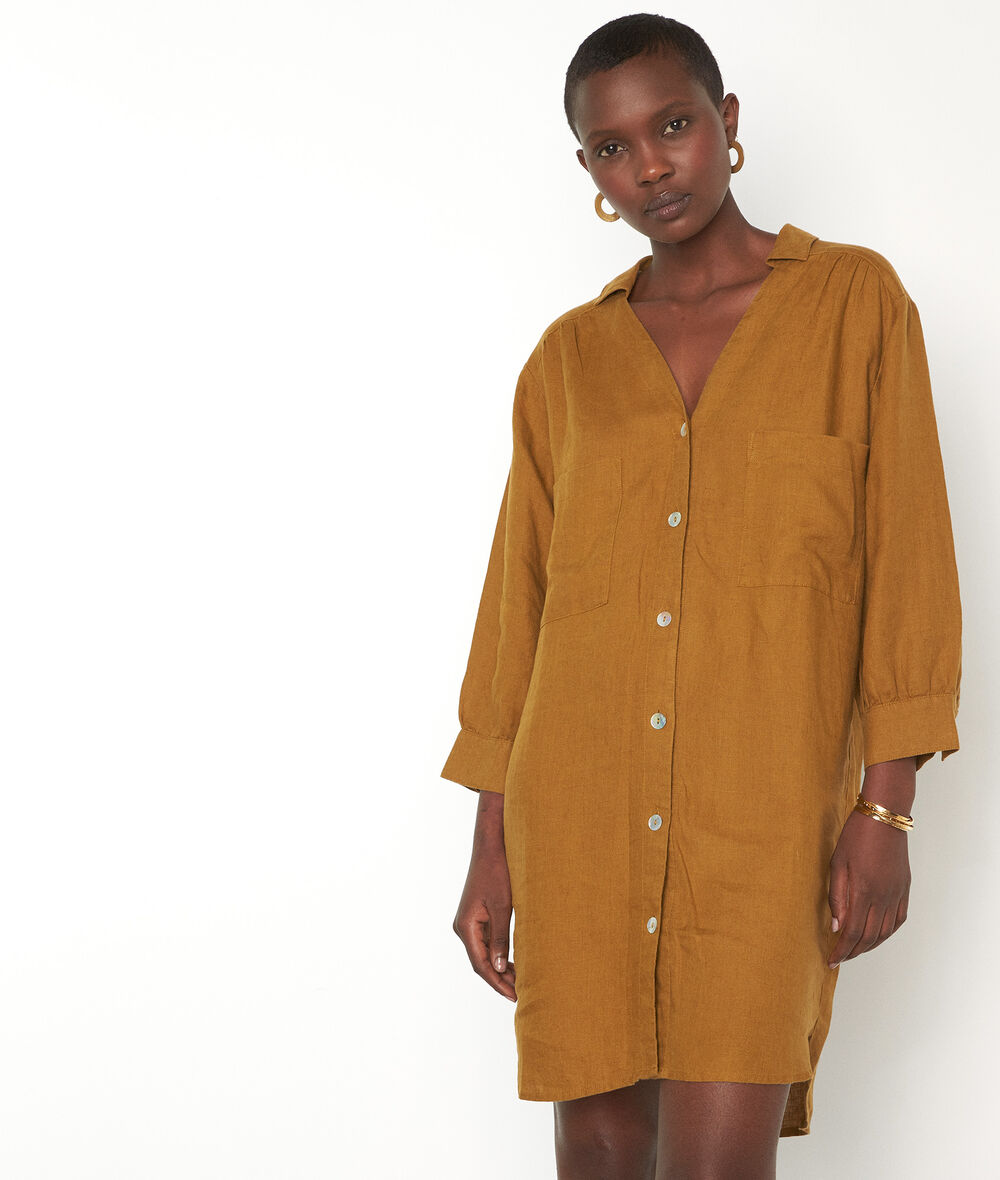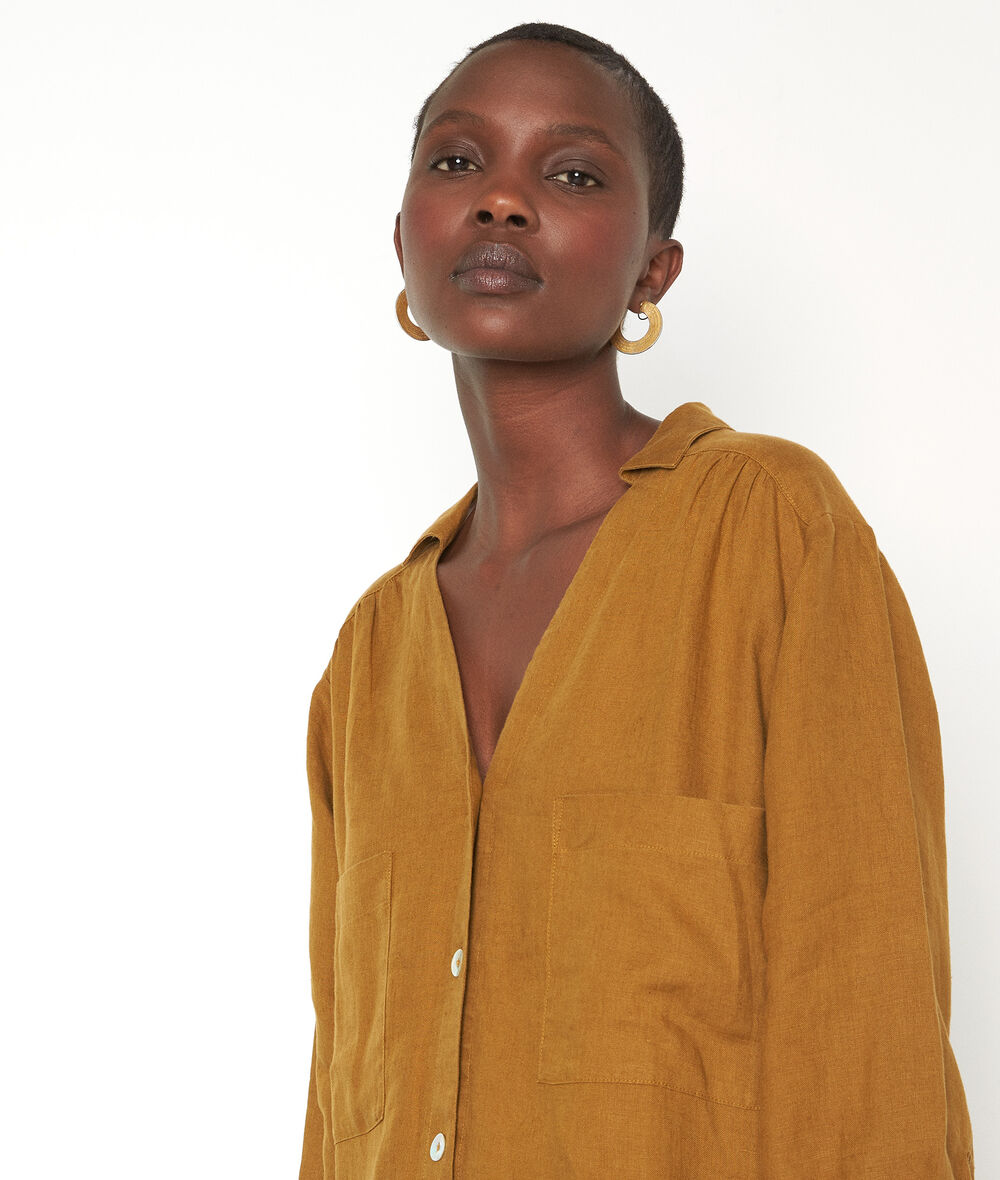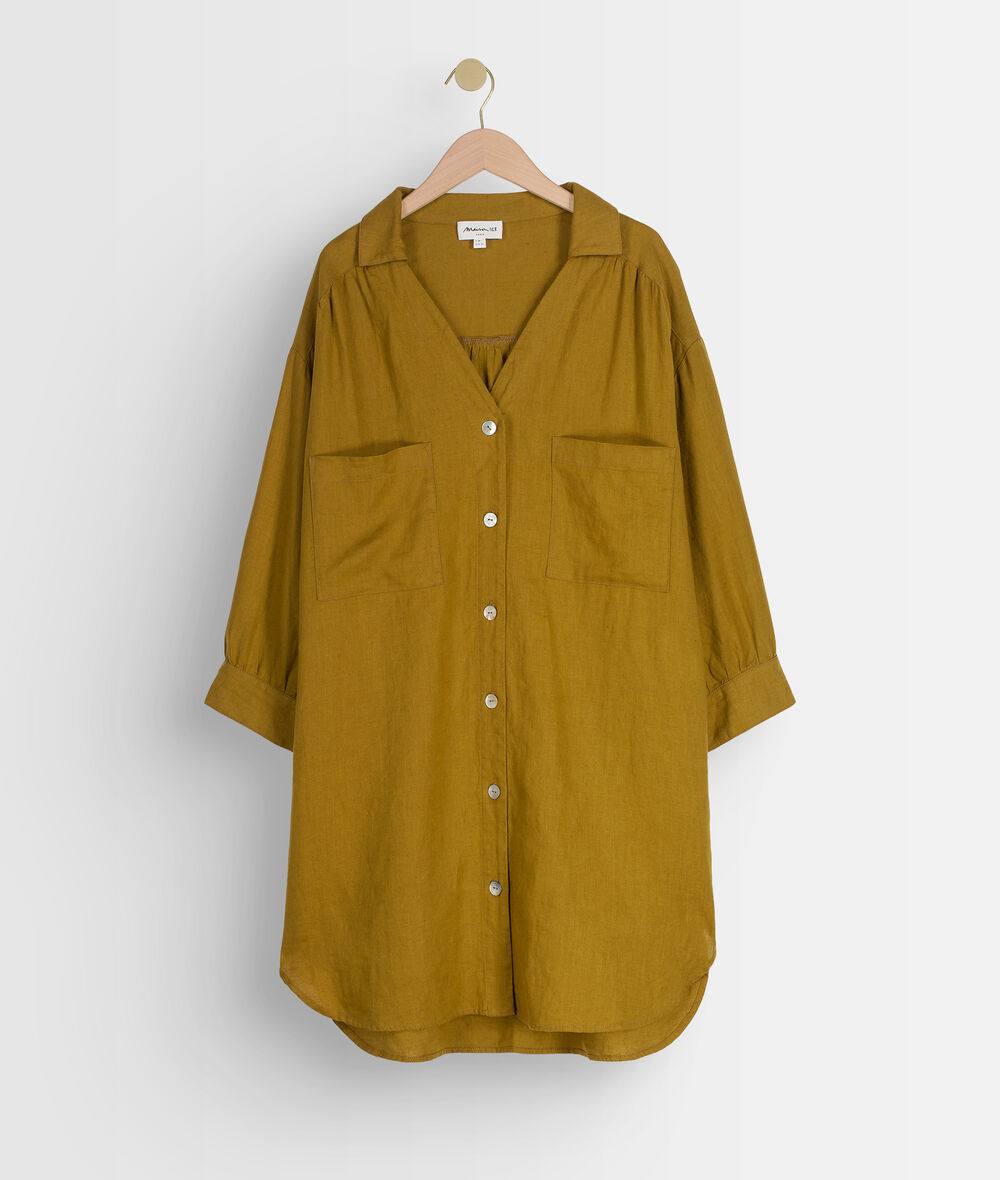 Nicky short olive linen dress
Sizes:
Only items in stock
!

Please choose a size
Description
WECARE: This dress is made from certified linen. This means that the fibres and the manufacturing process are traceable and free from GMOs, pesticides and fertilisers. Using natural fertilisers and insecticides avoids products that are toxic to the environment, farmers and end consumers. It is the perfect alternative for making environmentally-friendly clothing and produces a soft, hard-wearing, natural and biodegradable material.

Our charming NICKY is irresistible. It's made of certified linen and perfect for summer as it's so light. This style has a shirt-dress look with a little collar and pearly buttons. There are also gathers on the shoulders for added structure and volume. We like the 3/4-length sleeves and the large patch pocket. This dress in an original shade is perfect for an urban look with wooden sandals, or a holiday outfit with flat mules and an XXL basket bag, for example.

- 100% certified linen
- shirt collar
- pearly buttons
- short
- 3/4-length sleeves
- made in Madagascar

Aliane is 1.74 m (5'8") tall and is wearing a size 36. The model is wearing the CAMILLE sandals with the NICKY dress.

WECARE: This dress is made from certified linen. This means that the fibres and the manufacturing process are traceable and free from GMOs, pesticides and fertilisers. Using natural fertilisers and insecticides avoids products that are toxic to the environment, farmers and end consumers. It is the perfect alternative for making environmentally-friendly clothing and produces a soft, hard-wearing, natural and biodegradable material.

Our charming NICKY is irresistible. It's made of certified linen and perfect for summer as it's so light. This style has a shirt-dress look with a little collar and pearly buttons. There are also gathers on the shoulders for added structure and volume. We like the 3/4-length sleeves and the large patch pocket. This dress in an original shade is perfect for an urban look with wooden sandals, or a holiday outfit with flat mules and an XXL basket bag, for example.

- 100% certified linen
- shirt collar
- pearly buttons
- short
- 3/4-length sleeves
- made in Madagascar

Aliane is 1.74 m (5'8") tall and is wearing a size 36. The model is wearing the CAMILLE sandals with the NICKY dress.


MATIERE PRINCIPALE : 100.00 % Lin

This item can be recycled

Wash at 30° on delicate cycle
Reference: 653284147
30 days
money-back
guarantee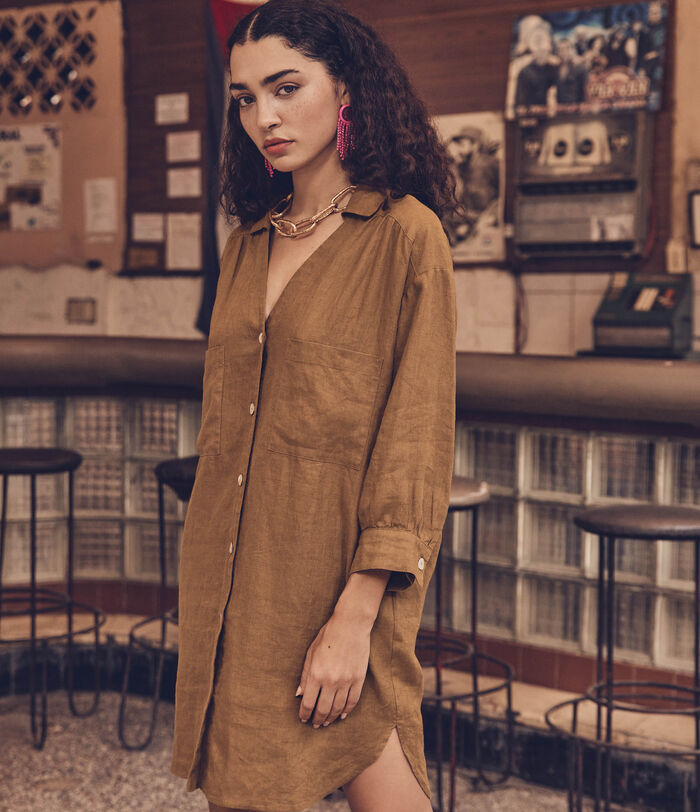 Nicky short olive linen dress