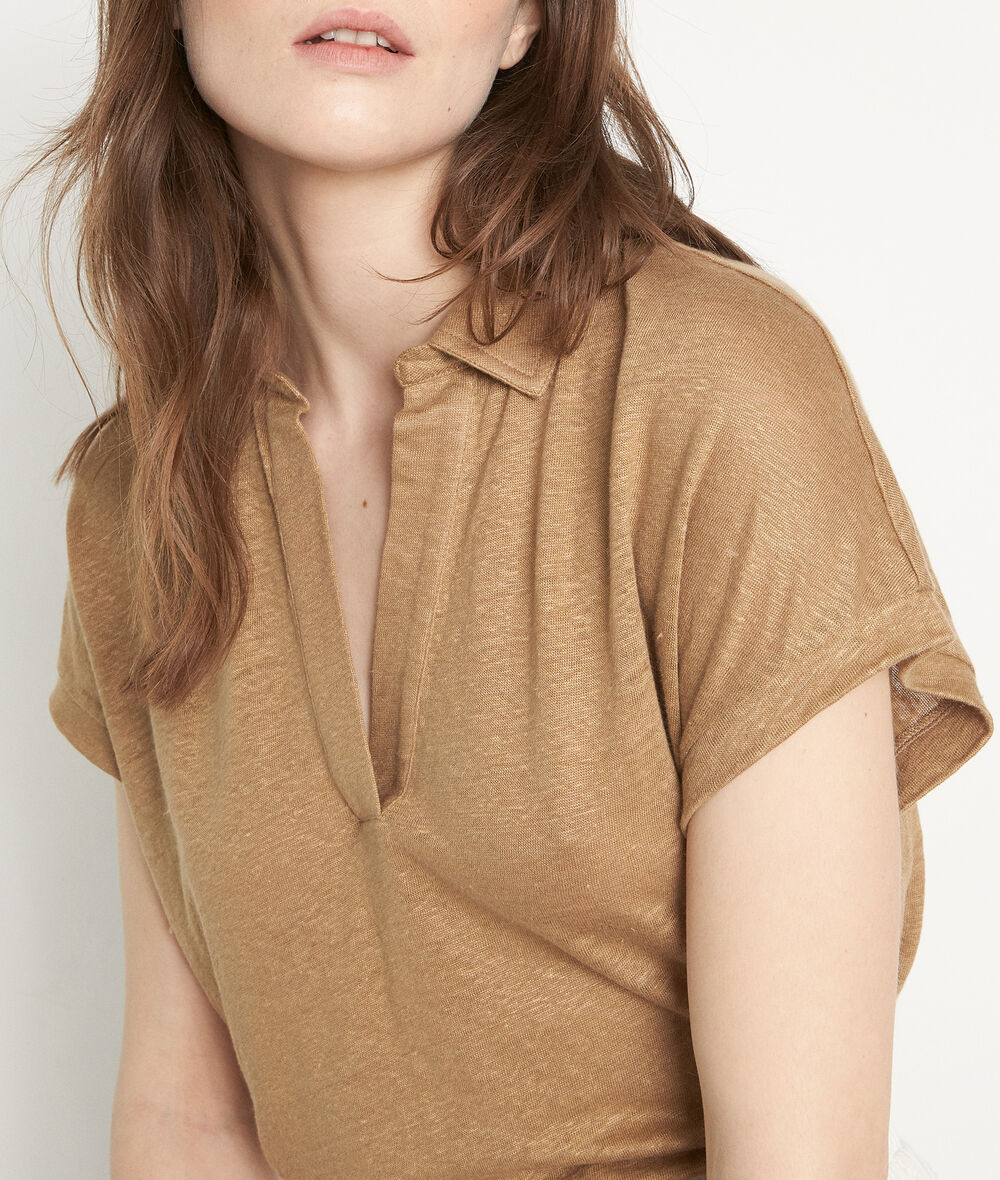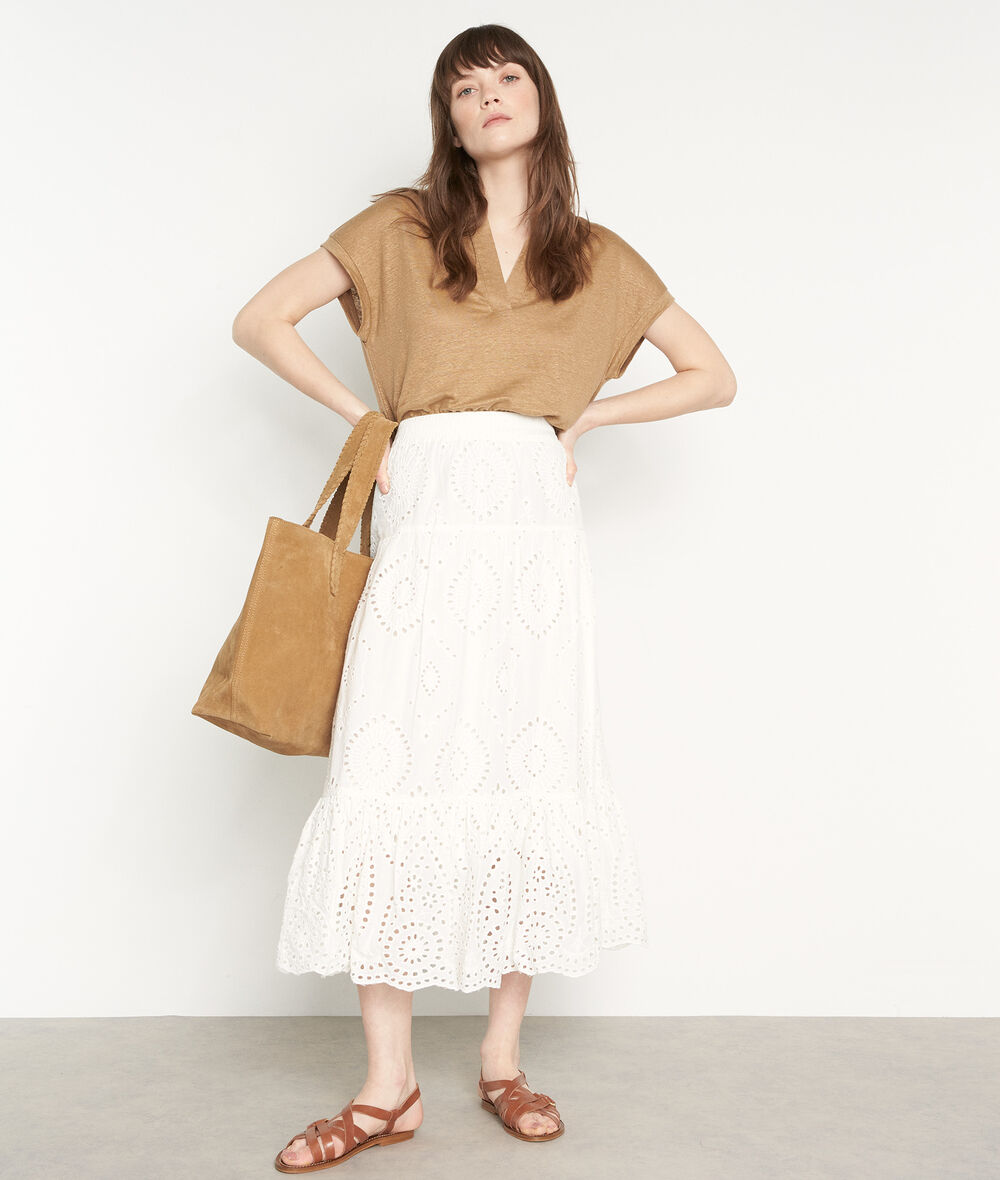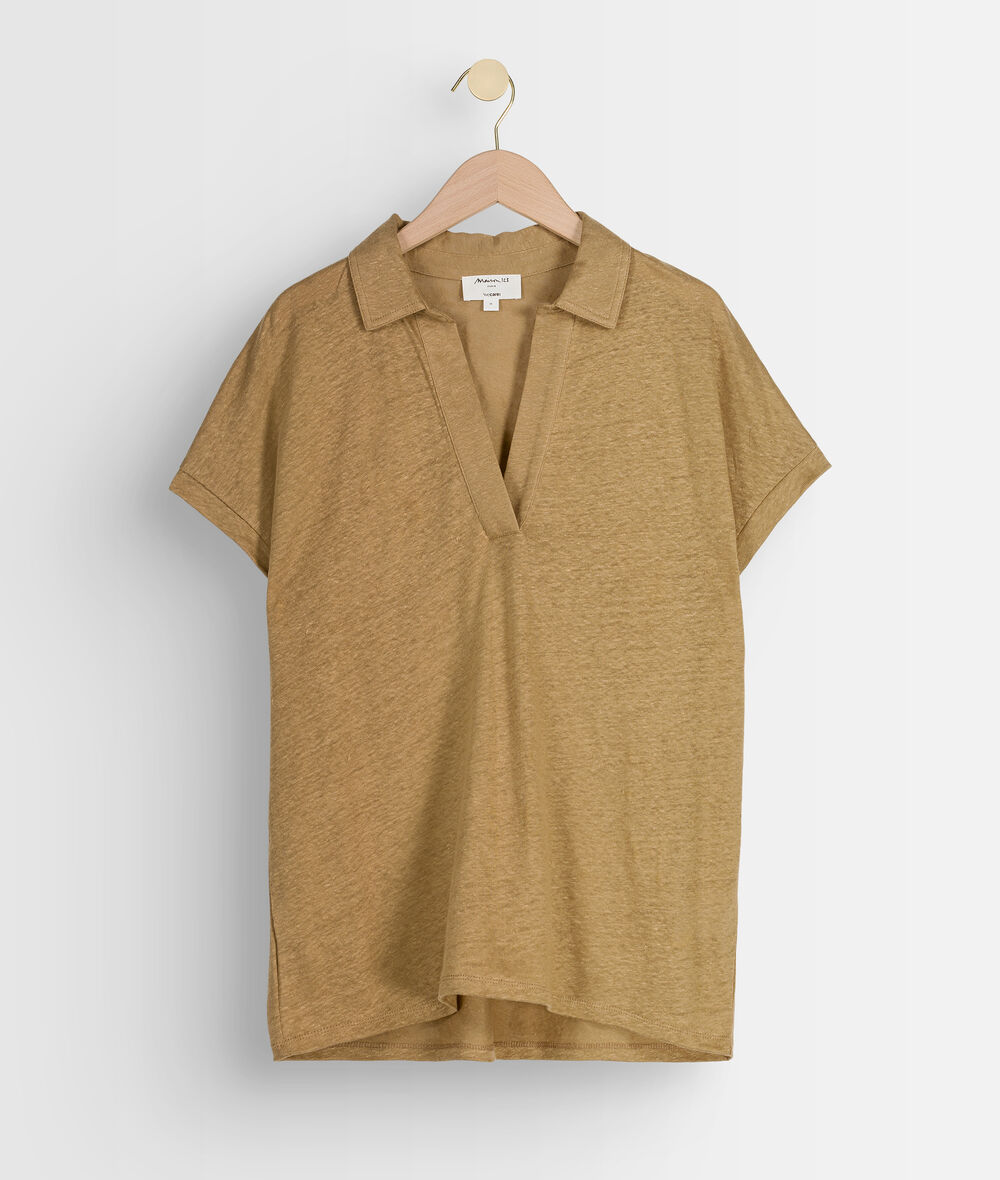 Marlon tobacco eco-friendly linen T-shirt
Sizes:
Only items in stock
!

Please choose a size
registered alert
Thank you. Your request has now been submitted. You will be sent an email when the item is available again
Description
WECARE: This T-shirt is made in certified eco-friendly linen. Eco-friendly linen is a natural, hard-wearing and biodegradable material with low environmental impact. The fibres and the manufacturing process are traceable and free from GMOs, pesticides and fertilisers. Our eco-friendly linen may be certified by independent bodies such as European Flax and Masters of Linen.

Succumb to the appeal of the MARLON T-shirt with its modern polo-shirt cut and trendy camel colour.

WHY WE LOVE IT
In addition to respecting the planet, this T-shirt made in eco-friendly linen is comfortable and loose-fitting.

OUR STYLE TIP
This must-have T-shirt works well tucked loosely into an immaculate skirt for a spring look or teamed with linen trousers for a summer evening out.

- 100% eco-friendly linen
- short sleeves
- polo shirt collar
- made in Portugal

Grace is 1.74 m (5'8") tall and is wearing a size 36. The model is wearing the MARLON T-shirt with the DOLLY skirt and the CONSTANCE sandals and carrying the JAMES bag.

WECARE: This T-shirt is made in certified eco-friendly linen. Eco-friendly linen is a natural, hard-wearing and biodegradable material with low environmental impact. The fibres and the manufacturing process are traceable and free from GMOs, pesticides and fertilisers. Our eco-friendly linen may be certified by independent bodies such as European Flax and Masters of Linen.

Succumb to the appeal of the MARLON T-shirt with its modern polo-shirt cut and trendy camel colour.

WHY WE LOVE IT
In addition to respecting the planet, this T-shirt made in eco-friendly linen is comfortable and loose-fitting.

OUR STYLE TIP
This must-have T-shirt works well tucked loosely into an immaculate skirt for a spring look or teamed with linen trousers for a summer evening out.

- 100% eco-friendly linen
- short sleeves
- polo shirt collar
- made in Portugal

Grace is 1.74 m (5'8") tall and is wearing a size 36. The model is wearing the MARLON T-shirt with the DOLLY skirt and the CONSTANCE sandals and carrying the JAMES bag.


MATIERE PRINCIPALE : 100.00 % Lin

This item can be recycled

Wash at 30° on delicate cycle
Reference: 653382888
30 days
money-back
guarantee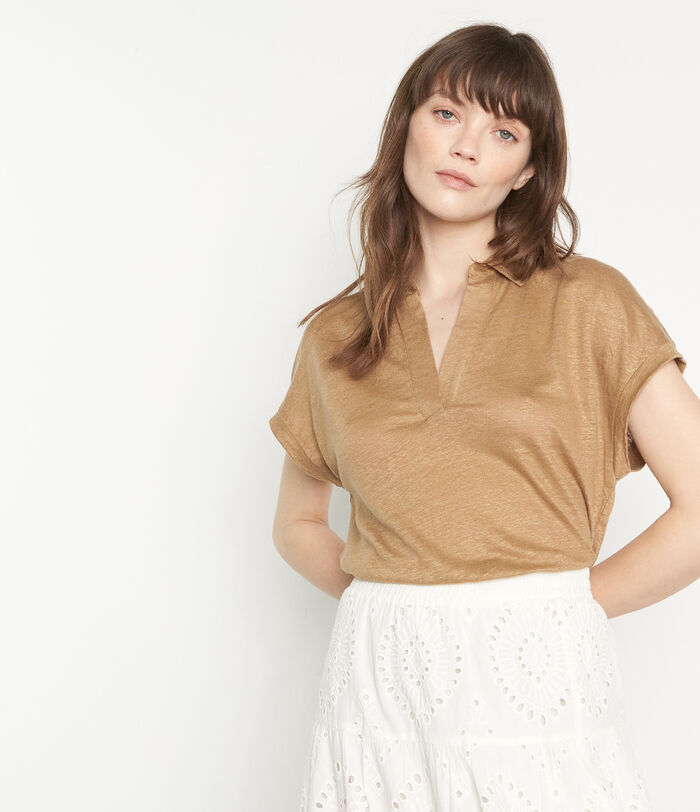 Marlon tobacco eco-friendly linen T-shirt
Sizes
!

Please choose a size