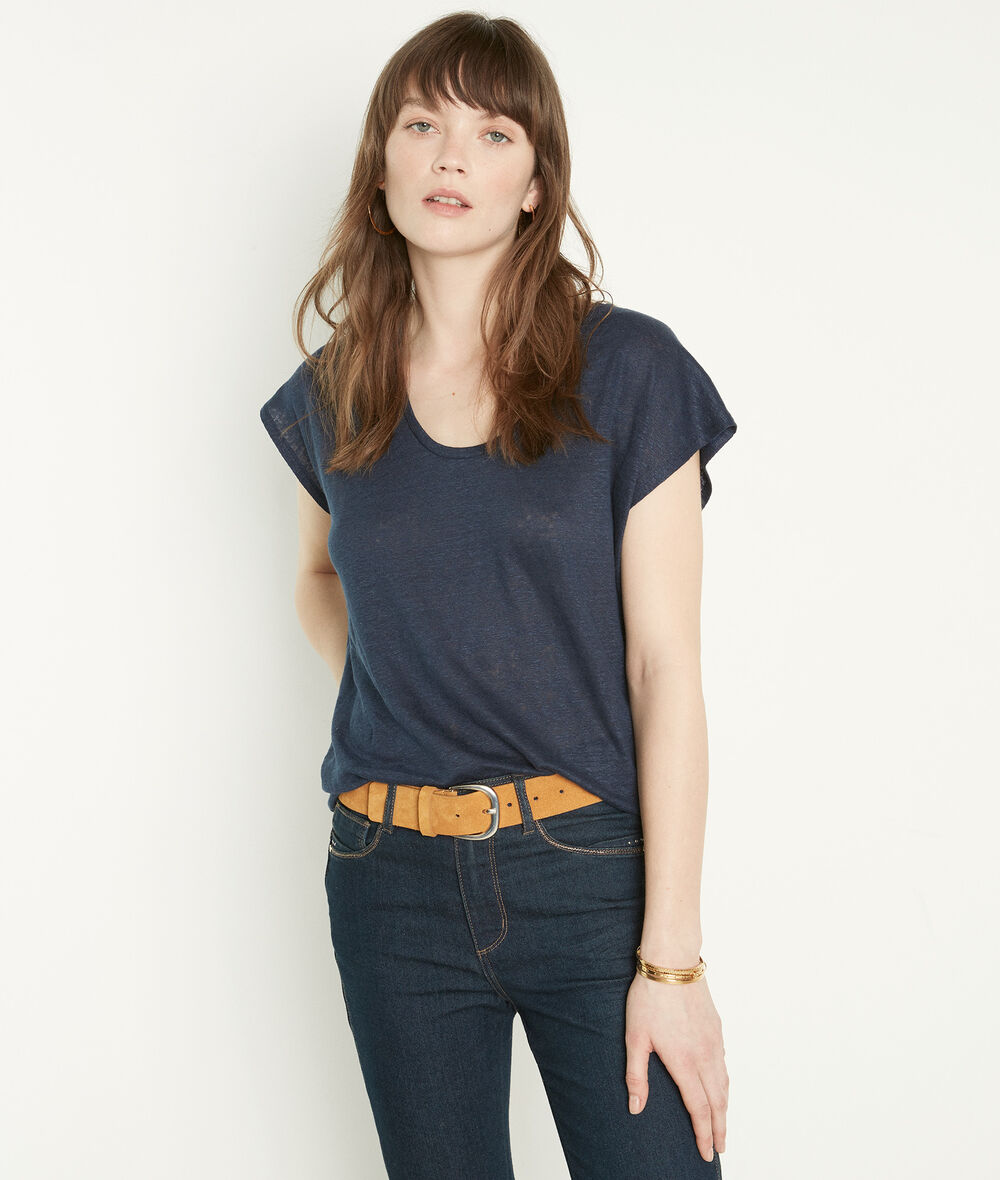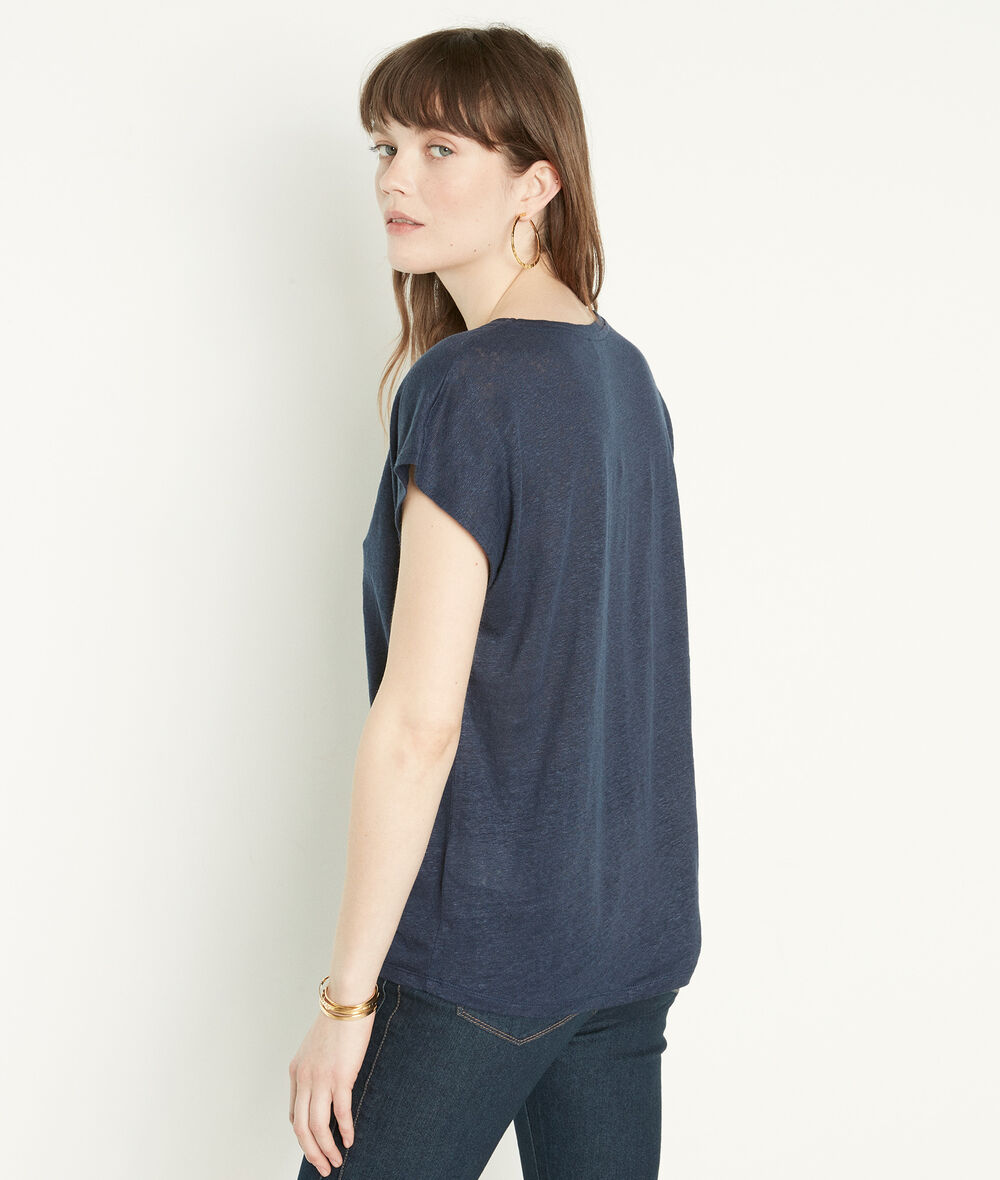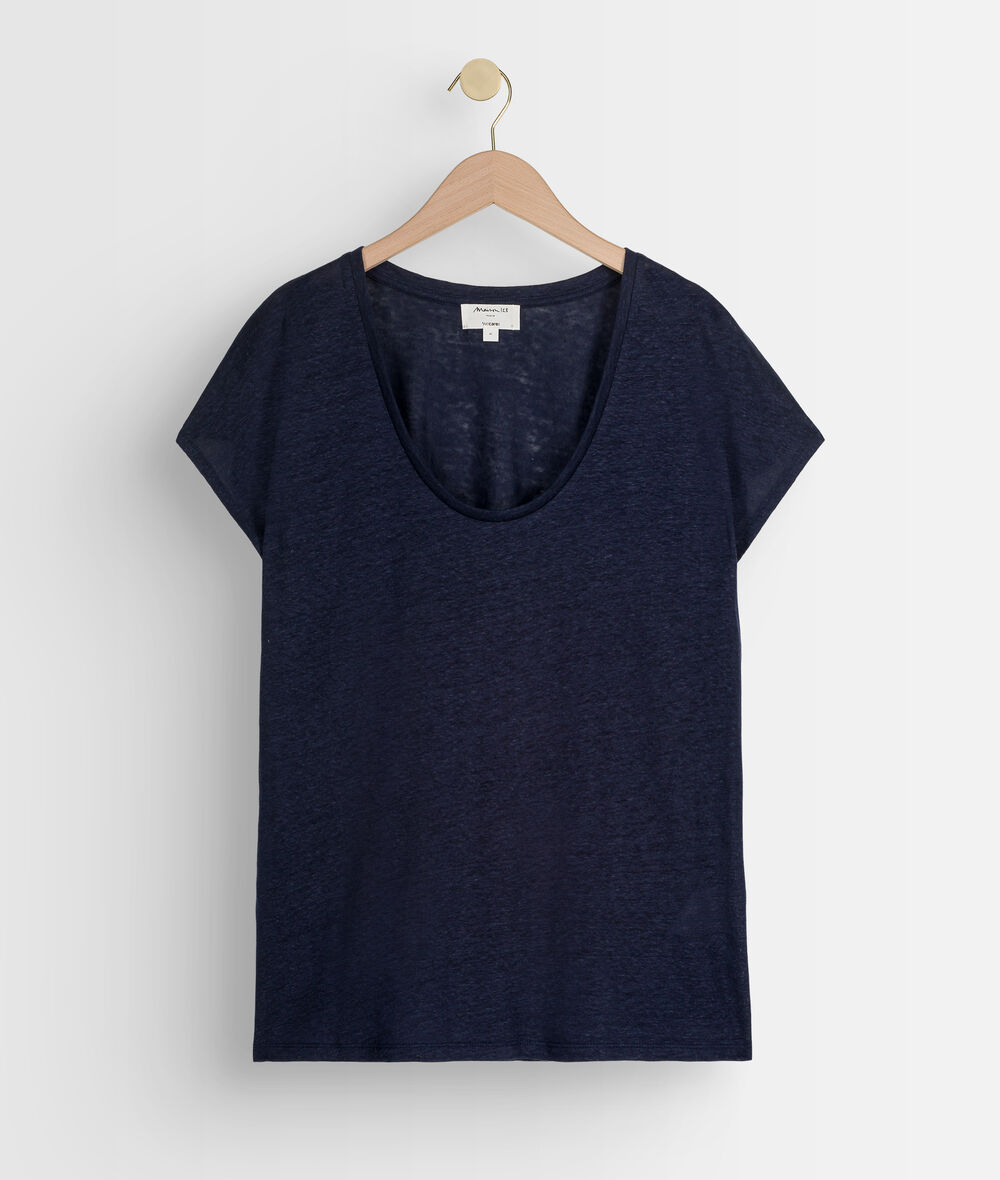 Mathilda navy eco-friendly linen T-shirt
Description

WECARE: This T-shirt is made in certified eco-friendly linen. Eco-friendly linen is a natural, hard-wearing and biodegradable material with low environmental impact. The fibres and the manufacturing process are traceable and free from GMOs, pesticides and fertilisers. Our eco-friendly linen may be certified by independent bodies such as European Flax and Masters of Linen.

Introducing MATHILDA, a very summery T-shirt made in lightweight linen and offered in a beautiful midnight blue colour.

WHY WE LOVE IT
Made in eco-friendly linen, this T-shirt is natural, hard-wearing and perfect for the summer. With its wide round neck, this T-shirt is flattering and very feminine.

OUR STYLE TIP
A true wardrobe staple, it's a must-have for your summer suitcase, to mix and match with a denim or patterned skirt or loose-fit trousers.

- 100% eco-friendly linen
- short sleeves
- round neck
- made in Portugal

Grace is 1.74 m (5'8") tall and is wearing a size 36. The model is wearing the MATHILDA T-shirt with the PAOLA jeans, the EDMA belt and the CAMILLE high-heeled sandals.


WECARE: This T-shirt is made in certified eco-friendly linen. Eco-friendly linen is a natural, hard-wearing and biodegradable material with low environmental impact. The fibres and the manufacturing process are traceable and free from GMOs, pesticides and fertilisers. Our eco-friendly linen may be certified by independent bodies such as European Flax and Masters of Linen.

Introducing MATHILDA, a very summery T-shirt made in lightweight linen and offered in a beautiful midnight blue colour.

WHY WE LOVE IT
Made in eco-friendly linen, this T-shirt is natural, hard-wearing and perfect for the summer. With its wide round neck, this T-shirt is flattering and very feminine.

OUR STYLE TIP
A true wardrobe staple, it's a must-have for your summer suitcase, to mix and match with a denim or patterned skirt or loose-fit trousers.

- 100% eco-friendly linen
- short sleeves
- round neck
- made in Portugal

Grace is 1.74 m (5'8") tall and is wearing a size 36. The model is wearing the MATHILDA T-shirt with the PAOLA jeans, the EDMA belt and the CAMILLE high-heeled sandals.


MATIERE PRINCIPALE : 100.00 % Lin

This item can be recycled
Reference: 653382524
30 days
money-back
guarantee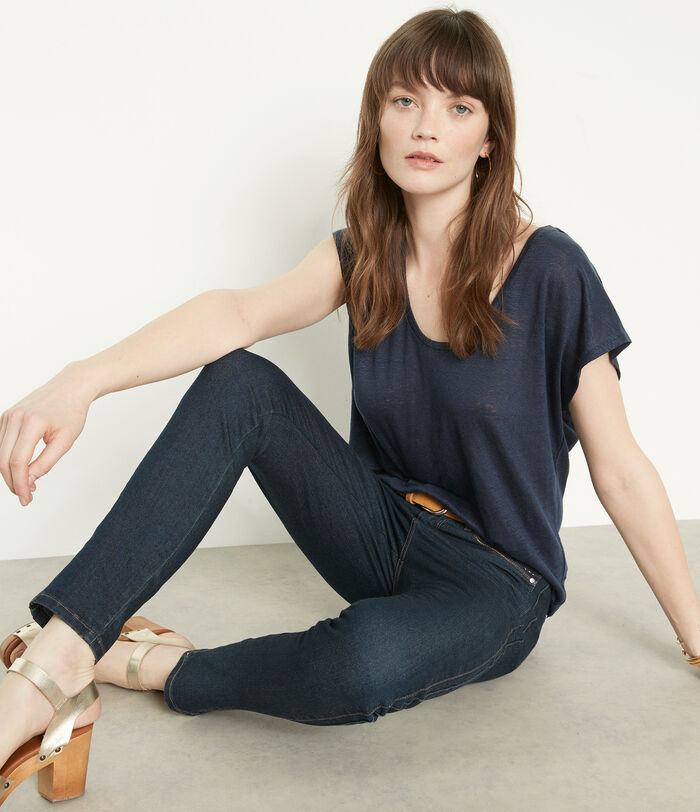 Mathilda navy eco-friendly linen T-shirt
Sizes
!

Please choose a size