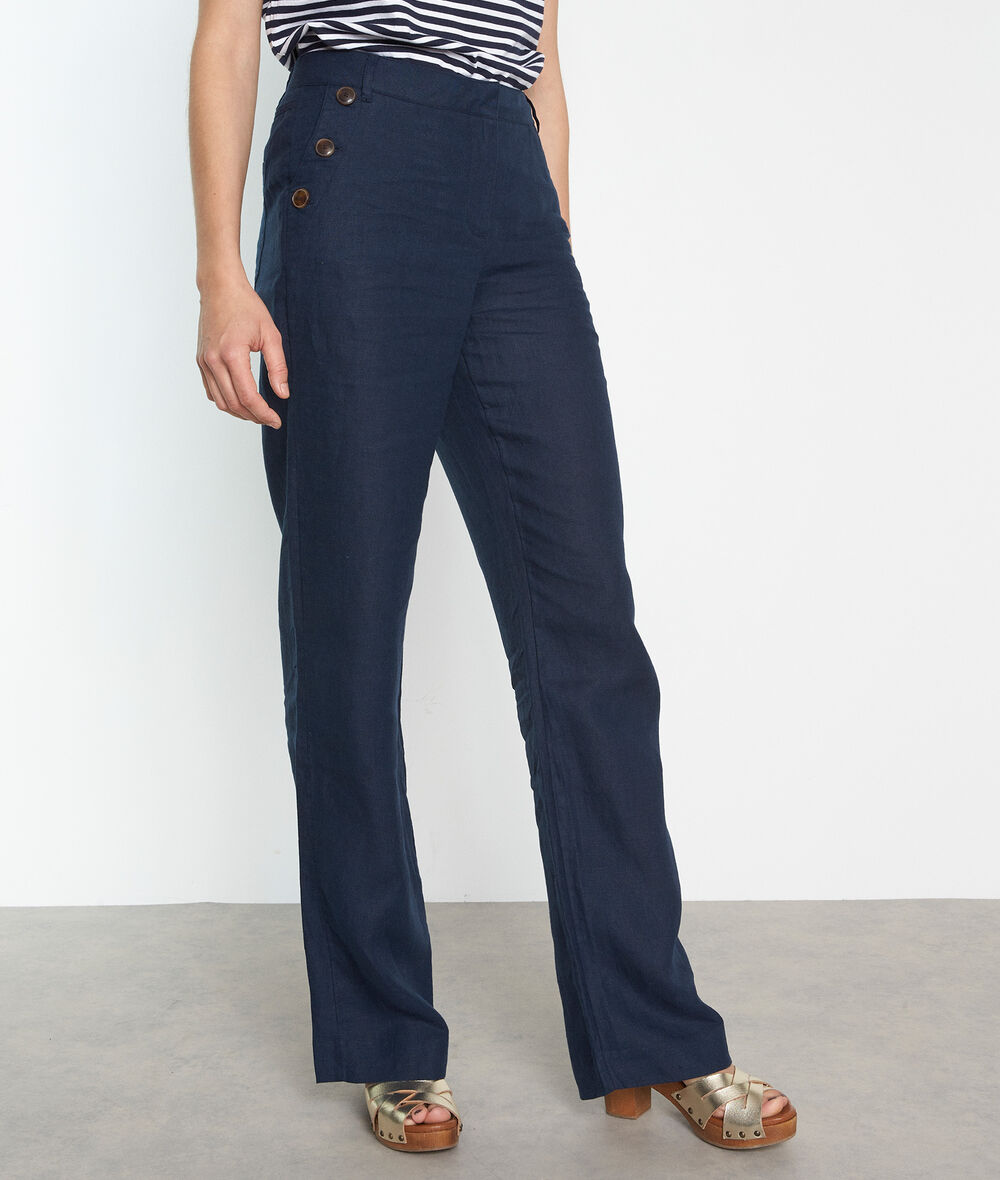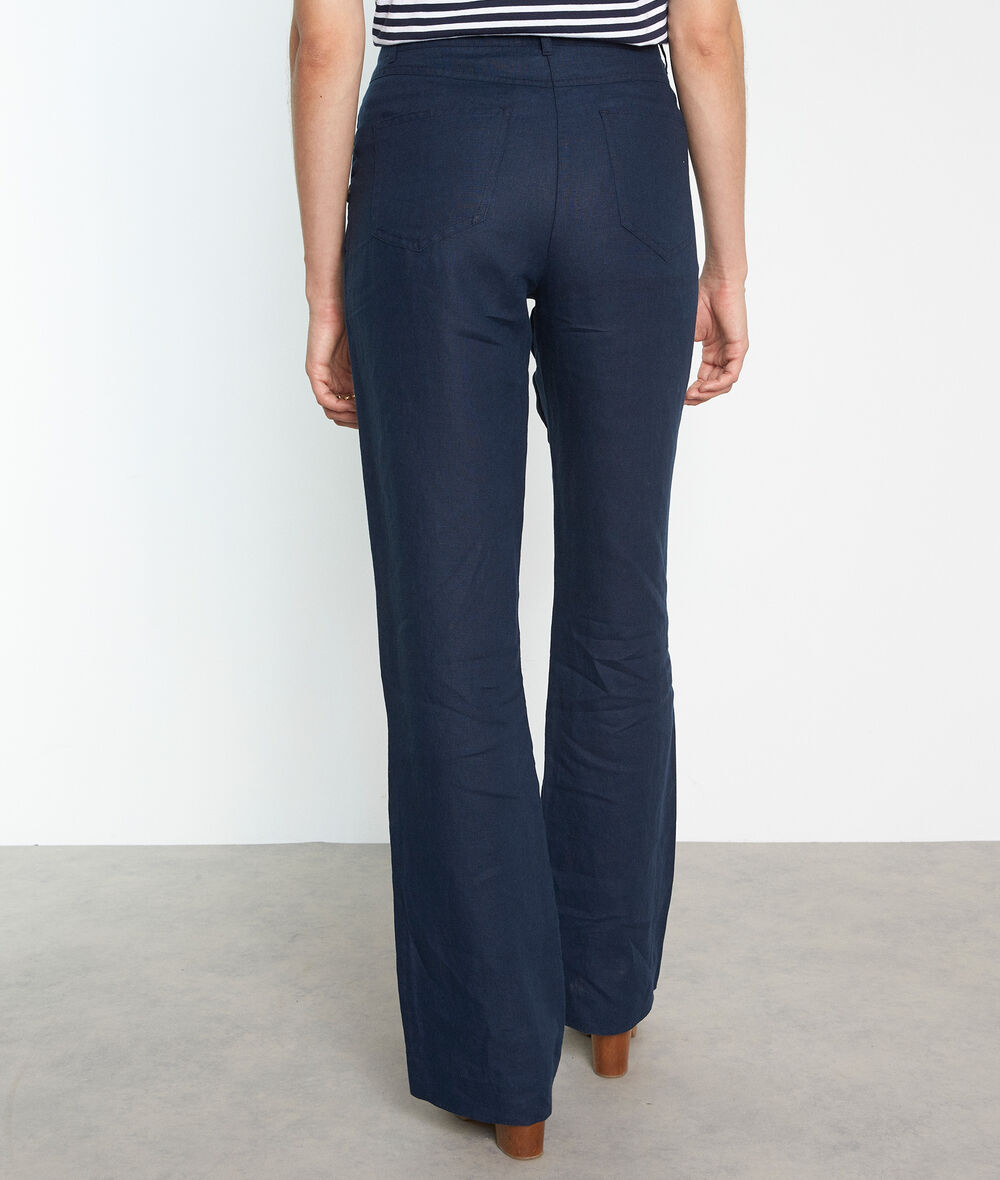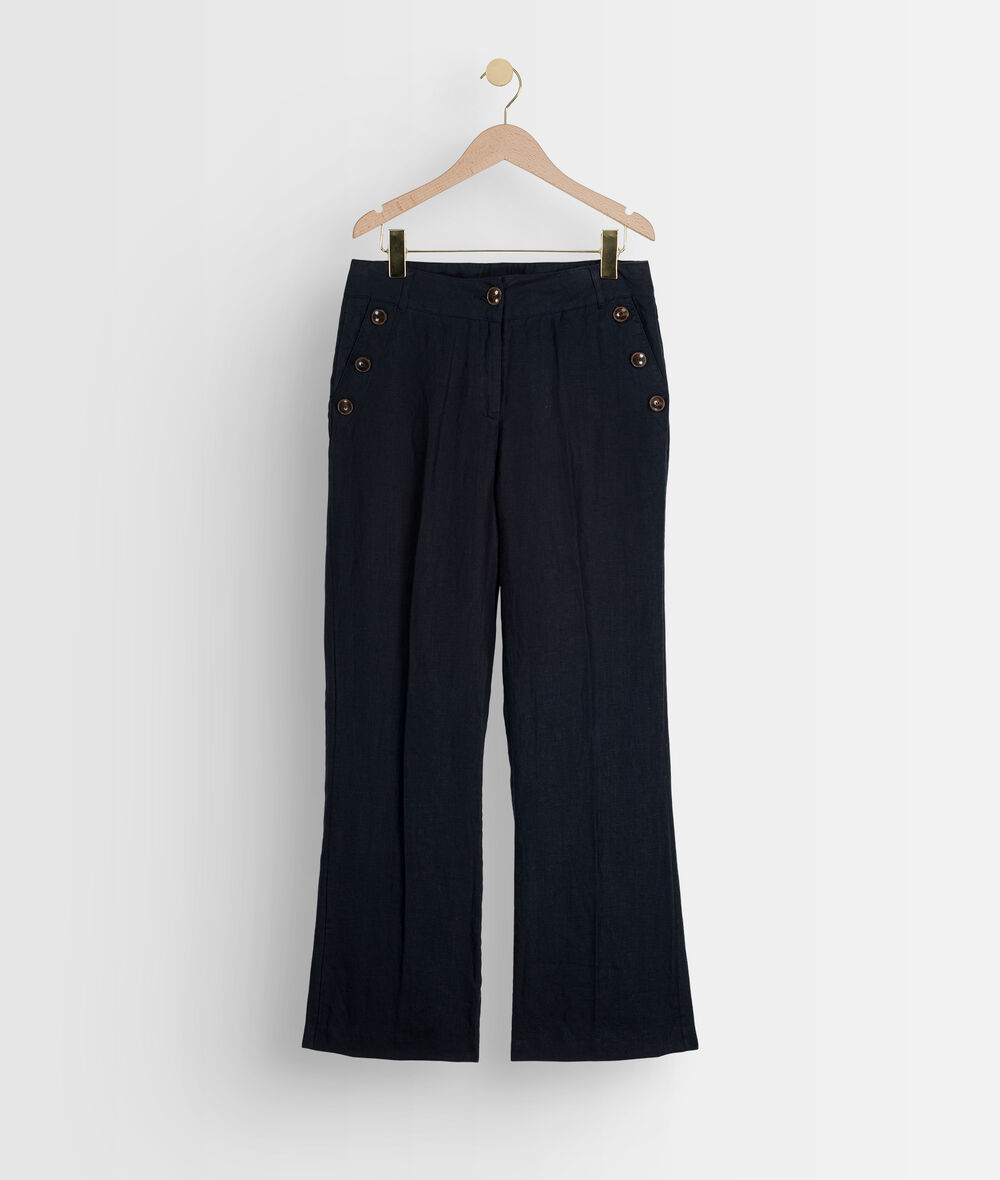 Ninon flared navy certified linen and cotton jeans
Sizes:
Only items in stock
!

Please choose a size
registered alert
Thank you. Your request has now been submitted. You will be sent an email when the item is available again
Description
WECARE: These trousers are made from certified linen. This means that the fibres and the manufacturing process are traceable and free from GMOs, pesticides and fertilisers. Using natural fertilisers and insecticides avoids products that are toxic to the environment. This is the perfect alternative for making environmentally-friendly clothing and produces a soft, hard-wearing, natural and biodegradable material. Our linen has certifications like European Flax and Masters of Linen.

Our NINON trousers are sure to become a key element of your wardrobe! This cotton and linen design has a flattering flared shape, three buttons on the pockets like sailor trousers, a high waist and a navy-blue colour. These trousers are comfortable and feminine, and will work nicely for you in the coming seasons. They can go with different looks: wear them with heels and a blazer for an elegant look, or with flat sandals and a pretty striped top for a casual feel.

- 72% cotton
- 23% linen
- wide legs
- buttons
- plain
- belt loops
- made in Madagascar

Alexa is 173 cm tall (5′8″) and is wearing a size 36. The model is wearing the MARINA T-shirt and the CAMILLE sandals with the NINON trousers.
WECARE: These trousers are made from certified linen. This means that the fibres and the manufacturing process are traceable and free from GMOs, pesticides and fertilisers. Using natural fertilisers and insecticides avoids products that are toxic to the environment. This is the perfect alternative for making environmentally-friendly clothing and produces a soft, hard-wearing, natural and biodegradable material. Our linen has certifications like European Flax and Masters of Linen.

Our NINON trousers are sure to become a key element of your wardrobe! This cotton and linen design has a flattering flared shape, three buttons on the pockets like sailor trousers, a high waist and a navy-blue colour. These trousers are comfortable and feminine, and will work nicely for you in the coming seasons. They can go with different looks: wear them with heels and a blazer for an elegant look, or with flat sandals and a pretty striped top for a casual feel.

- 72% cotton
- 23% linen
- wide legs
- buttons
- plain
- belt loops
- made in Madagascar

Alexa is 173 cm tall (5′8″) and is wearing a size 36. The model is wearing the MARINA T-shirt and the CAMILLE sandals with the NINON trousers.

MATIERE PRINCIPALE : 77.00 % Coton, 23.00 % Lin

BIAIS : 100.00 % Non significatif

This item can be recycled

Wash at 30° on delicate cycle
Reference: 653394927
30 days
money-back
guarantee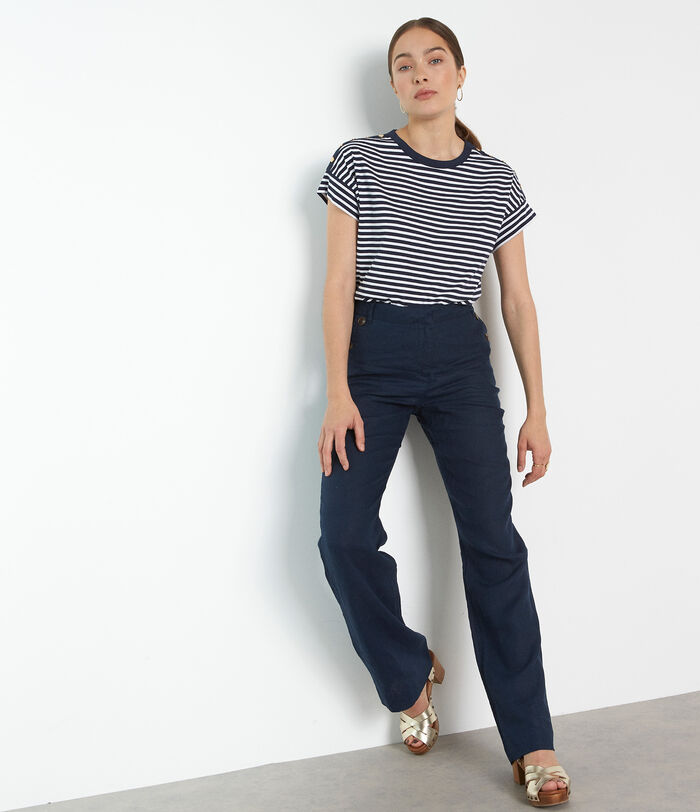 Ninon flared navy certified linen and cotton jeans
Sizes
!

Please choose a size