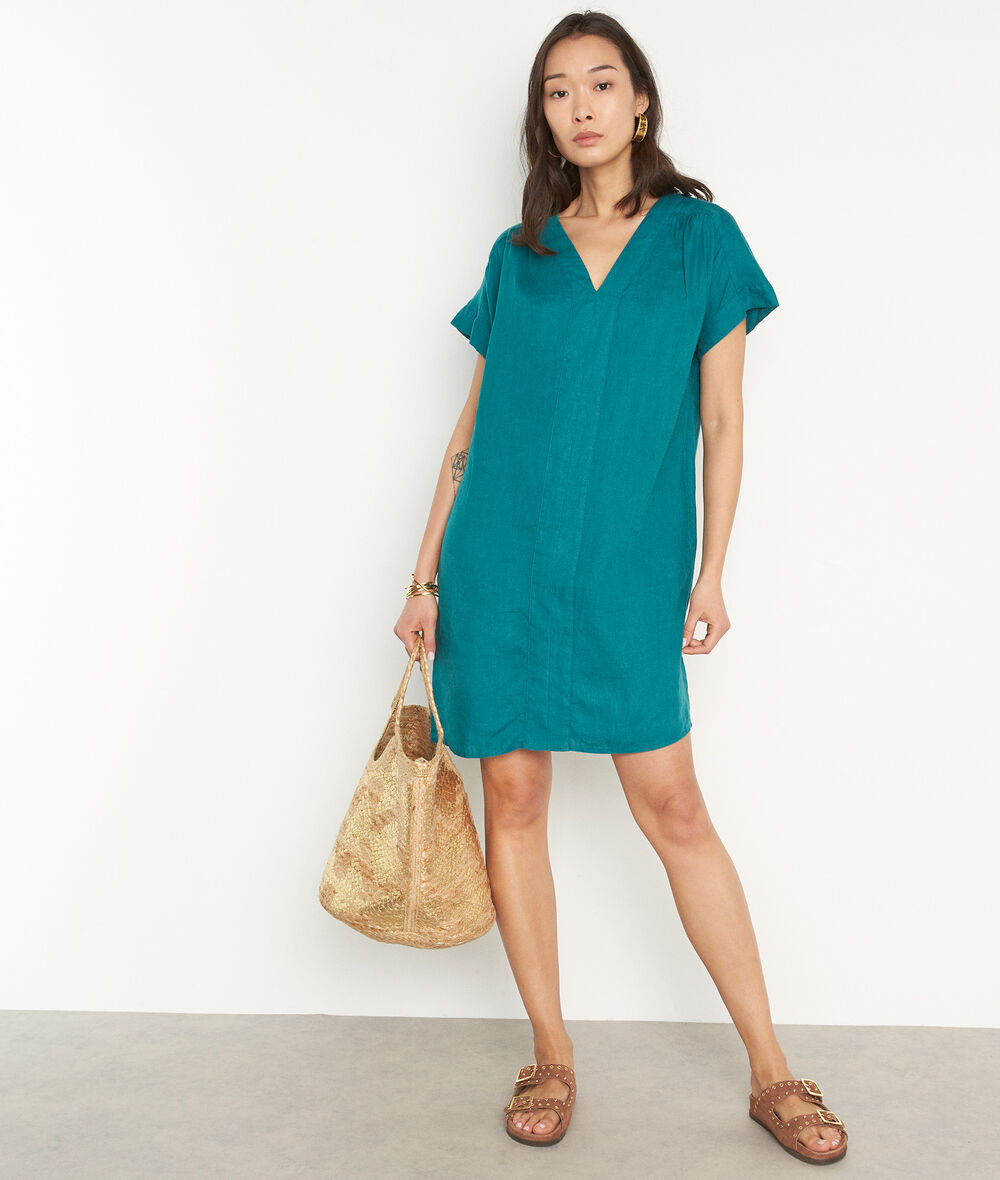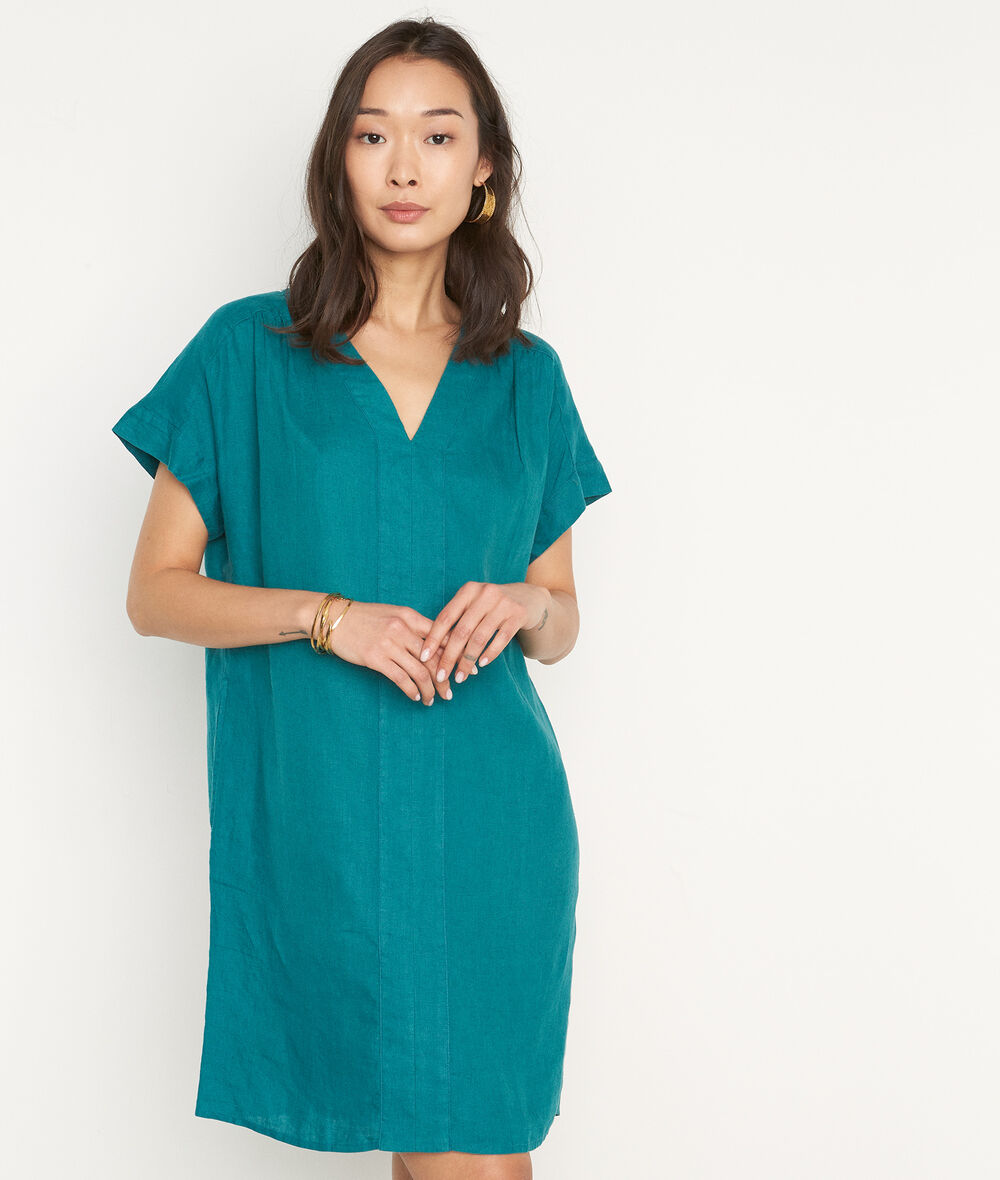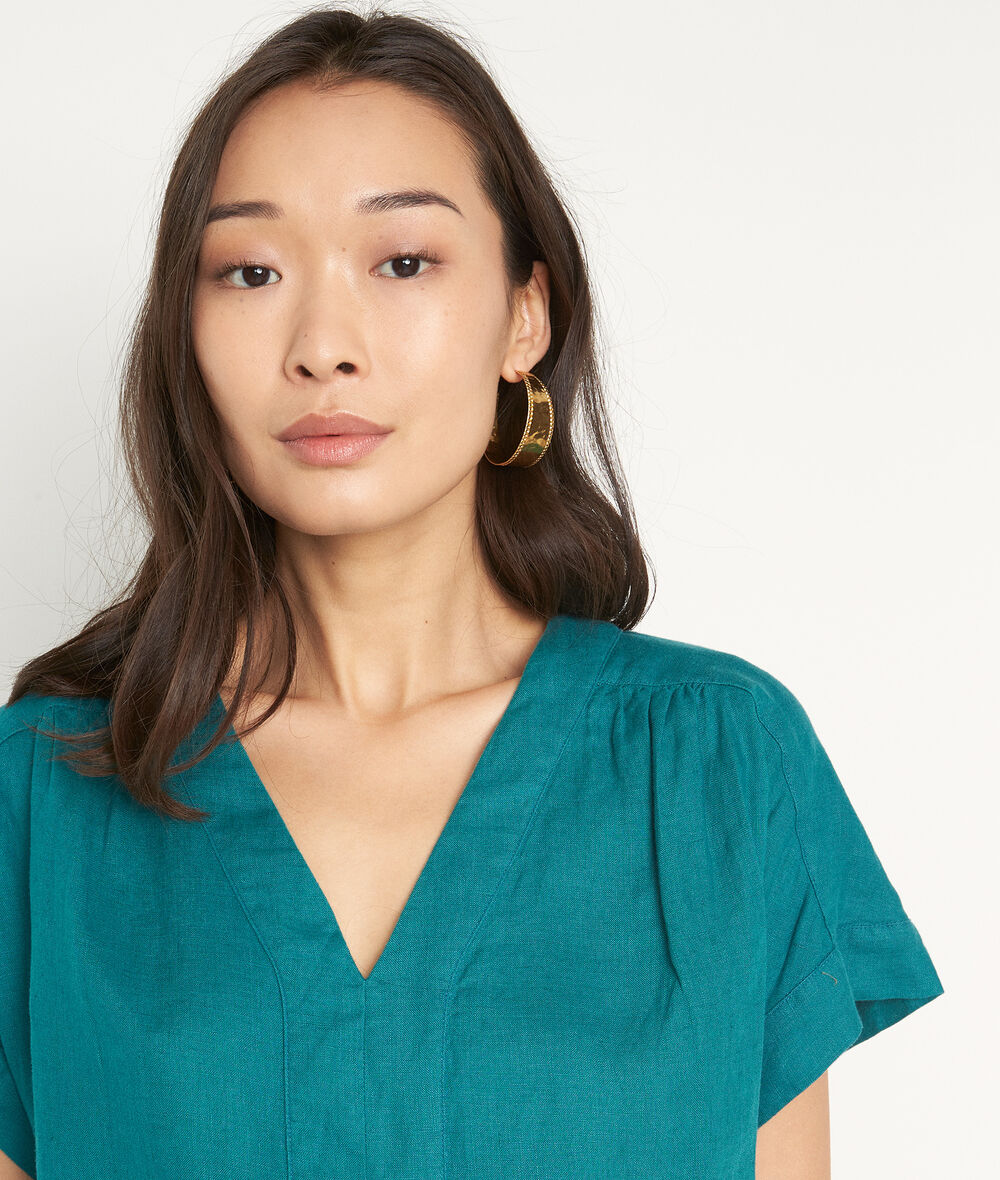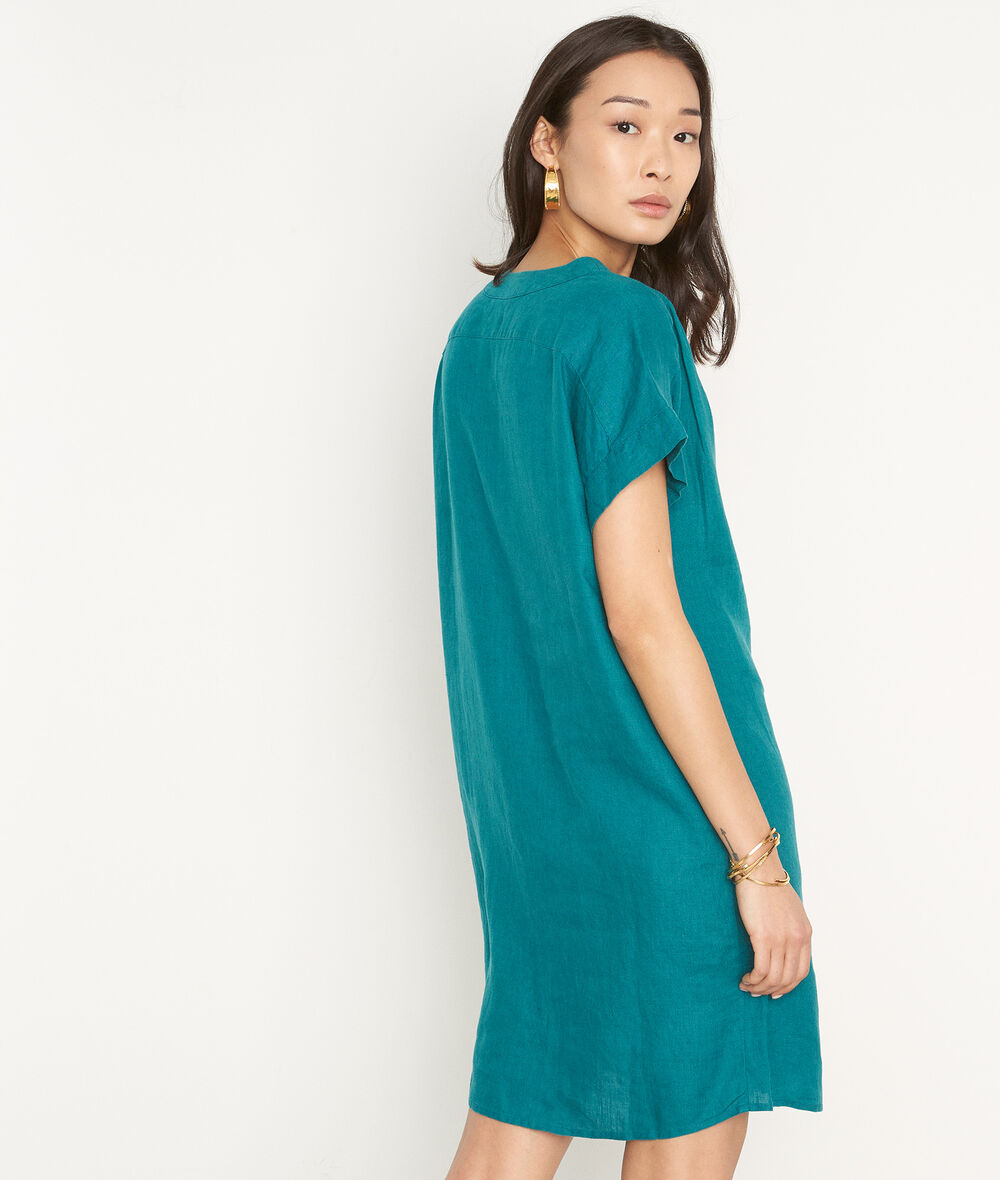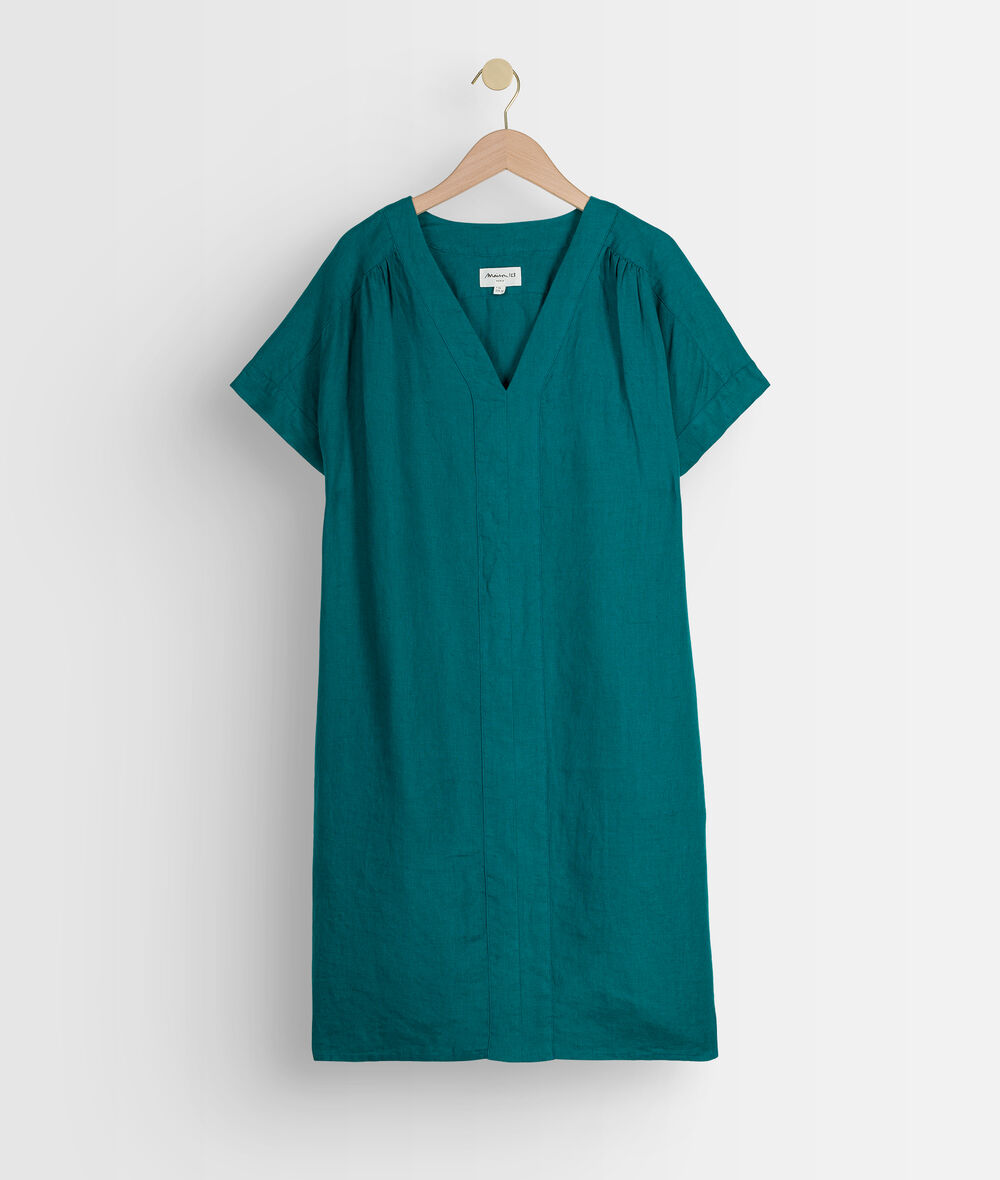 Nadine short green eco-friendly linen dress
Sizes:
Only items in stock
!

Please choose a size
registered alert
Thank you. Your request has now been submitted. You will be sent an email when the item is available again
Description
WECARE: This dress is made from eco-friendly linen. This means that the fibres and the manufacturing process are traceable and free from GMOs, pesticides and fertilisers. Using natural fertilisers and insecticides avoids products that are toxic to the environment, farmers and end consumers. It is the perfect alternative for making environmentally-friendly clothing and produces a soft, hard-wearing, natural and biodegradable material. Our linen has certifications like European Flax and Masters of Linen.

We love the simple and elegant NADINE short dress and its unique, vibrant colour.

WHY WE LOVE IT
This dress is made of eco-friendly linen and is light and natural. It has a straight cut, a pretty topstitched V-neck and short drop sleeves without armholes. We like the intense green shade and the simple shape, which you can easily belt in to highlight your waist.

OUR STYLE TIP
Team this dress with a pair of flat sandals for everyday wear or with jewelled sandals for a summer evening out.

- 100% eco-friendly linen
- short
- straight
- V-neck
- short sleeves
- made in Madagascar

Bibi is 1.80 m (5'11") tall and is wearing a size 36. The model is wearing the CAPUCINE sandals with the NADINE dress, and carrying the JEAN bag.

WECARE: This dress is made from eco-friendly linen. This means that the fibres and the manufacturing process are traceable and free from GMOs, pesticides and fertilisers. Using natural fertilisers and insecticides avoids products that are toxic to the environment, farmers and end consumers. It is the perfect alternative for making environmentally-friendly clothing and produces a soft, hard-wearing, natural and biodegradable material. Our linen has certifications like European Flax and Masters of Linen.

We love the simple and elegant NADINE short dress and its unique, vibrant colour.

WHY WE LOVE IT
This dress is made of eco-friendly linen and is light and natural. It has a straight cut, a pretty topstitched V-neck and short drop sleeves without armholes. We like the intense green shade and the simple shape, which you can easily belt in to highlight your waist.

OUR STYLE TIP
Team this dress with a pair of flat sandals for everyday wear or with jewelled sandals for a summer evening out.

- 100% eco-friendly linen
- short
- straight
- V-neck
- short sleeves
- made in Madagascar

Bibi is 1.80 m (5'11") tall and is wearing a size 36. The model is wearing the CAPUCINE sandals with the NADINE dress, and carrying the JEAN bag.


MATIERE PRINCIPALE : 100.00 % Lin

This item can be recycled

Wash at 30° on delicate cycle
Reference: 653291845
30 days
money-back
guarantee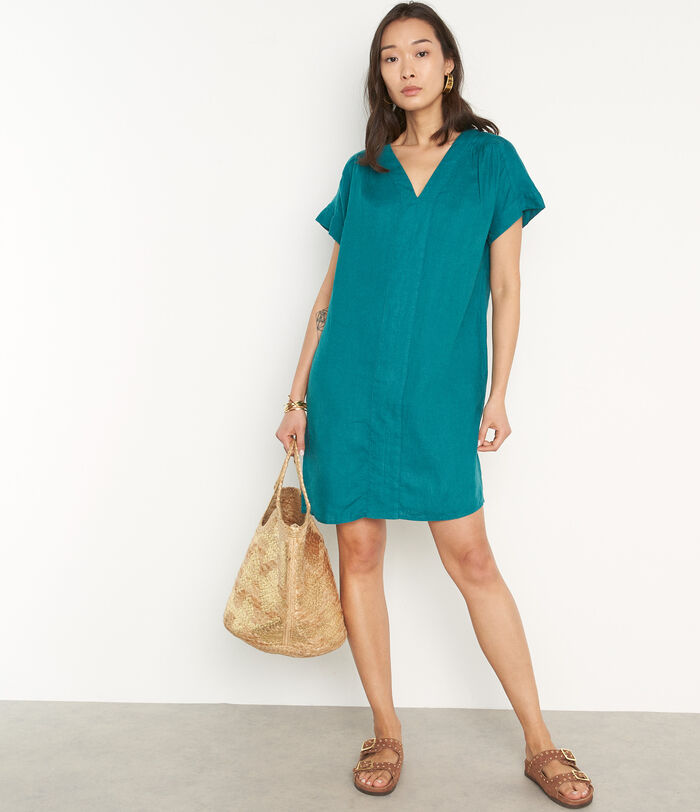 Nadine short green eco-friendly linen dress
Sizes
!

Please choose a size