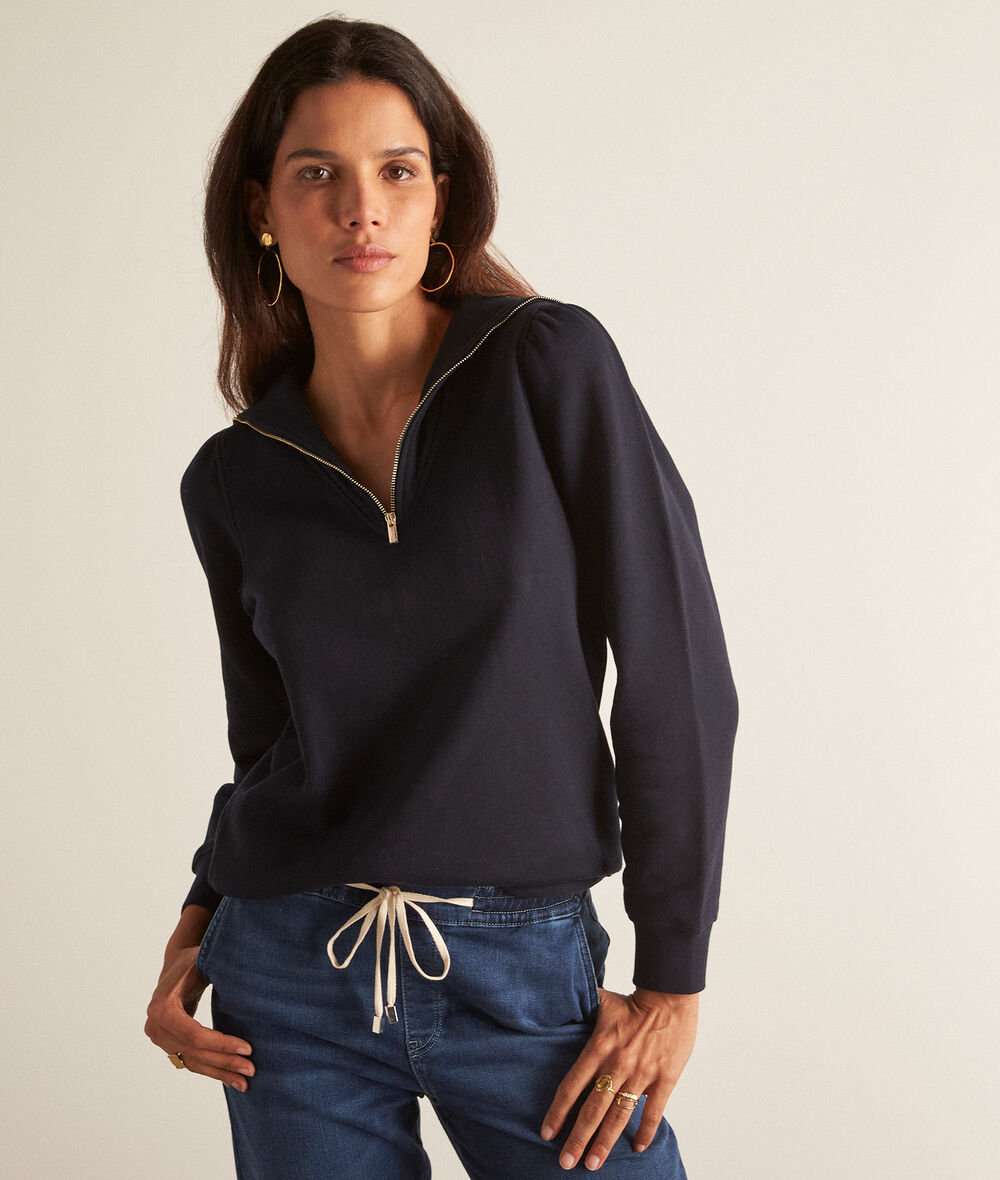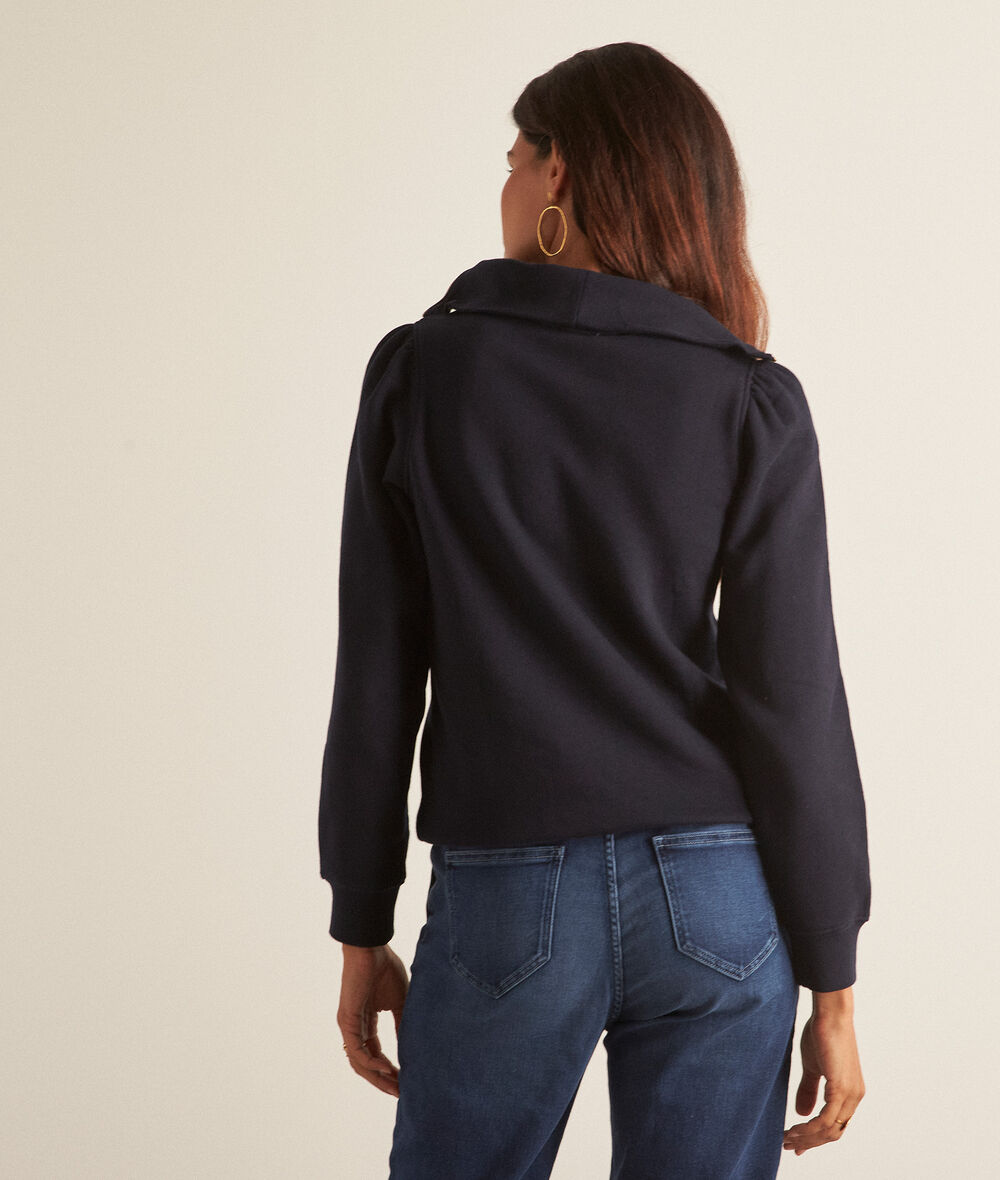 Faro navy high-necked cotton sweatshirt
Sizes:
Only items in stock
!

Please choose a size
registered alert
Thank you. Your request has now been submitted. You will be sent an email when the item is available again
Description
Our soft FARO sweatshirt has some unique details.

WHY WE LOVE THIS STYLE
This cotton sweatshirt is incredibly comfortable. We love its modern cut with a high zipped neck, a V-shaped seam that brings out the neck and the gathered shoulders with some volume for a feminine touch.

OUR STYLE TIP
Try out some layering by adding a fine polo-neck under the open collar for a put-together casual look. For a feminine sportswear vibe, we like it with straight-leg or mom trousers.

- length: 61 cm for a size 36
- 50% cotton
- zipped rollneck
- long sleeves
- made in Portugal

Raica is 1.78 metres (5'10") tall and is wearing a size 36. The model is wearing the PLUME coat, OLIVIA padded jacket, NOOR trousers and NADIE boots, and carrying the JACOB bag.

Our soft FARO sweatshirt has some unique details.

WHY WE LOVE THIS STYLE
This cotton sweatshirt is incredibly comfortable. We love its modern cut with a high zipped neck, a V-shaped seam that brings out the neck and the gathered shoulders with some volume for a feminine touch.

OUR STYLE TIP
Try out some layering by adding a fine polo-neck under the open collar for a put-together casual look. For a feminine sportswear vibe, we like it with straight-leg or mom trousers.

- length: 61 cm for a size 36
- 50% cotton
- zipped rollneck
- long sleeves
- made in Portugal

Raica is 1.78 metres (5'10") tall and is wearing a size 36. The model is wearing the PLUME coat, OLIVIA padded jacket, NOOR trousers and NADIE boots, and carrying the JACOB bag.


MATIERE PRINCIPALE : 50.00 % Polyester, 50.00 % Coton

BORD CÔTE : 49.00 % Polyester, 49.00 % Coton, 2.00 % Elasthanne

This item can be recycled

Wash at 30° on delicate cycle
Reference: 653552027
30 days
money-back
guarantee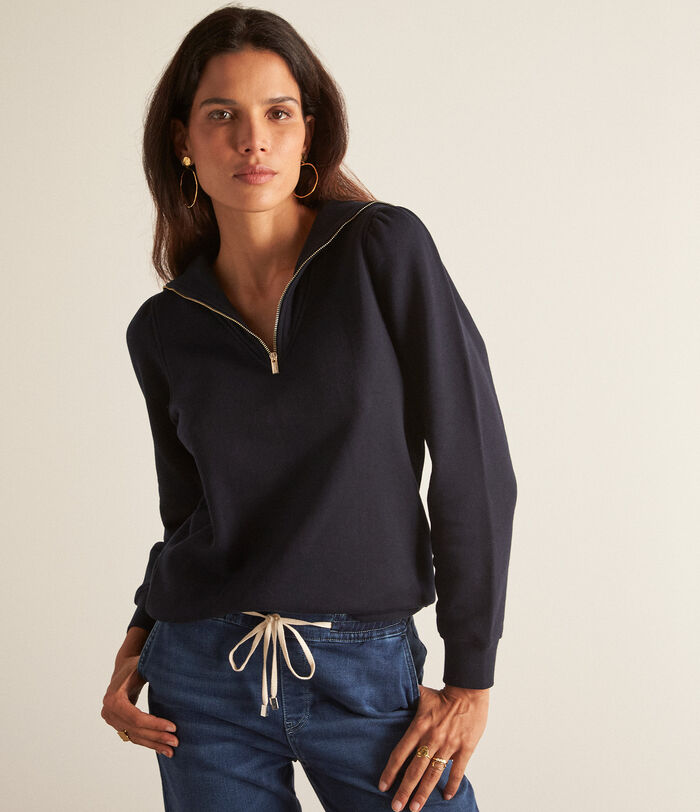 Faro navy high-necked cotton sweatshirt
Sizes
!

Please choose a size