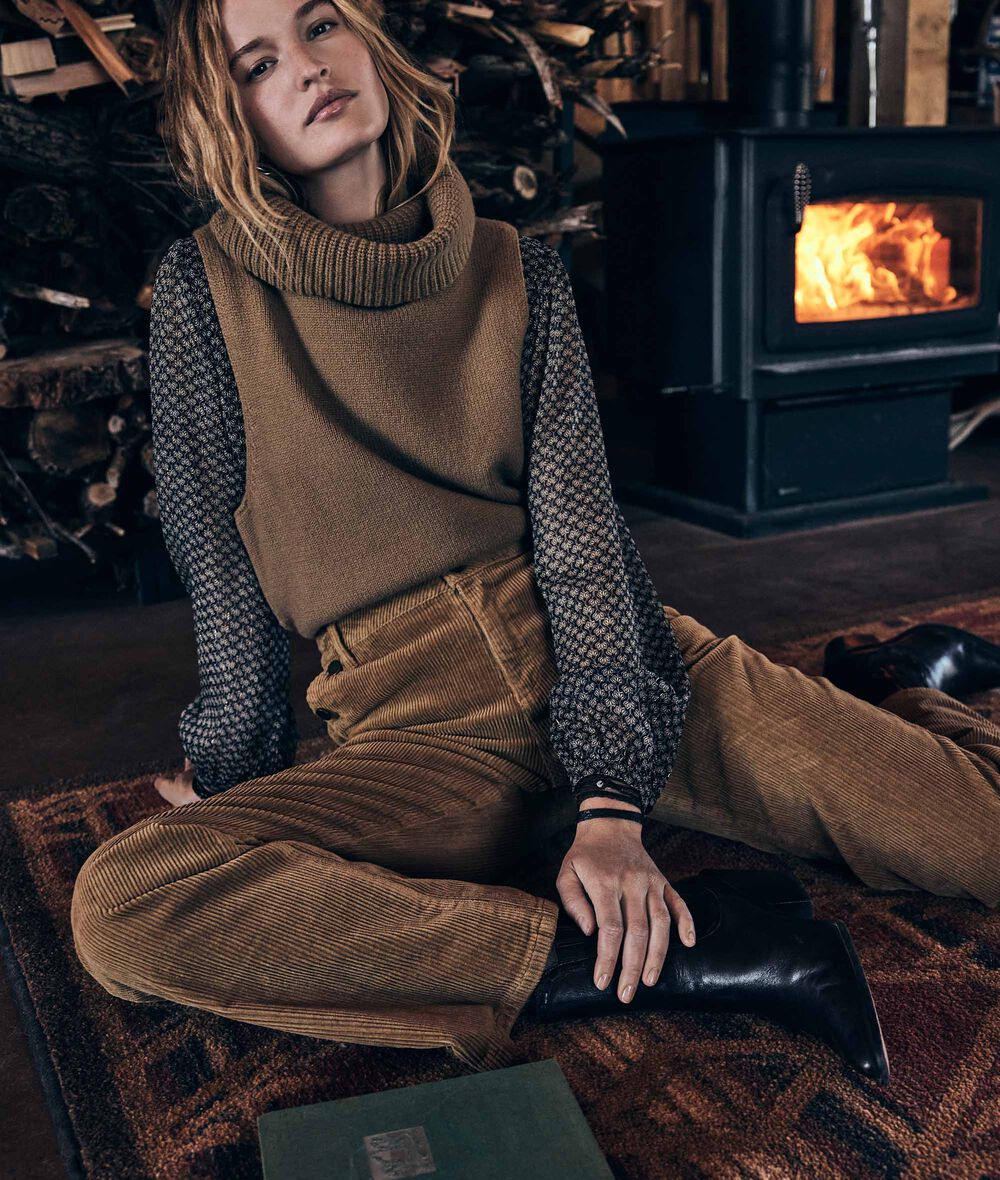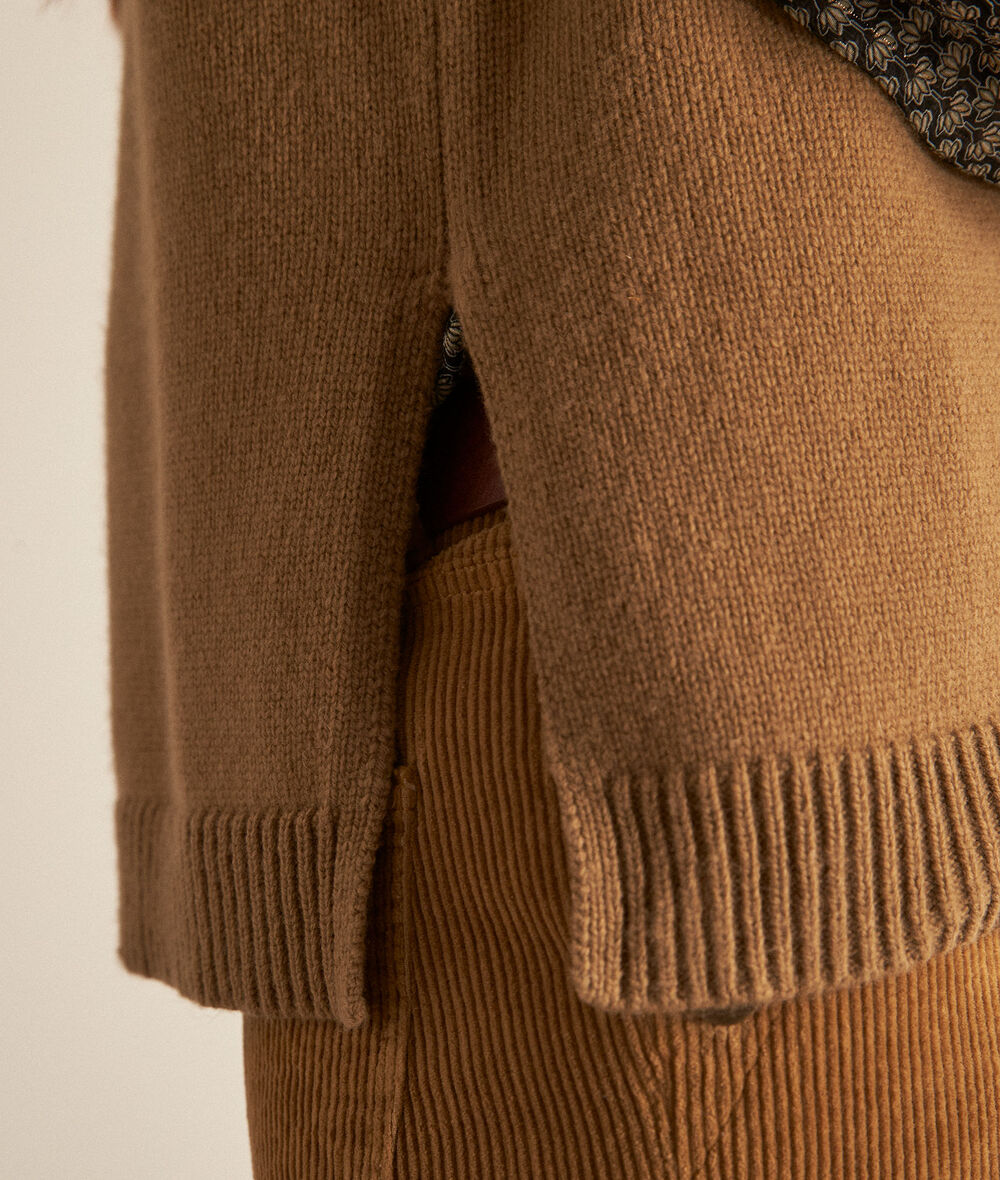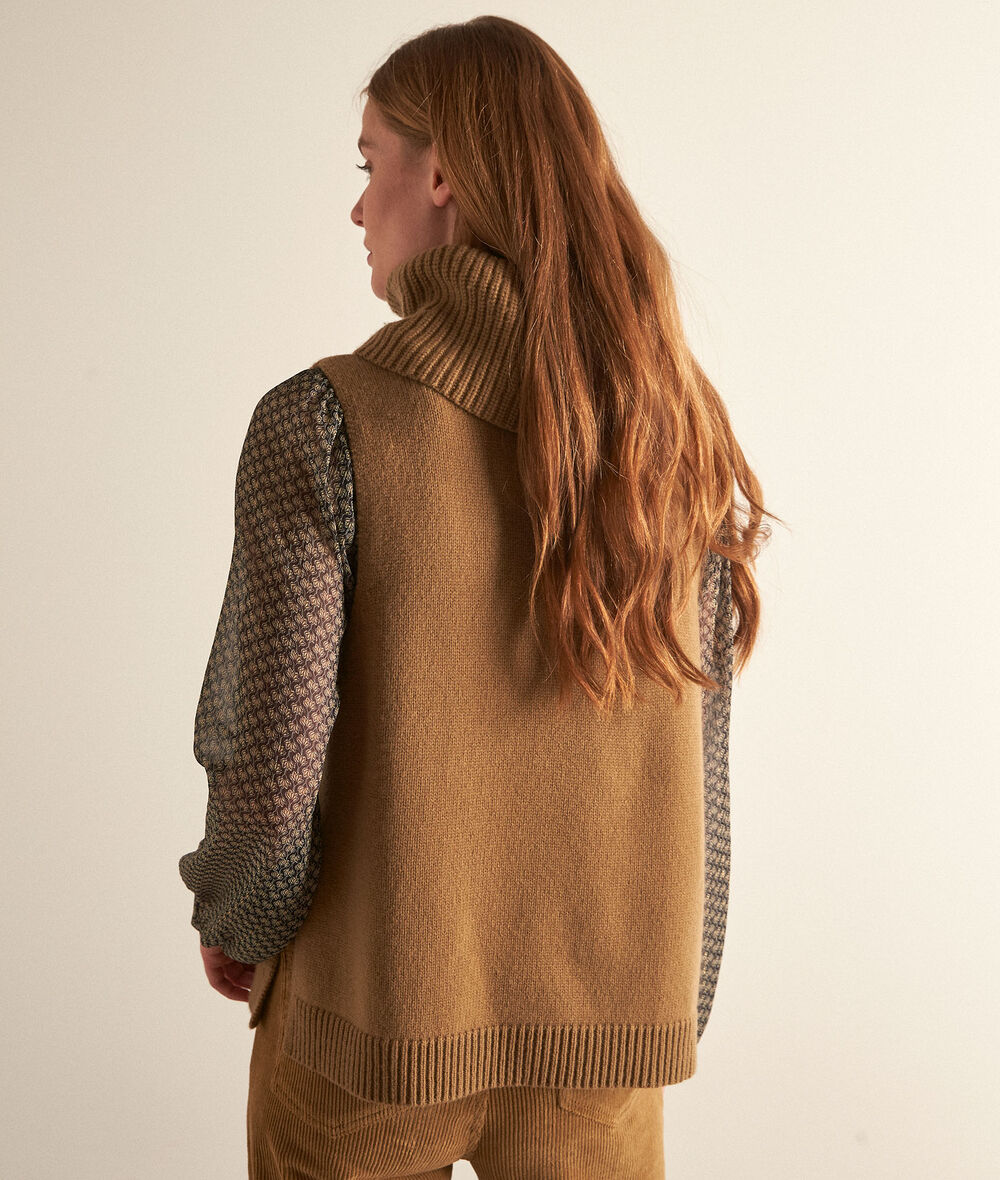 Barclay bronze sleeveless jumper in responsible wool
Sizes:
Only items in stock
!

Please choose a size
WECARE: This jumper is made from responsible wool that conforms to the RWS. The Responsible Wool Standard is a voluntary standard that covers the wellbeing of sheep and their environment. The aim is to provide the industry with a tool to recognise best practices in farming. This standard also allows brands and consumers to know that the woollen garments that they are selling and buying respect their values.

Check out BARCLAY, a chunky knit that blends classic elegance with modern style.

WHY WE LOVE IT
This sleeveless jumper in responsible wool is designed to be both warm and sustainable. We can't resist its incredibly distinctive design: the chunky knit, wide roll neck, big armholes and side slits, which give it a unique look.

OUR STYLE TIP
This pullover is so versatile and looks great layered. Show off the sleeves of your favourite blouses and shirts while staying warm and cosy with this jumper. You can also wear it next to your skin if you want to show off your arms.

- length: 59.5 cm for a size 36
- 100% responsible wool
- sleeveless
- polo neck
- made in China

Edda is 1.75 metres (5'9") tall and is wearing a size 36. The model is wearing the BARCLAY jumper with the LANI blouse, the NINON trousers and the NADIE boots and carrying the LEOTIE bag.

WECARE: This jumper is made from responsible wool that conforms to the RWS. The Responsible Wool Standard is a voluntary standard that covers the wellbeing of sheep and their environment. The aim is to provide the industry with a tool to recognise best practices in farming. This standard also allows brands and consumers to know that the woollen garments that they are selling and buying respect their values.

Check out BARCLAY, a chunky knit that blends classic elegance with modern style.

WHY WE LOVE IT
This sleeveless jumper in responsible wool is designed to be both warm and sustainable. We can't resist its incredibly distinctive design: the chunky knit, wide roll neck, big armholes and side slits, which give it a unique look.

OUR STYLE TIP
This pullover is so versatile and looks great layered. Show off the sleeves of your favourite blouses and shirts while staying warm and cosy with this jumper. You can also wear it next to your skin if you want to show off your arms.

- length: 59.5 cm for a size 36
- 100% responsible wool
- sleeveless
- polo neck
- made in China

Edda is 1.75 metres (5'9") tall and is wearing a size 36. The model is wearing the BARCLAY jumper with the LANI blouse, the NINON trousers and the NADIE boots and carrying the LEOTIE bag.


MATIERE PRINCIPALE : 100.00 % Laine

This item can be recycled
Reference: 653601684
30 days
money-back
guarantee
Barclay bronze sleeveless jumper in responsible wool