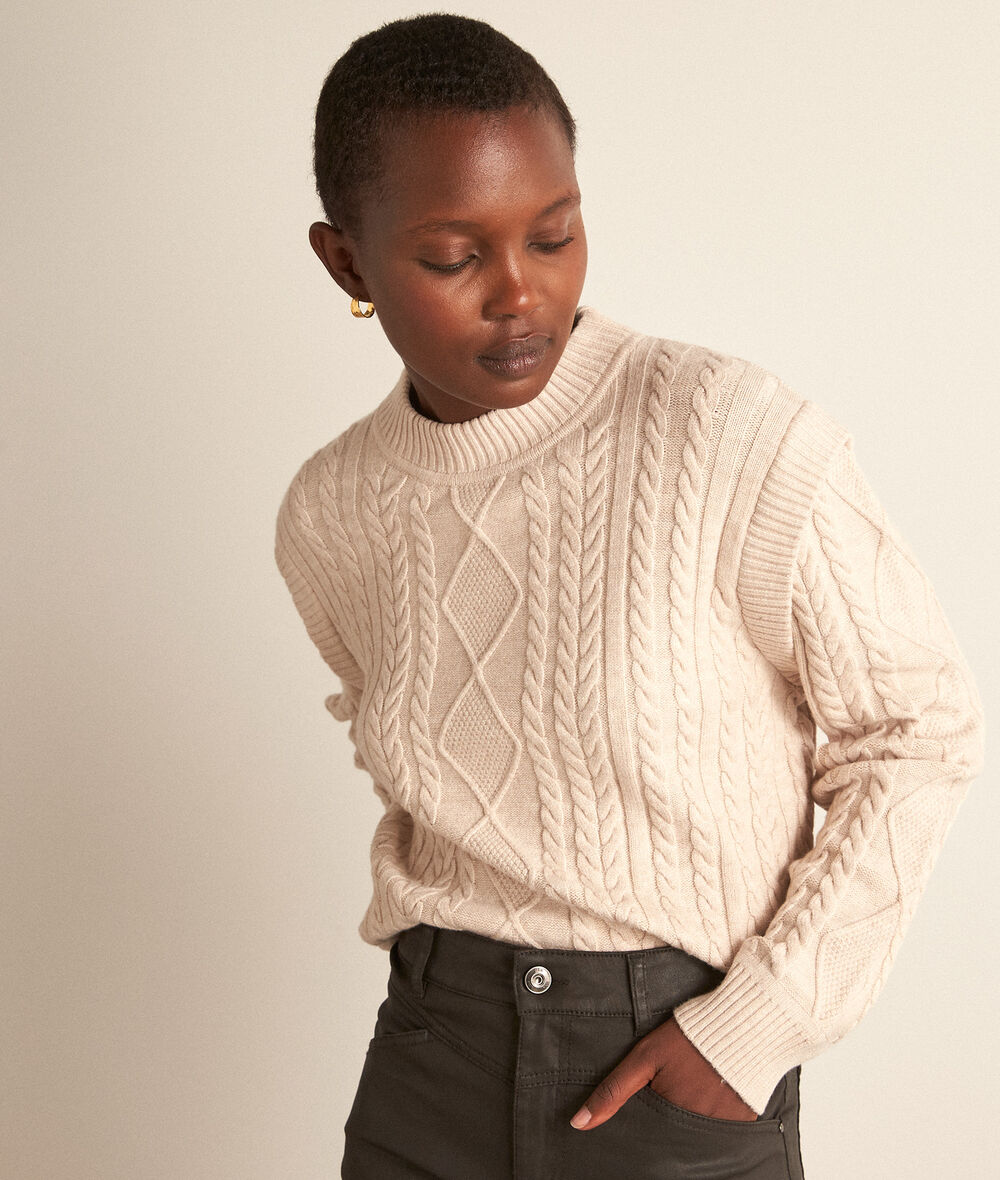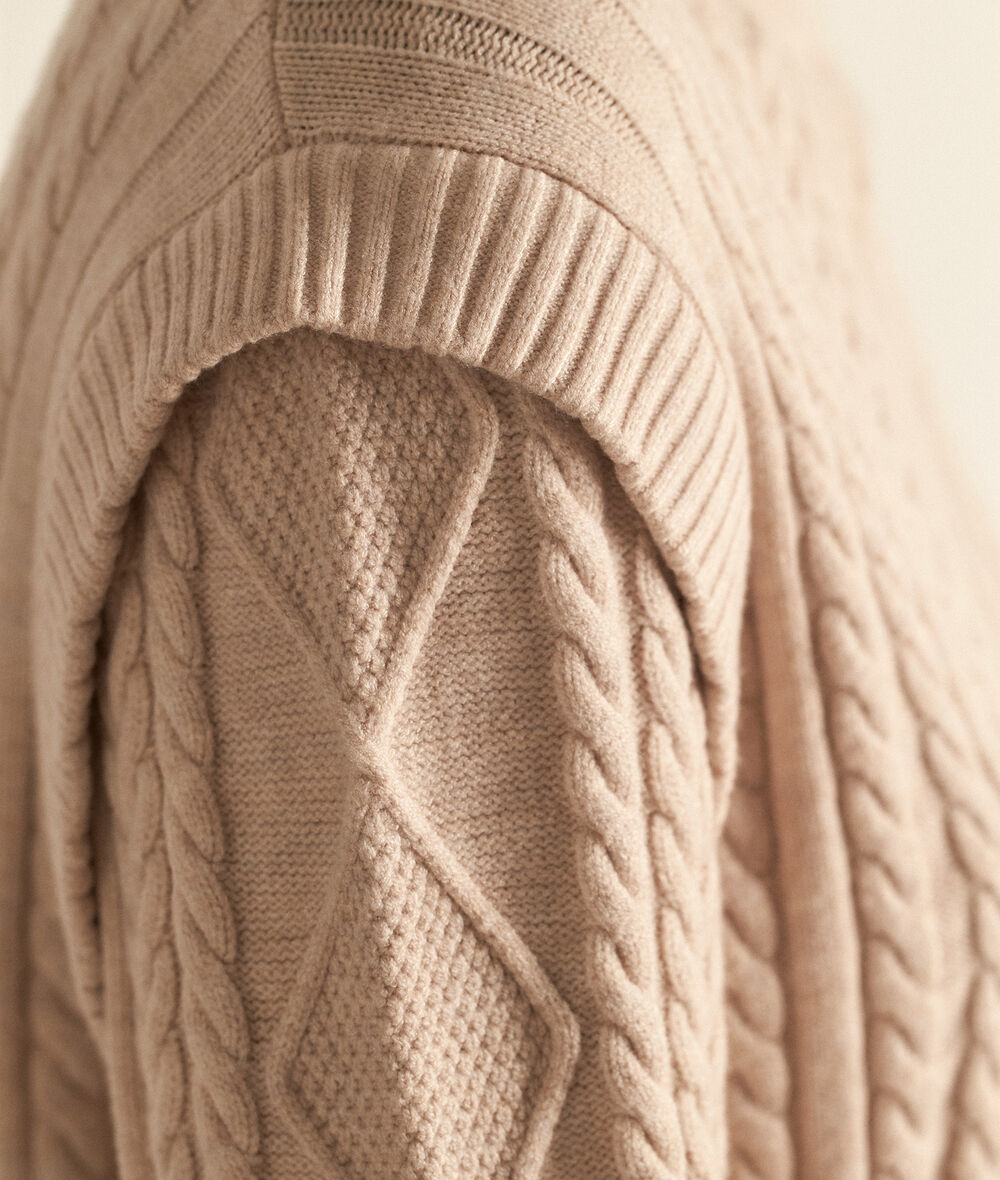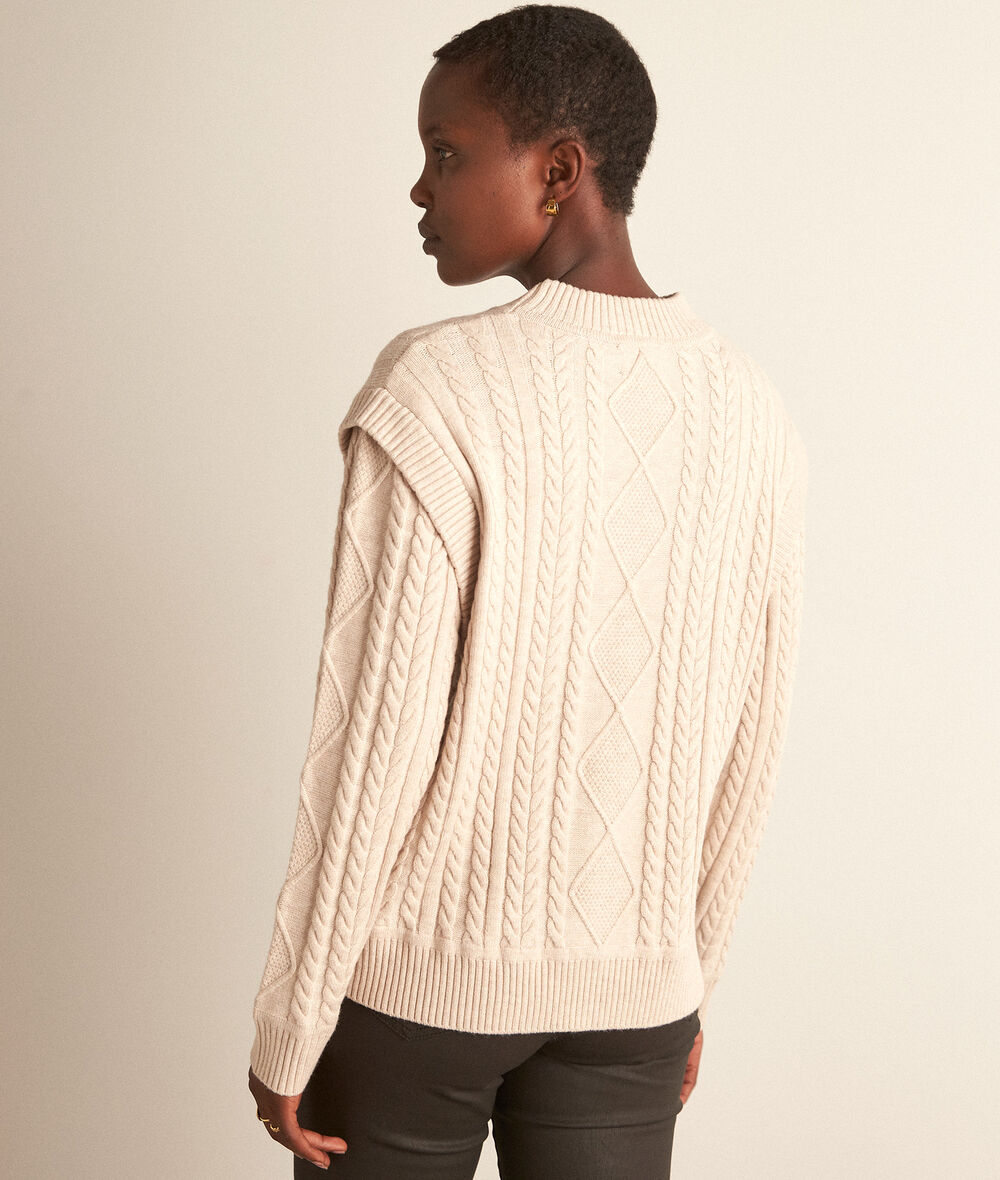 Basso ecru EcoVero viscose cable-knit jumper
Sizes:
Only items in stock
!

Please choose a size
WECARE: This pullover is made from Lenzing Eco Vero Viscose. Eco-friendly viscose is made from wood pulp sourced from sustainably managed forests.The manufacturing process requires less water and energy.
The WECARE programme's sustainable viscose is certified by trusted independent organisations such as Lenzing™ and Birla™.

You'll love the originality of the BASSO beige jumper.

WHY WE LOVE IT
We love its originality and wintery look. The shoulders create a modern shape, the cable-knit design adds charm and the soft material will keep you comfortable.

OUR STYLE TIP
With its elegant beige colour, this jumper is a must-have this season. In the spirit of the collection, we love it with slim bottoms in pretty brown tones or a denim skirt for a nice mix of fabrics.

- length: 58 cm for a size 36
- 50% Eco Vero Viscose
- round neck
- long sleeves
- shoulder pads
- cable knit
- made in China

Aliane is 1.74 m (5'8") tall and is wearing a size 36. The model is wearing the BASSO sweater with the NARIO trousers, the MATEO jacket and the NADIE boots.

WECARE: This pullover is made from Lenzing Eco Vero Viscose. Eco-friendly viscose is made from wood pulp sourced from sustainably managed forests.The manufacturing process requires less water and energy.
The WECARE programme's sustainable viscose is certified by trusted independent organisations such as Lenzing™ and Birla™.

You'll love the originality of the BASSO beige jumper.

WHY WE LOVE IT
We love its originality and wintery look. The shoulders create a modern shape, the cable-knit design adds charm and the soft material will keep you comfortable.

OUR STYLE TIP
With its elegant beige colour, this jumper is a must-have this season. In the spirit of the collection, we love it with slim bottoms in pretty brown tones or a denim skirt for a nice mix of fabrics.

- length: 58 cm for a size 36
- 50% Eco Vero Viscose
- round neck
- long sleeves
- shoulder pads
- cable knit
- made in China

Aliane is 1.74 m (5'8") tall and is wearing a size 36. The model is wearing the BASSO sweater with the NARIO trousers, the MATEO jacket and the NADIE boots.


MATIERE PRINCIPALE : 50.00 % Viscose, 28.00 % Polyester, 22.00 % Polyamide

This item can be recycled
Reference: 653499406
30 days
money-back
guarantee