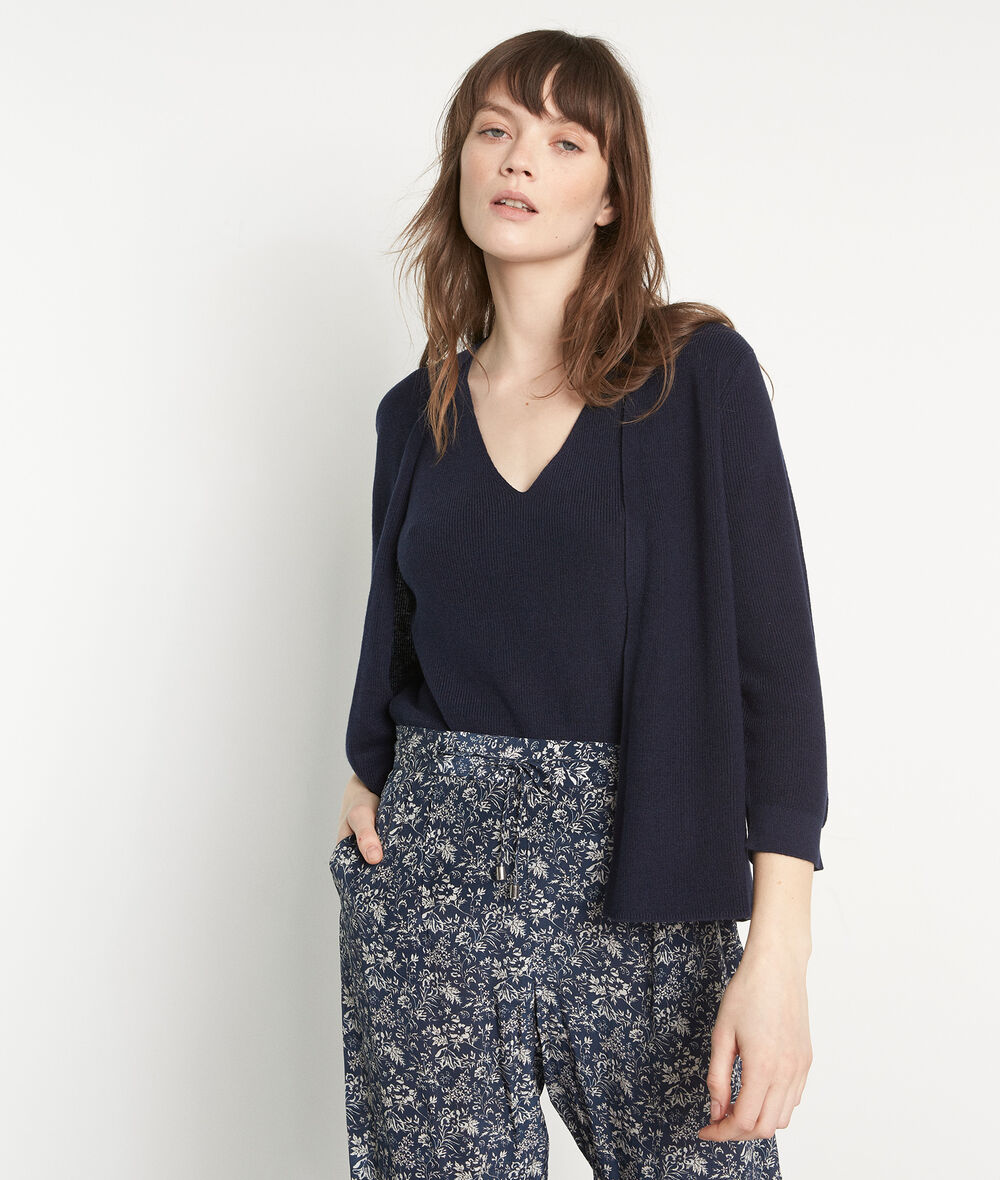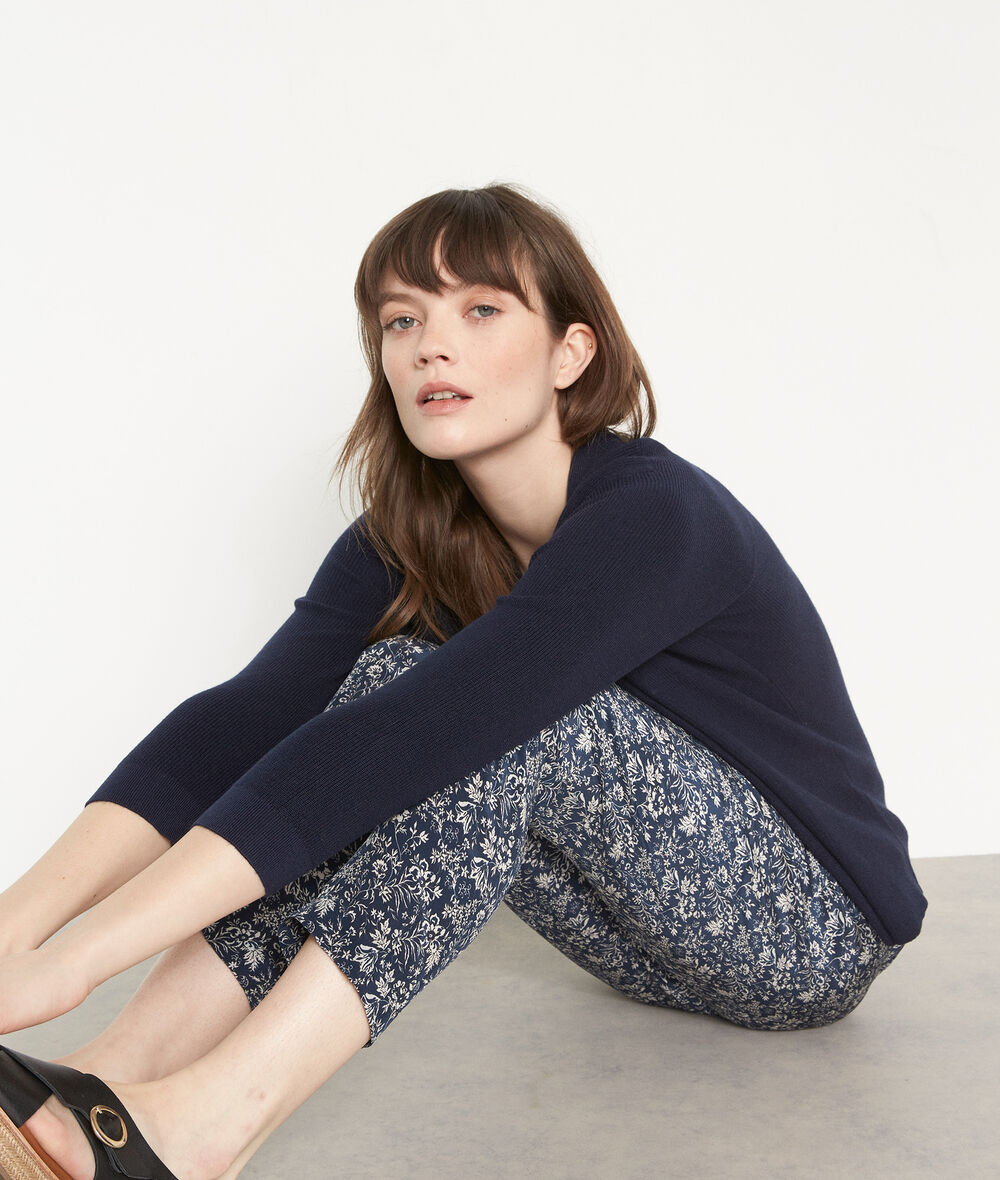 PETRONILLE navy Lyocell, cotton and linen fine-knit cardigan
Sizes:
Only items in stock
!

Please choose a size
registered alert
Thank you. Your request has now been submitted. You will be sent an email when the item is available again
Description
WECARE: This cardigan is made in Lenzing™ Tencel. Eco-friendly Tencel or Lyocell is a fabric made from wood pulp sourced from sustainably managed forests.Its manufacturing process requires less water and energy.
Eco-friendly Tencel in the WECARE programme is certified by trusted independent labels such as Lenzing™.

You'll love the elegant simplicity and twin-set appeal of the PETRONILLE cropped cardigan. PETRONILLE

WHY WE LOVE IT
This cardigan is made in a blend of natural materials including Tencel Lyocell, cotton and linen. We love its very fine and lightweight knit, which makes it ideal for mid-season wear, or for adding a warm layer on a summer evening.

OUR STYLE TIP
It has no fastening and can be worn open over a matching camisole top or crossed over and tucked into jeans.


- 50% Tencel Lyocell
- short design
- buttonless
- 3/4-length sleeves
- fine knit
- made in China

Grace is 1.74 m (5'8") tall and is wearing a size 36. The model is wearing the PETRONILLE cardigan with the PATIENCE top, the FLYNN trousers and CLEMENCE sandals.
WECARE: This cardigan is made in Lenzing™ Tencel. Eco-friendly Tencel or Lyocell is a fabric made from wood pulp sourced from sustainably managed forests.Its manufacturing process requires less water and energy.
Eco-friendly Tencel in the WECARE programme is certified by trusted independent labels such as Lenzing™.

You'll love the elegant simplicity and twin-set appeal of the PETRONILLE cropped cardigan. PETRONILLE

WHY WE LOVE IT
This cardigan is made in a blend of natural materials including Tencel Lyocell, cotton and linen. We love its very fine and lightweight knit, which makes it ideal for mid-season wear, or for adding a warm layer on a summer evening.

OUR STYLE TIP
It has no fastening and can be worn open over a matching camisole top or crossed over and tucked into jeans.


- 50% Tencel Lyocell
- short design
- buttonless
- 3/4-length sleeves
- fine knit
- made in China

Grace is 1.74 m (5'8") tall and is wearing a size 36. The model is wearing the PETRONILLE cardigan with the PATIENCE top, the FLYNN trousers and CLEMENCE sandals.

MATIERE PRINCIPALE : 50.00 % Lyocell ®Tencel, 40.00 % Coton, 10.00 % Lin

This item can be recycled

Wash at 30° on delicate cycle
Reference: 653264927
30 days
money-back
guarantee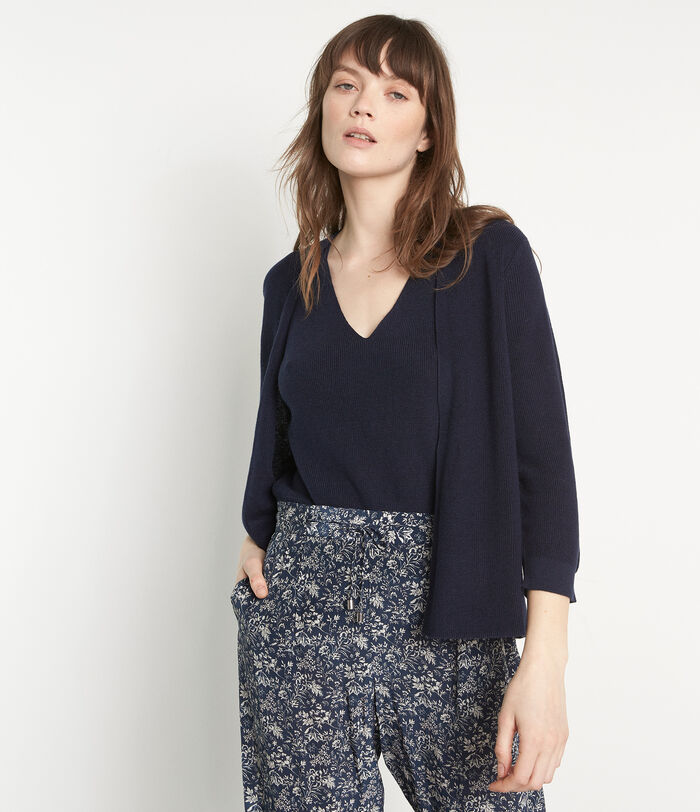 PETRONILLE navy Lyocell, cotton and linen fine-knit cardigan